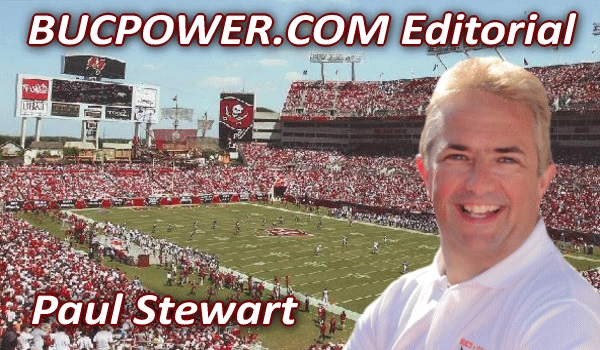 Firing was sad but necessary
Although I had been calling for Raheem to lose his job for most of the past month, I took no great personal satisfaction in hearing the news that he was no longer the head coach of the Tampa Bay Buccaneers.

It was simply a move that was necessary and inevitable based on the disastrous freefall that had been seen over the second half of the season. I was talking with Gary Shelton of The Tampa Bay Times last week and we agreed this was the best reason not to extend the 16-game season one could ever come up with.

Ultimately we are all Buccaneer fans and we want our team to be successful regardless of who is playing or coaching. Actually I will put a proviso on that because to have Kevin Butler kicking or Jerry Glanville coaching might have been too much for even me a couple of decades back.

Raheem is a genuinely nice guy and you could see why the players all loved him. "They followed him like the Scots followed William Wallace in Braveheart" was something Gary said to me this time last year. Unfortunately that film had a bad ending for its star too albeit without the terrible accents and facepaint.


One of my lasting memories of the Wembley week in 2011 was having gotten to know Raheem well during the week at practice, was feeling a tap on my shoulder on the sideline pre-game at Wembley and being asked by him if I had enjoyed the week. Just a really nice touch from a really nice guy.

But the NFL is a results-based league and if you do not win, then NFL of course stands for "Not for Long". And I hope that it also means that Raheem will soon be back coaching somewhere in the league, quite possibly with his good friend Mike Tomlin in Pittsburgh.

So where will Raheem rank on the list of all-time Buccaneer coaches? Ahead of Leeman Bennett and Richard Williamson but then again, who isn't? Ahead of Ray Perkins both in terms of results and personality and I would also put him ahead of Sam Wyche because he had a winning season in 2010.

There a few idiots out there who are trying to claim that giving him the job in the first place was a mistake, that the Bucs should never have gone into the 2011 season with the roster they did etc etc. Yada yada yada.

Hindsight is a wonderful thing of course but I do not remember too many people complaining about the 10-6 season this time last year and the upward trend the franchise was on. Joel Glazer said the same thing at Monday's press conference and he was absolutely right.

People do make mistakes in life and not every NFL team can be successful all the time. Raheem Morris found this out and is now out of a job. But he deserves our support and thanks regardless of how the 2011 season finished for all concerned.

You've been great, enjoy Joy Division.