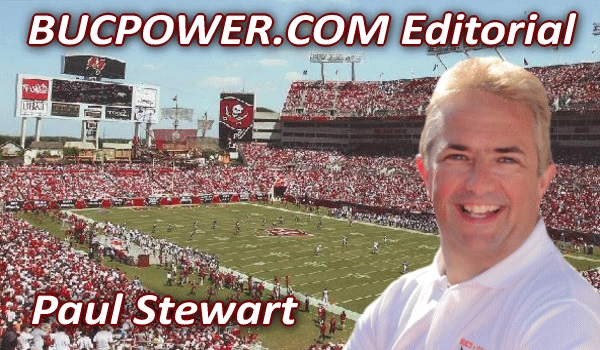 Watching it from the ultimate seat
Everything was set for the perfect day. The Bucs UK were enconsed in Section 202 and I was waving to them from my priviliged position in the owners' box as guests of Bryan and Joel Glazer. The air conditioning was perfect, the food and drink was free and it was going to be the ultimate end to a wonderful vacation.

And then the game started. Well at least it took 12 seconds for the fight to be over. Play-action, wide open receiver, couple of missed tackles and six points.

I really thought the 49ers' game a few weeks ago was going to be the low point of the season. At least after that one I could simply turn off the computer and go and look for the cat who had gone into hiding knowing a kicking was coming. The feline is 4,000 miles away right now purring contently which is more than can be said for the Buccaneers.

This is not the time for an editorial diagnostic on what is wrong on offense, defense, coaching or how much ice was in my 4th quarter soda. That can come later in the week. Suffice to say the ony people who had not left the stadium by the final gun were the Bucs UK guys in Section 202 and all the guests in the Glazers' box. Bryan was more upset than I think I have ever seen him.

Somewhere up above, the ghost of John McKay was uttering "the Bucs couldn't block today but they made up for it by not tackling". There were more than one ghost of creamsicle catastrophe out on the field Sunday afternoon.

So to try and lighten the mood and bring the cat out of hiding ready to meet my size-10 right foot when I get home, a few funny moments from the day.

In the club section, five former Buccaneers were signing autographs. Donnie Abraham, Marcus Jones, John Cannon and old friend Tony Mayberry were four and it was whilst I was talking to Tony that the fifth ex-Buc, a certain Argentinian kicker looked over and recognised who I was.

So avoiding the temptation to ask him to sign it "Best wishes FUAT", I got a cursory signature and immediately ignored. It's your own fault Martin, you missed all those kicks and changed your number to honour Diego Maradona.

My wife, having declared her love and devotion for former Buc Jerry Bell having met him on Friday, unceremoniously dumped him on meeting Shelton Quarles and getting to try on his Super Bowl ring.

And after the game, with a few Bucs UK members trying to complete their full set of player autographs, starting a "we want Donald" chant much to the delight of the Bucs' left tackle, happy to see so many friends on the other side of the Atlantic.

And this was probably my last game at Raymond James Stadium. Well according to Joel Glazer anyway who has decided this one was all my fault and that I am a bad jinx on the team right now. He was heading off to arrange for security not just to escort me from the box, but out of the country too.

Perhaps he can send a few of the under-achieving Buccaneers along with me.