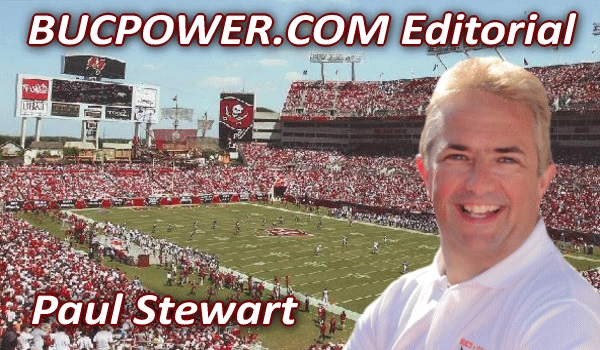 Impressions from a week at practice
Bryan and Joel Glazer once told me that it cannot happen on the field, unless it happens off the field too. And based on the efforts the Buccaneer organisation have gone to in making the London trip work, then Raheem and his men can have no excuses come game time at Wembley.

Because this was so different to 2009 and so different to the efforts made by any NFL team coming over to play here at any time since the Cowboys and Bears first arrived in 1986. The Pennyhill Park hotel in Bagshot, Surrey was turned into One Buccaneer Place A.

Nothing had been left to chance in terms of meeting rooms, wireless connections, field layout and training facilities. Everything was totally first-class and players, coaches and officials were unanimous in their support and appreciation for their off-field preparation.

What I have noticed from three days of watching and observing practice, is what an incredible team this is. There are no rotten apples, no prima donna players, no disputes or disruptions. The players follow Raheem like the Scots followed William Wallace in Braveheart and believe in everything he says and does.


You can see the team leaders from a mile away. Josh Freeman is the undisputed number one but the likes of Ronde Barber, Adam Hayward and Jeff Faine are always there and always heard. Josh Johnson, Gerald McCoy, Donald Penn and Brian Price are all others you can spot and hear a mile away but Raheem's spirit flows through the entire roster.

After three days, I was being accepted as one of the staff by everyone. Raheem would always come over and say hello when he saw me arrive each morning, I would have tea with Greg Olson and Jeremy Trueblood and walk back from the field with Donald Penn. That was if Donald could not get a lift from someone for the 200 yards. He was always trying to hitch a ride.

The Bucs' PR team are the real stars of the show, Jonathan Grella, Dan Berglund, Allen Barrett, Kelly Schutz and Michael Pehanich. I have known Dan for a long time but it was good to get to meet and know the others over the week. And Henry Doran and his security team are a really good bunch too, all now sporting Bucs UK pins. Henry retired from the Tampa police force earlier this year which is why you don't see him in uniform at home games any longer, but he is now full time with the Buccaneers.

A few memorable moments included talking interception returns with Tanard Jackson, Jeremy Trueblood on seeing London in 2009 from a one-hour taxi ride, and discussing Colonel Gadaffi's demise in Libya with Geno Hayes. World political change with a starting NFL linebacker - who would have seen that one coming?

Being able to welcome so many other Bucs UK members to practice Friday was a very special moment for me and one that I and many others will write about in due course. It was also a chance for me to catch up with so many old friends, Jeff Ryan, Dave Levy and Scott Smith, the latter feeling the effects of having watched his beloved Cardinals in the first two World Series games all night.

And of course media interviews and features by the dozen. I was doing one piece for Sky Sports News with all the Bucs UK guys giving me a hard time behind, and GM Mark Dominik pulling faces and taking the mickey as he walked behind the camera. The things you have to do in running this club. But things I wouldn't change for the world.

You've been great, enjoy Moving Pictures.