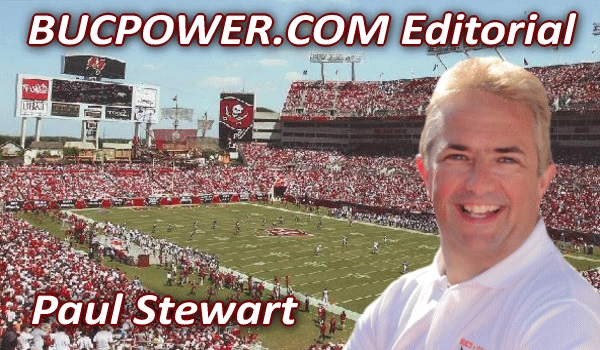 Reading between the lines on the roster
So who is the most important person on the Bucs' roster? OK apart from Josh Freeman then? You could make a case for Gerald McCoy, a LeGarrette Blount or perhaps even Jeff Faine being the anchor of the line.

But what I find often more interesting is at the other end of the roster. Who needs to always be looking over their shoulders for Shelton Quarles to come along to them in the locker room with the words "Coach Morris wants to see you and bring your iPad."

This week saw TE Collin Franklin released after a two-week stay in the roster. Watching the San Francisco game gave an indication as to this being on the cards, as the Bucs were using T Demar Dotson as an additional tackle-eliglbe in run situations rather than using Franklin, and when the latter did get on the field, he ran a bad route on a naked roll-out pattern in the second half.


What is does also seem to indicate is that the Bucs do rate TE Zack Pianalto as a future contributor who needs a lot more practice time. Since he was claimed off Buffalo's final roster cuts, he has been either inactive or a Did Not Play.

One person who does seem to have dropped down the importance chart in 2011 is WR Micheal Spurlock. A year ago, he was the No.3 receiver and primary kick returner. He is definitely the fifth receiver now as both Preston Parker and Dezmon Briscoe play ahead of him on passing downs.

Spurlock will always have a place in every true Buccaneer fan's heart for his kick return heroics but I would say his place on the team is looking precarious right now to say the least as he does not play a massive role on kick coverage units right now.

It is always interesting to check the inactive players each week for level of importance. Six of the seven inactives last week against the 49ers were there because of injury, the likes of Sammie Stroughter and Quincy Black not being hurt enough to warrant use of a season-ending IR move.


So hence Anthony Gaitor made it on to the active roster for the first time in San Francisco but is definitely one of the bottom five on the roster right now. And with EJ Biggers being the definite nickel back in 2011, Milton Mack plays ahead of Myron Lewis in actual defensive backfield duties so you look to see the amount of playing time the two of them have on special teams.

Linebacker is another area where special teams skills count massively towards a roster spot. Zac Diles and Adam Hayward are there really for coverage units only and if you see either of them on the field for defense, either someone has gotten hurt or the Bucs are getting blown out. Same for recently-acquired Jacob Cutrera when it comes to this Sunday against the Saints.

You've been great, enjoy the Fine Young Cannibals.