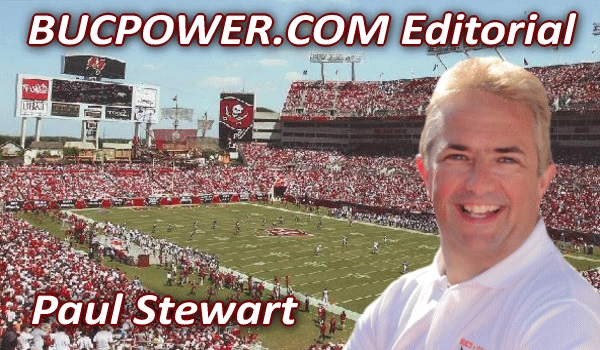 Ranking the eight Buccaneer head coaches
So who is the best? Who is the worst? Well OK, who was the next worst to Leeman Bennett? I got thinking about this whilst flicking between the ESPN pre-game show and the Rays' playoff game in the early hours of Monday morning waiting for the return of Monday Night Football to Raymond James Stadium.

Was it really eight years since the last one? Both the current and previous coach were in the stadium for both of those two games too, this one and the 2003 victory over the Giants, one that was memorable in that Keyshawn Johnson had just been barred from the team.

But back to the ranking. Bennett has to be the worst of the eight for so many reasons, won-lost record, roster moves, draft disasters, bad coaching .. The only thing he did right was give the Bucs UK an interview for our club magazine back in the 1986 off-season.



Buc head coaches W/L record 1976-84 - John McKay 44-88-1 (1-3)
1985-86 - Leeman Bennett 4-28
1987-90 - Ray Perkins 19-41
1990-91 - Richard Williamson 4-16
1992-95 - Sam Wyche 23-41
1996-01 - Tony Dungy 63-49 (2-4)
2002-08 - Jon Gruden 57-55 (3-2)
2009- Raheem Morrs 16-20

Richard Williamson, the unknown coach would come 7th, or William Richardson as ESPN once called him live on air. Really nice guy, great assistant coach, terrible head coach. Allowed the players to rule the locker room and the team went down the toilet with him by the end of the 1991 season.

Ray Perkins comes in 6th as although he rebuilt the team from the disaster of the Bennett years, he never actually made the team a winner. He did lead the NFL in "pissed-off media members" though by the end of his time in Tampa Bay.

Just ahead of Perkins is Sam Wyche, who entertained at times with his wacky style on and off the field, but managed to alienate most of the players with his two-faced behaviour.

And then in fourth place comes the current head coach, Raheem Morris. You cannot rank him any higher than this because he hasn't won a playoff game yet, or even been to the playoffs for that matter. But to place him beneath any of the previous quartet would be an insult to everything he has done so far to turn around the franchise.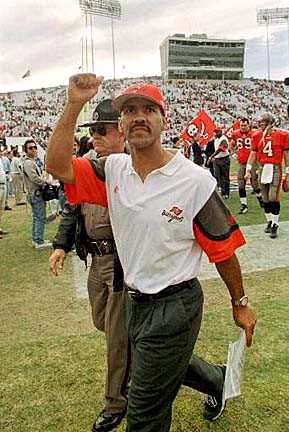 John McKay would lead all NFL coaches in one-liners and it is my ultimate regret that I never got to meet the first head coach of the Buccaneers. I do take great pride in a comment his son Rich made a few years back when he said his dad would have loved everything BUCPOWER has done for the old school players in highlighting their careers and achievements.

So we come down to the final two, the $64,000 question. Gruden or Dungy. Dungy or Gruden. One won a Super Bowl, one turned the franchise completely around. One was a quiet inspirational leader, one was an in-your-face motormouth.

And I will go for Tony Dungy as the best head coach ever of the Tampa Bay Buccaneers. What he did to change the whole mentality of the Buccaneer organisation from the losing era of the 1980s and 1990s. Yes it was done in conjunction with Rich McKay as GM and the Glazer family taking care of the off-field activities, but Dungy made it happen on the field.

Jon Gruden won a Super Bowl. For that he will always be revered in Tampa and on this site, but in this countdown, his decline in his final seasons leading to the complete revamp needed in 2009 does weigh against the lifting of the Vince Lombardi Trophy.

You've been great, enjoy Joan Jett and the Blackhearts