What really happens at the NFL draft
I had the rare opportunity to do what most Americans take for granted each April, to sit and watch the NFL draft. Bill Thompson had passed a tape of the 2001 ESPN coverage to Phil Jones, and some 12 months after the actual event, I had the chance to be as surprised as anyone when the Falcons traded up to take Michael Vick.

Something that had always made me wonder each year, was why it took 15 minutes for each team to make their pick. I mean, how long does it take to decide on someone you have been planning for months amongst your own staff? Cue note to Gary Botteley here for why he takes ten minutes each round in the Fantasy League draft to note everyone else's picks and then draft someone who's retired!

Only on watching the draft did I realise. You need 15 minutes for everything to happen after each pick. The player, if he's there in New York, needs to pose for pictures with Paul Taglibue, with his family and agent, Mel Kiper Jr and Joe Theismann need to spend five minutes arguing over whether the pick is a good one or not, the Jets fans in the audience need to boo regardless, and then an interview has to take place with the player himself. Then and only then, can Chris Berman and cohorts spend 60 seconds guessing who the next pick will be and the whole process can repeat itself.

Something David Stern, the commissioner of the NBA needs to realise, is that he should not pose for pictures with NBA draft picks. He is about five foot nothing and the average NBA center is around seven foot. Pity the poor photographer who has to get that shot together - "err David, can you climb up another rung for me please?"

No such problems in the NFL - Paul Tagliabue is about 6-5 himself and can look most of the picks in the eye. Hence we now find out why Doug Flutie was overlooked by most NFL general managers in the 1980s - the embarrassing picture.

What I can't understand, is why every offensive lineman picked has a mother who's about 5-5, a father who's normal size, but a sister who is about ten times bigger and wider than he is. Why didn't they draft her? You could fill your team's need as left guard, left tackle and tight end in one go with the size of some of the women who appeared on stage in the 2001 draft. Of course they have to be there - well, are you going to tell them they can't?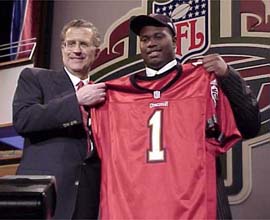 Watching the agent hang around trying to look important is always fun, I spotted Leigh Steinberg, reputed source for the character Jerry Maguire, almost sober in one pick. It's usually easy to spot the agent too - he's the white guy in the suit behind everyone else.

Mel Kiper really is someone you wouldn't want to get stuck in a lift with. Apart from the fact that his permed hairstyle wouldn't leave much space, Kiper is one sad dude. Two days after the 2002 NFL draft, he published his predictions for the 2003 event. The fact that Ceri Dovey wanted to be the UK version of Kiper is testimony enough and Bucs UK FFL owners know how little Ceri actually knew when it came down to it in the 2000 FFL draft.

Rivaling Kiper's hairstyle is Joe Theismann's trusty wig, Rusty. A ten-year TV veteran, Rusty takes offense to anything Kiper says, hence if the latter thinks Dick Butkus was a great selection, Theismann and his hair immediately declare he's a bust. ESPN's NFL pundit Chris Mortensen sits there pretending to look smug when he's only got one pick right in the first ten, and Chris Berman looks more and more each year like he's eaten all the pies and had a pizza or two to go with them.

Three hours into the draft and Tagliabue has got bored with reading a few names out and posing for pictures and retires to the bar. His deputy Gene Washington takes over and the draft definitely moves into second gear. ESPN start trotting out their second string reporters including one, Vinny Cerato, who looks like Stephen Gateley from Boyzone and is about as big a prat as him too.

The Jets fans are busying booing the fact their team has just traded one first round pick for ten more in future years, trying desperately to rival the Eagles' fans who were bussed all the way to New York in 1999 just to jeer at the selection of Donovan McNabb. Hindsight anyone?

ESPN have now moved on to interviewing various NFL coaches on their selections by video link. "He's just who we wanted" says Mike Holmgren. "We really couldn't believe he was still there" said Matt Millen. Why can't someone just once, stand up and say something like "I really didn't know who to pick so I stuck a pin in the wall"? Or even better, "we were going to take Joe Blow from Wichita State but those ****ers from Pitsburgh took him first"? This happens all the time at the FFL draft.

Into the second day of the draft and Berman's not even there. Mike Torico is running the second day of the draft for ESPN and only the serious die-hards are watching now. The Jets fans have even stopped booing their team's sixth-round selection of Darth Vader out of Empire State University, and Theismann's wig has resorted to dropping fake dandruff on Kiper's shoulders. The only excitement now is the player who will be picked last and become that year's "Mr.Irrelevant". He gets a ton of free publicity, accolades and recognition. Bummer for the guy picked just in front of him I reckon.

The NFL draft can really be summed up is that it is televised solely for the average American to sit in front of his TV with tons of beer, popcorn and pretzels slagging off his team. Like they would really need an excuse?

Paul Stewart, May 2001