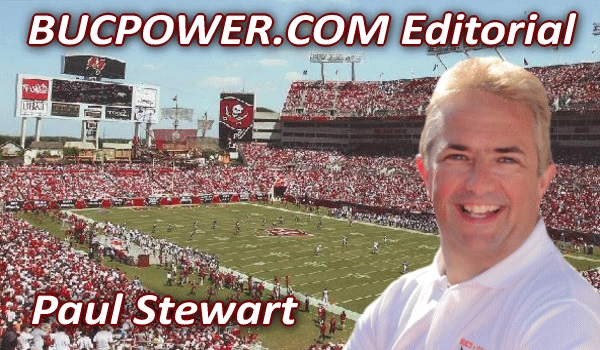 Answering the questions
There are several questions that always seem to come up when I meet people involved in the Buccaneers and the NFL. Time to put all the answers in one place.

Why do you support the Buccaneers?
First team I ever saw play on British TV and win. It was 1982 and Channel 4 had just started their coverage of the game. The first show I watched had highlights of a Monday Night Game between the Bucs and Dolphins from the Old Sombrero. Tampa Bay won 23-17 and I thought "that team in orange must be pretty good, I'll support them".

How many times have you seen the Bucs play?
14. The first won was a 1988 home loss to Chicago and the most recent was Josh Freeman's first start in the Throwback game against Green Bay in 2009. My overall record is 8-5 in the regular season and 1-0 in Super Bowls.

How did the Bucs UK start?
From a letter published in Gridiron UK by long-time friend and then-editor Ross Biddiscombe. Six people replied and thanks to then PR Director Rick Odioso, the Bucs gave permission and their support and we were off and running. I am so proud of what we have been able to achieve for all its members and I do not think we have reached the peak yet.

Why is Trent Dilfer your favourite player?
Because he is a genuine nice guy. I have had the chance to meet him several times and he is nothing but one of the nice people in life. He was not the greatest player in Buc history but he went to a Pro Bowl and won a Super Bowl. And he will always be my favourite player.

Why do you rate the Micheal Spurlock kick return so highly?
Because I was fed up with seeing that damn graphic about "the Buccaneers have never returned a kickoff for a touchdown in their history". It summed up the overall futility of the franchise in more ways than that old "under 40 degrees" record ever did. So when Spurlock scored in 2007, it was so much more than just another six points for Tampa Bay.

How many Buccaneer games do you have on DVD?
It is now 514 out of the 563 regular and post-season games that they have played. And another five where I have more than brief highlights. I know I will probably never get them all because of the 1976 master tapes having been lost by NBC but the others are slowly being tracked down one-by-one.

Is BUCPOWER.COM the finished product?
I do not think it will ever be completely finished. Every game screen has complete stats, every player screen is also completed in that way. But ultimately I want to get an action picture of every player in franchise history (36 is all that are missing now) and only 32 are missing head pictures.

And I also want to add a video clip to every game screen at some point too and this tally is only at 209 right now. There are now 6,937 screens on the site and 11,833 picture images.

What are you most proud of about it?
The effect it has had on former players. I had no idea how much the site would mean to them in terms of reminding them of their careers in the NFL. The profile pages, the pictures, the video clips. I am in touch with so many former players who I have always seen as heroes. From that first game I saw in 1982, I am now friends with over half the starting line-up that day. It is simply unreal.

Why do you finish every column with an 80s music reference?
Ah I cannot claim original ownership of that idea. Bill Simmons from ESPN used to write a irreverant column for their magazine and put the same closing comment on all his pieces. And I would like to think I know more obscure 80s bands and tracks than someone from Boston.

You've been great, enjoy Boston.