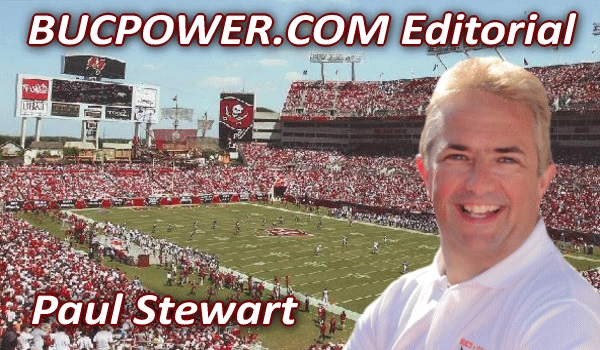 Thoughts from the pre-season loss to New England
People often say a week is a long time in politics. It is also a long time in following an NFL team as seven days ago, the Vince Lombardi Trophy was being engraved with the Buccaneers' name on it after their 25-0 win in Kansas City. Based on last night, a repeat of the first three months of 2009 is more likely.

The truth of course is somewhere in the middle. The 2011 Bucs will not be as bad as they were in the first half against New England, and there is no way they can be so good as they were seven days ago.


The opening half had almost the full set of bad karma - penalties, blown assignments, penalties, sacks, penalties, Patriot scores and did I mention the penalties? It was 28-0 and the Bucs were lucky to have the 0.

"Pre-season games don't count but they do matter" said the excellent John Lynch in the analyst's chair alongside Chris Myers for WFLA. And this was a wake-up call of the highest order. It reminded me of the multiple alarm clock scene that Hugh Grant experienced at the end of "Four Weddings and a Funeral".

And the good thing, if there is one, is that it has absolutely no bearing on the 2011 season record which was 0-0 before the game and 0-0 after it too.

Some good performances to note - Gerald McCoy was in the Patriot backfield as much as Tom Brady and Dekoda Watson was everywhere with the second unit defense. Rookie Anthony Gaitor looks like he has made the team already and seems to be another front office 7th round draft day steal.

James Lee will be taking his yellow flags with him off the team and Jeremy Trueblood can put money on his starting role in Week 1 now. Lee did a good job filling in for No.65 in the second half of the 2010 season but he is becoming the 2011 re-incarnation of Kenyatta Walker so far this season.


Best nickname in years - Frank "The Tank" Okam. The commentary part when Myers and Lynch decided to play "guess his weight" was a classic followed by Myers saying he "wanted to get on Frank's good side, even though there are a lot of sides". Okam is actually showing some potential in the middle on the line.

Best headline in years - Elbert Mack takes an interception to the house and I get to use my "Return of the Mack" line. Been saving that one since his pick in the Throwback game in 2009 that I watched from the Pirate Ship. If only anyone alongside me had even heard of the song in the first place.

Loved the ironic cheer when the crowd finally saw a real kick return, hated the personal foul penalty on Mason Foster for twatting Chad Tinky-Winky on a pass route, and really despised how bloody good the Patriots looked. I guess those morons at the UK Patriots are back on their bandwagon right now and proclaiming another Super Bowl for their current favourite team.

You've been great, enjoy Mark Morrison