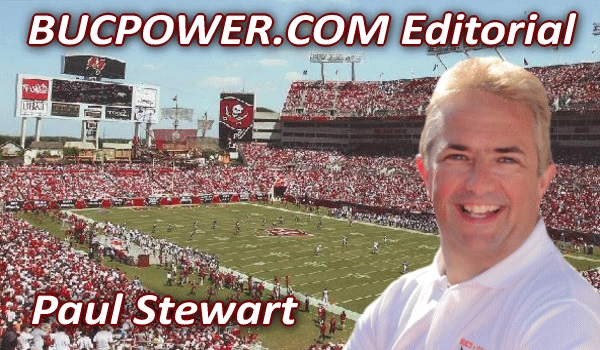 Salary cap 101
All the talk over the past week regarding the Buccaneers has been about the salary cap. Player A is gone, Player B will get cut, Player C will get a contract re-structuring, you know the kind of thing. But if the salary cap is $83.6M, and contracts are pretty simple things to follow (there has to be a reason Drew Rosenhaus is an agent remember), then why all the confusion?

One of the easiest ways to begin understanding the NFL salary cap, is to play the likes of Madden 2005, or even better, Front Office Football. The latter deals specifically with the General Manager aspect of the game and contract negotiation and player development becomes more important than running Red Right 888 in a divisional play-off game.


Ricky Runner
Total contract: $15M over 5 years
Signing bonus: $1M
Year 1
$1M
Year 2
$1.2M
Year 3
$1.2M
Year 4
$3.6M
Year 5
$5M
Ricky Runner (2)
Total contract: $7M over 3 years
Signing bonus: $0.9M
Year 1
$0.7M
Year 2
$1.3M
Year 3
$5M
Let's start with Player A, or Ricky Runner to give him a fictional name. Ricky's agent, Richie Rich, signed him to a five-year contract in 2001 worth $15M over five years. With that contract, he received a $1M signing bonus. As you can see from his contract details, the base salary jumps considerably over the final two years. This is usually done for two reasons:- the player gets a nice big deal at the outset which sounds good to all concerned, and secondly, if his value to the team has increased by the third year, the team will re-negotiate the final two years with another bonus at that point.

But Ricky has had a bad couple of years, and at the end of Year 3, has not done a lot to really help the team. His year 4 cap figure will be $3.8M. This is the base salary for that year, plus the pro-rated signing bonus of $0.2M. The team and General Manager sit down with Richie Rich and tell him to either re-negotiate the contract or Ricky is going to playing elsewhere the following year.

To cut Ricky will cost the team $0.4M. This is the remaining portion of the bonus ($1M divided by five years, * two years remaining). The team offers him a new contract shown on the right. Ricky will take home $1.6M (salary plus new bonus) which is better than nothing. The new cap value for the year is $1.4M ($0.7M salary, $0.3M pro-rated bonus and $0.4M bonus from the last contract). This is a lot better than the original $3.8M. Ricky keeps his job, team saves $2.4M against the cap and everyone remains fairly happy with the situation.


Peter Passer
Total contract: $12M over 2 years
Signing bonus: $1M
Year 1
$1M
Roster bonus: $6M
Year 2
$4M
Peter Passer (2)
Total contract: $11M over 3 years
Signing bonus: $3M
Year 1
$1M
Year 2
$2M
Year 3
$5M
Now take Peter Passer. He joined the team on a two-year contract and received a $1M signing bonus for doing so and earned a $1M basic salary. The cap hit for the team was $1.5M (salary plus the pro-rated bonus). But he is also due a roster bonus on April 1st of Year 2. This does not count towards the salary cap until it is actually paid and is not pro-rated in any shape or form.

So to keep Peter on the team for Year 2, will cost the team $10.5M against the cap. Salary ($4M), roster bonus ($6M) and pro-rated signing bonus ($0.5). Hardly realistic that any quarterback whose name is Manning and who doesn't live in New York is worth that amount.

Peter's agent, Terry Trotsky, sits down with the General Manager and tells him that Peter loves playing for the team and is willing to "do a deal" to stay. He gets a new contract offer to replace the old one thereby eliminating the original salary and roster bonus in the process. Peter gets a nice $3M signing bonus and a three-year contract. His cap value for the new year now becomes $2.5M ($1M salary, $1M pro-rated new signing bonus, $0.5M original pro-rated signing bonus). A lot beter than the $10.5M cap value Peter was originally going to cost.

So in the space of two pretty simple deals, the team has reduced two contracts worth a cap value of $14.3M for the forthcoming season, to $3.9M and extended the contract of two of their players for three more seasons. Players and agents are happy, General Manager now goes out to the supermarket for the blue light special to offer more silly inflated contracts, and fans are left wondering what all the fuss was about. Simple really isn't it?