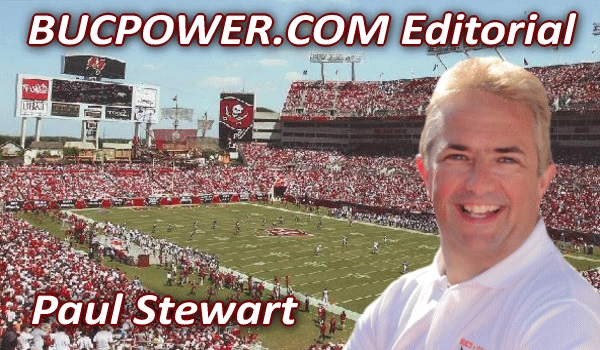 Are you ready for some football?
It's been seven months and nine days .... since you took your Bucs away from me.

Not quite the classic slow track from 1990, but it has been a long long time since LeGarrette Blount gained three yards in the Louisiana Superdome on the final play of the 2010 regular season and the Bucs completed their 10-6 campaign.

That season finished with so much promise, so much optimism, that we have waited excitedly for the next to start. Endless reports of the CBA non-settlement, at least four thankfully false Brett Favre un-retirement stories, and 91 players in our Top 100 Buccaneers' countdown.

But tonight in Kansas City, it starts again with the first of four pre-season games. Everyone is 0-0, everyone is full of hope and expectation (OK except the Panthers) and there are Bucs fans out there who are expecting nothing less than a Super Bowl.


Not so fast my friends. This is still a very young team and a work-in-progress. But whatever happens, when I sit down to watch the game early Saturday morning on GamePass, it will be real football and not a game DVD from days gone by that I have passed my time with since January. Well it was either that or play even more golf.

Old school memories
Flicking through the channels Monday night, I came across ESPN showing a classic Monday night game as part of their series of great encounters. This one was the Packers v Redskins' shootout from 1983 that finished 48-47 and saw both punters retire through lack of work.

Outside of seeing great players of the calibre of James Lofton, John Riggins, Darrell Green and also noticing Joe Theismann's still unbroken leg, this game brought back special memories for me as it was the very first one I listened to on Armed Forces Radio.

From 2am, I listened to a patchy signal across the Atlantic, heard the first call of "there's a timeout on the field and now this..." and then talked excitedly next morning with Ken Thomas of Touchdown magazine about the game in a phone call next day.

And for all too many years, this was the way British fans listened to their football. This was pre-internet, pre-Gamepass and unbelievably, pre-Gene Deckerhoff.

So when we all click a button for our internet TV feeds in high definition, think back for a moment to days gone by and be grateful for technological advancement.

You've been great, enjoy Sinead O'Connor.