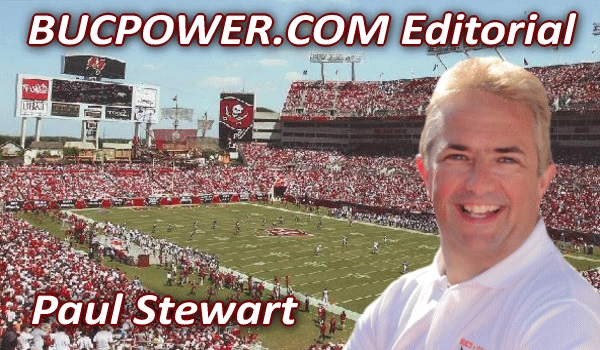 The legacy of the now former Buccaneers
The past week of free agency has seen four members of the 2010 Bucs become ex-Bucs. They have ceased to be. They have joined the choir immortal. They have ... .stop that ... this column is a Monty Python free zone!

Cadillac Williams, Barrett Ruud, John Gilmore and Maurice Stovall will all continue to ply their trades elsewhere in the NFL and become players we now only look out for with curiousity instead of rooting for with fervour and devotion each Sunday night.

But what will each of their legacies be to the Buccaneers? How will we remember their contributions? Do they sit nearer the Derrick "Brooks-for Canton" end of the scale or the Sabby Piscatelli "Don't let the door hit your arse on the way out" category?


We can start with Ruud who will be missed by fans at Raymond James Stadium simply because his name was easy to chant after a tackle. Forget that it was usually about eight yards downfield, cries of "Ruuuuud" echo every time the PA said he made the tackle. I guess we can be thankful in recent times that Niko Koutouvides made it into the starting middle linebacker role.

But joking aside, Ruud's six years can be categorised as two spent playing special teams behind Shelton Quarles and then four leading the Bucs in tackles and calling the defensive signals. Was he a great linebacker? The answer has to be no because otherwise the coaching staff would have fallen over themselves to re-sign him.

Good and a worthwhile second round pick is a fair way of summing up his Buccaneer career and the fact that he was only offered a one-year deal with the Tennessee Titans does seem to sum up the feeling around the NFL for his actual on-field talents.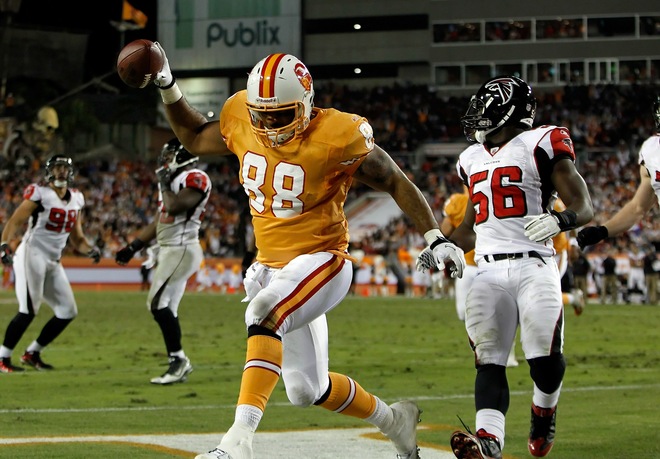 John Gilmore was the designated blocking tight end in the Buccaneer offense as Kellen Winslow has not yet learned what blocking actually means. Gilmore did an OK job, had the occasional key reception but the drafting of both Luke Stocker and Daniel Hardy did tend to give him the hint that he might want to clear his locker out of One Buc Place.


And Maurice Stovall, a 3rd round pick in 2006 who sits just behind Mark Carrier in the all-time franchise receiving stats. if "just behind can be defined as "almost every other receiver in Buc history is between them". Yes he was good at covering punts. I guess the Detroit Lions just beat out the Bucs to sign someone for that essential skill.

And then we come to Cadillac, everyone's favourite back just for what he has been through over the years. Two crippling knee injuries, two amazing comebacks and then a superb re-invention as a third down back during 2010 in which he became one of the best pass protectors I have seen out of the backfield in 30 years of watching the franchise.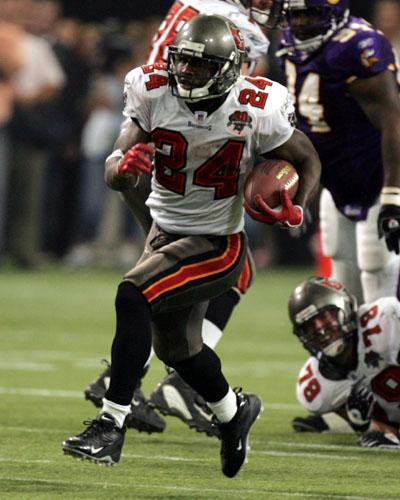 Again, he was only offered a one-year deal elsewhere in the league and the Buc coaching staff, although saying all the right things for a fan favourite in the press, must obviously feel that he would not be a worthwhile contributor for the team going forward into 2011.

So to this quartet, we wish you well and thank you for your efforts in the past (yes even you Stovall). And Cadillac's place in the All-time Top 100 Buccaneers is assured for his performances on and off the field since being drafted 4th overall in 2005.

"Wakey wakey Maurice, I've got a nice bit of fish for you" - "He's pining for the fjords" etc etc

You've been great, enjoy Dollar.