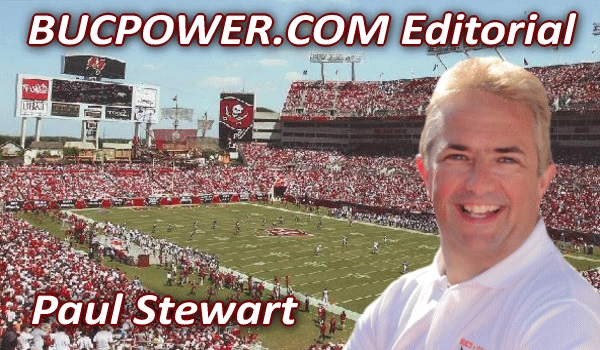 Why Micheal Spurlock is one of the greatest Buccaneers ever
We had a recent competiton for Bucs UK members based round the Top 100 Buccaneer countdown running on BUCPOWER.COM. The question was simply to name the top five current Bucs who will be in that countdown.

Ronde Barber is a no-brainer (you'll be waiting until the final week for him), and Cadillac needs to be in there for more reasons than just rushing statistics. Josh Freeman makes an entry in the Top 40 as you cannot simply wait until a player has been a Buc for a particular length of time before inclusion, and Kellen Winslow narrowly finished ahead of Jeff Faine for the 5th best current Buc.

But only a handful of entries included someone who I personally would have way way up there if it was solely down to me. And that is the man who ended the greatest curse in franchise history in December 2007, Micheal Spurlock.

There were two great stigmas attached to following the Bucs for many years. One was never winning when the temperature was under 40 degrees (actually ended in the 2002 season finale in Chicago before the Championship game win in Philadelphia) and the other was the kick return issue.

Every time the Bucs prepared to return their opening kickoff in a game, up came that damn stat - "The Buccaneers have never returned a kickoff for a touchdown in their history" followed by some smart arse number for how many returns had been attempted.

I was there in October 1994 when Vernon Turner was tackled by his shoelace by a Viking at the 20-yard line and even the most famous Scottish Claymore of them all, Aaron Stecker, came oh so close during a 2001 return against the Saints. Stecker even got to the endzone when he played for New Orleans again the Bucs. But still the Tampa curse continued.


And then it happened. December 2007 against the Falcons. Spurlock took the kick at the 10-yard line and didn't stop until he had gained 90 yards and by-passed hundreds of ghosts of Buccaneer special teamers dating back to 1976.

The game commentary is simply spellbinding and the fact that the logo "that is the first kick return touchdown in Buc history" appeared on the screen within seconds was just classic. How long had that been sitting there ready to be used? About as long as someone else in the Bucs UK shooting a lower score than me at a club golf event....

So for that one magical moment in franchise history, Micheal Spurlock deserves his place in the Top 25 of the all-time Buccaneers. Yes he has had other kick return touchdowns since but nothing will ever be as special as one of the greatest moments the Buccaneers have ever experienced. Santa Maria.

You've been great, enjoy Mark Morrison.