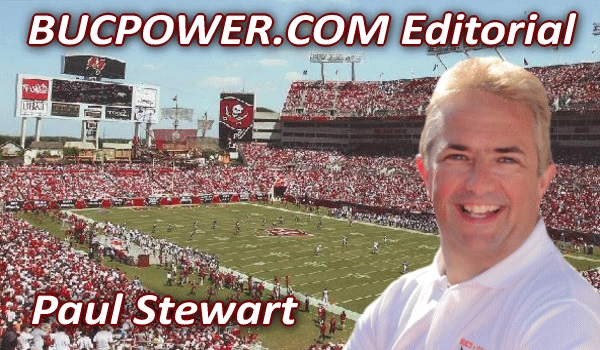 Tracking down missing Buccaneer pictures
If my collecting of Buccaneer game DVDs was bordering on strange, then the quest I am on regarding Buccaneer pictures is definitely way out there.

There have been 922 players who appear on the all-time roster including those from the three replacement games in 1987. Naturally every one of them has their own profile page on BUCPOWER.COM but my long-stated goal has been to try and get a picture of every one to appear on it.

There are two types of picture I look for. One is the headshot image that appears in media guides, gameday magazines and now on websites and TV graphics. The other is a picture of the player actually in Buccaneer uniform preferably in game action.

The majority of head pictures were relatively easy to get as I have a complete set of team media guides dating back to the 1976 expansion season. And for recent players, the internet makes finding even the most obscure college free agent a doddle.

But then there are the players who come on to the roster at mid-season and hence don't always appear in even the following year's media guide. Or even worse, the players from the early years who were gameday inactives and only become official roster heads when the rules on eligibility changed in the mid 1990s.

So you have the kind of player like Curtis Leak (the former Gator QB's father) who was a Did Not Play in the Week 12 game in 1976 and then was released from the team. The chances of obtaining a head picture of him probably now reside in his college, the legendary Johnson C.Smith establishment, having some kind of media file from before he was a pro.

There are just 32 out of the 922 who I am missing for the full set and some I may be able to get from contacting other NFL team's media departments and hoping that they have a old media guide that they could scan the relevant page and e-mail over.

Then there is the action picture collection which currently sits at 853, 625 of whom actually have multiple pictures and their own galleries on BUCPOWER.COM. Of the missing 59, there are 23 of whom I have pictures of them in other teams' colours such as a prior NFL franchise or college team.


An example of this would be Sky Sports' presenter Cecil Martin who appeared in one game for the Bucs, the 2003 season finale in Tennessee after a long career with the Eagles. I have a picture of him in the latter's colours, but I really need to sit through that Titans' game and try and isolate a clip where he appears.

The worst scenario of a player in this category is someone like former Chiefs' WR Mark Bradley who was the Bucs briefly in 2009. He was a gameday inactive and was released at the end of the year so he never actually took the field in a Buc uniform. So unless someone at the Bucs got a picture of him during a practice session, this will be an impossible box to tick in the collection.

Some of the missing 36 players did appear in games that I now have on DVD so it is a case of sitting through them and looking for an appearance even on the sideline. Quite a number of players have images on the site from this kind of detective work although the ones missing from 1976 are going to prove impossible too because of the non-availability of any games from that season on DVD.

So the quest will continue even if completion seems out of range. But it did give me a good reason to turn down the request from a member of the Green Bay Packers' PR team a few years back to create Packerpower.com. I mean, their history goes back the 1920s when even Mike Carlson wasn't around.

You've been great, enjoy Jermaine Stewart