Revisiting memories of the surprise 1997 season
Actually that is a little misleading in retrospect as all the clever pundits had the 1997 Tampa Bay Buccaneers as their dark-horse pick of the season based on their 5-2 finish to the previous year. They all thought Tony Dungy's Year 2 was going to be a good one but then again, those same people had the 2010 San Francisco 49ers in the same category.

You had third-year "veterans" Warren Sapp and Derrick Brooks having their first true impact seasons. John Lynch was in his third year starting and fifth year in the league but this was the first time you truly noticed him. And then there were rookies like Warrick Dunn and Reidel Anthony who made an impression right from the get-go.

Mike Alstott was only a second-year player, Trent Dilfer was in his fourth year and the veteran presence was pretty much restricted to Paul Gruber at left tackle, Tony Mayberry at center and Hardy Nickerson at middle linebacker.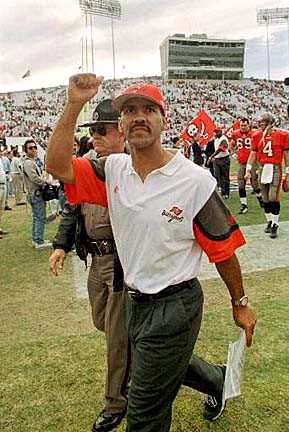 And boy did the American press jump on the bandwagon when the Bucs went 5-0 to open the season and were the NFC's last undefeated team. I was there for the fourth and fifth wins in that streak and had never seen an atmosphere in the stadium or around Tampa about the Bucs. It had been 14 years since a winning season remember.

Fast forward to 2010 and you have an even younger Buccaneer team surprising everyone including the local beat writers and fans. They just keep winning games they shouldn't and currently sit tied for the best record in the NFC at 5-2. That's 5-2 and not 5-dash-2 by the way for all the people who remember Sam Wyche's arrogance in October 1995.

Raheem is not arrogant, he is just trying to put his team back on the map. And in the past 10 days, he has succeeded in that. People around the NFL are starting to know more about Josh Freeman and Mike Williams. They have seen the hurdling clip (cue Chris Berman "Whoop" soundbite) by LeGarrette Blount in Arizona last week. And they are taking notice of these Bucs.

There may not be the massive egos that Sapp owned, the showmanship of a Nickerson, the huge hitting of Brooks or Lynch. But just as you got to know those young players in 1997, you are getting to know these youngsters now.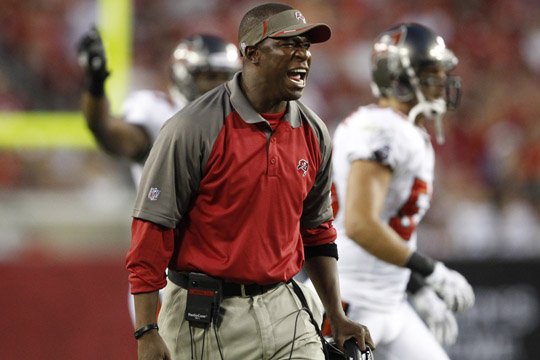 Arrelious "Mister" Benn, Cody "The Grimm Reaper", Connor "Barth Vader", G-Mac (hang on, that's my golfing buddy Graeme McDowell's nickname), Geno, Ruuuuud, EJ, Ted "Perfect" Larsen... the list goes on. All Buccaneers you hadn't heard of in most cases 12 months ago. Now indispensable, favourites and heroes one and all.

Whether this 2010 edition of the young Bucs can wind up in the post-season remains to be seen but that 1997 took a massive step in development just as Raheem's team are doing now. And it was a magical ride that we were all happy to be on.

Remember the 2001/02 Tampa Bay Lightning winning a playoff series over the Capitals as part of their move the following year to the Stanley Cup? Every team has to go through developmental stages on their way to greatness. And right now, the current Buccaneers are driving along that road and we are just happy to be in the bus following them every step of the way.

You've been great, enjoy S-Express.