Looking around the NFL
Yes even a die-hard Buccaneer fan like me who never even watches any other games outside of those played by the pewter and red, can sometimes come up with a few observations about the sport in general.

The NFL shows the FA how it should be done
Minnesota Vikings' head coach Brad Childress was fined $35,000 this week for criticising officials.

Childress first rebuked the officials on the postgame radio show on KFAN. He continued his criticism in his postgame news conference, saying "50 drunks in a bar" would have made the correct call on Shiancoe's catch.

So why can't we have this kind of immediate punishment here in English football? Every manager thinks it is perfectly acceptable to lay into any official blaming them for every goal conceeded by their team or point lost. Even if video evidence later proves that the referee got it right all along.

The NFL will double Childress' fine if he does it again this season which of course means he won't. But over here, the Football Association eventually gets round to charging a manager with improper conduct, two weeks later they get round to replying and if it's really serious, they might get a £500 fine or be forced to watch a midweek cup game from the stands. Big freaking deal.

When the F.A. takes a leaf out of the NFL's book, then football over here will become a lot more respectful and worth watching. It's just another example of how far behind the times we are in sporting circles on this side of the Atlantic.

Sky Sports watch
So let me just get this straight. Nick Halling starts going on about how good the Baltimore defense is and that they are now getting Ed Reed back in the secondary to make them a real force. And they promptly give up 506 yards of total offense in one game ... to the Buffalo Bills. Check please for Mr. Halling.


Wembley scheduling
When it comes to match-ups for the International Series games at Wembley, the NFL really have picked some clunkers. The winless Dolphins in 2007, the winless Bucs last year and now the 1-5 49ers playing the 59-point hammered Broncos. They all looked so good when they were announced of course.

But you then have to take into account that the 2007 Giants wound up winning the Super Bowl, and the 2008 Saints won it the year after. Does that mean New England are on their way to another Vince Lombardi Trophy?

Sky Sports watch part 2
Of course we all had to suffer this coverage last Sunday instead of the regular NFL Game Pass. And although Kev Cadle used a lot of the game notes on the Bucs that I had sent through to the studio, Halling went out of his way to slag the Bucs off at every occasion. And of course really must have loved the final drive.

Chris Bruno and Denis Crawford wound up watching a feed of Sky's coverage for their Buccaneer viewing in the States and it was their first time being subjected to these clowns. "This is my first exposure to Halling...wow, he really is an ass" said Chris.

"This game gave me one positive to bank on today. At least I don't have to watch the Sky Sports feed!" was Denis' comment.

The whole thing was disjointed and stale as we have been writing about for some years now. For once I am hoping the Bucs are not on live TV again this season - then I can rely on NFL Game Pass instead of something that is so far past its sell-by date, that it has become embarrassing.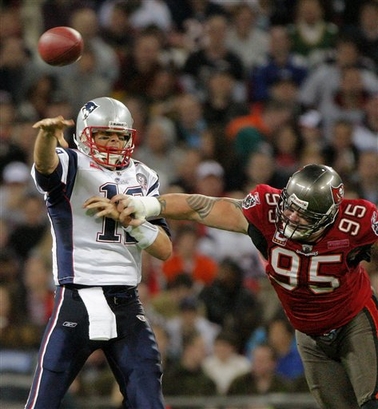 From the "You can't be serious" category
Following me on JP Peterson's show on Tuesday night on 1010 Sports was former Buccaneer DL Chris Hovan explaining why the defensive line will get better. Future such features will include Aqib Talib's guide to getting a cab home, Jerramy Stevens' piece on meeting team curfews and Martin Gramatica's section on kicking accuracy.

Ease off on the expresso please Raheem
You have to love his confidence in declaring the Bucs the best team in the NFC. But did someone just move the Eagles, Giants and Falcons to the AFC since I last looked?

The Super Bowl hangover
Every team gets it at some point. Remember how the 2003 Buccaneers, still supremely talented, managed to lose games to the likes of the Panthers and Colts that they should have won easily?

It's complacency. You spend the entire off-season being told how great you are, feted to high heaven, and expected to repeat just by turning up. Except it doesn't quite work like that and there are a lot of teams hungrier and ready to knock you off your perch.

Welcome to the 2010 New Orleans Saints losing games to the Cardinals and the Browns that come under the "any given Sunday" category. But they still have enough talent to really handle a team as the Bucs found out in Week 5.

Just time to drop this one in
Michael Clayton has signed with Omaha Nighthawks of UFL and will therefore get to drop passes from his former QB as Jeff Garcia is already there, probably pissing off all his team-mates in that locker room as well.

Just a thought about the UFL, in the same vein as a tree falling in a deserted wood, if a UFL player scores a touchdown, does anyone notice?

You've been great, enjoy the Rebel MC and Double Trouble.