End of first semester report card
You might think that this is a really early time to have a bye week after just three games but the Bucs have been pretty lucky with their scheduling in recent years and 2009's week off was designed around the London trip. And in 1993, when there were two bye weeks in a 16-game season, the Bucs were off after just two games.

But it is an opportunity to look back and reflect by position on the progress made so far by the different units and not just over this season, but how far they have come since 12 months ago. You know when Byron Leftover was immobile behind center and the Bucs went three quarters of a game against the Giants without a first down.

Quarterbacks
How can you not love what Josh Freeman has done? Maturity, poise, decision-making, mobilty - this kid has it all and he is only going to get better. Josh Johnson is a decent enough back-up now he has made four starts on two continents and you could live with Rudy Carpenter as your No.3.

Running backs
The message boards in the States go ga-ga over someone with six NFL carries. Let's not annoint Legarrette Blount the new Mike Alstott just yet but we will see more of him. I am in firmly in the Cadillac Williams camp as he has not had enough holes to run through but has done well whenever he has realistically had the chance. His receiving and pass blocking skills are the best of the backfield. Earnest Graham is steady and reliable, Kareem Huggins has been hurt and both Kregg Lumpkin and Chris Pressley are just bodies on the roster. One big run from Caddy and all the whispers will disappear.


Offensive line
Not enough holes and only an OK job on protection as Josh had to scramble a fair few times. Teams are loading the box on the Bucs in 2010 and until the passing game really moves into gear, the running game will stagnate. Some occasional blocking by the tight ends on the roster might help too.

Tight ends
Kellen Winslow makes plays but not enough in the redzone. Offensive co-ordinator Greg Olson wants to fix that so look for more No.82 in your scoring summaries through the rest of 2010. Winslow doesn't consider blocking part of his job description though. As for Jerramy Stevens or John Gilmore, well no wonder the Bucs are converting DE Erik Lorig to tight end.

Receivers
The kids are making it happen. Mike Williams has been a revelation, Arrelious Benn will be next and both Sammie Stroughter and Micheal Spurlock have done their bit but both will be better in the slot. Who needs Reggie Brown or Antonio Bryant? Still wish we had Clayton though, just so we could slag him off some more.

Defensive line
At least we have more pressure than a year ago but that is like comparing a deflated tyre to a flat one. Not enough by a long shot. McCoy, Price and Miller are doing their bit in the middle but the ends are too often a non-factor. Back-up Tim Crowder has a pair of sacks but the right end, Kyle Moore - has anyone called his name yet? This needs to improve and quickly if the Bucs' defense is to hold up its end of the bargain.

Linebackers
Quincy Black is a star in the making and Geno Hayes does his job. But I am beginning to see why Barrett Ruud hasn't had any kind of contract extension talks as he takes more wrong lanes than a woman on a freeway. You look at every 10-yard plus run the Bucs have given up through the middle this season and Ruud has been out of position on nearly all of them.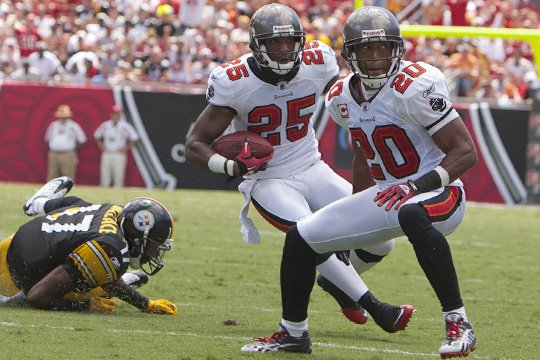 Secondary
Aqib had a one-game suspension topped by Tanard's year-long one. Ronde has a pair of picks but looks painfully slow these days and then you come to the "safety off" pairing of Sean Jones and Cody Grimm. Do you think Drew Brees is losing sleep about facing this unit twice this season? The secondary will be a weak link all season and free safeties don't grow on trees during the year.

Special teams
Connor Barth hasn't missed a kick all season and his kickoffs have been deep. The coverage units have been excellent so all we need is a decent punter on the roster and that does not include you Chris Bryan. Surely we can find one somewhere? I've got Mark Royals' number if that will help.

Coaching
A world of difference in 12 months. Raheem is more comfortable and confident in the role and the players love him. The defense is far better with him coaching and calling the plays than that clown Jim Bates. And the offense has had a full off-season of Greg Olson and is starting to come round too.

Overall
I had the Bucs down for 6-8 wins this season and they are ahead of where I thought they would be at this point in time. Rebuilding takes time and Rome wasn't built in a day. But the right people are in place in the front office and on the coaching staff and the building blocks for the future (Freeman, McCoy etc) are in place. Just keep developing and learning guys, the real fans are right behind you.

You've been great, enjoy Johnny hates Jazz.