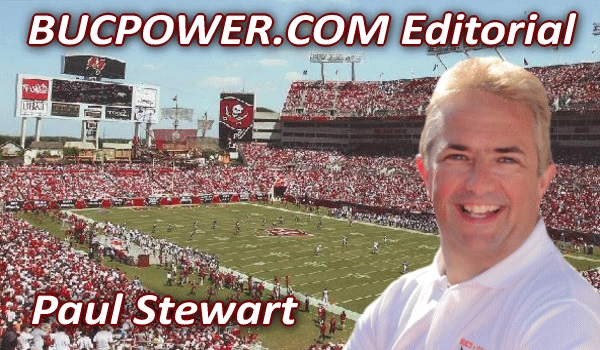 Memories of NFL Europe
As time goes by, real memories can be replaced by imaginary ones or just the good moments. And so with the London Monarchs and NFL Europe fading fast into the distance, I tried to recall the best times of the European NFL league.

So with apologies to Brad Johnson's one season in 1995 and Tyree Davis leading the league in receiving, outside of this top 10, the whole damned thing was pretty terrible. The standard of football was lower than Class 1-AA college ball, the attendances were mostly pathetic and the view from across the Atlantic was apathetic.

1 - Forget running the ball, just pass it
During the 1995 season, the Barcelona Dragons played a game against the Claymores in which they only had two fit tailbacks on their roster. And by half-time, both were out of the game. So coach Jack Bicknell moved one of his QBs, Tony Sacca to tight end, and told QB Jay Walker (great name!) to throw on every down. Which he did and the only rush in the second half was a scramble. Somehow the Dragons won although Walker was totally shattered by the end of the game and his arm was practially hanging off. It's still the darndest thing I've ever seen on a football field.

2 - The Dragons' mascot
Another great story involving the Dragons was with their mascot, naturally a massive green dragon. It was raining in Barcelona (that made a change) during one game and the Dragon was entertaining the crowd between plays by running up and sliding head first across the athletics track round the playing field. Except on one occasion where he mis-judged his angles and took out about half a dozen of the Dragon players on the bench. "Only in this f***ing league" you could hear Bicknell say on the sideline microphone.


3 - Not quite a sellout in London
Back in 1995, the Monarchs were playing at White Hart Lane and had drawn around 10,000 to their first two games in a stadium that holds over 40,000. So I put a call in for a friend the day before their next game asking if tickets could be bought on the day. "Subject to availability" came the immortal response.

4 - Who paid for tickets in 1991?
Do not believe for a minute that the original World League in 1991 was the massive overwhelming success in London that people now think it was. Only the actual final drew more than 60,000 and every regular season game had over half the 30,000 attendance there on freebie tickets. You could even buy a copy of the London Evening Standard, take it along to one of around 40 outlets around London, and get two free tickets the day before the games. I think Phil Jones was the only person who actually paid to watch the Monarchs on a regular basis.

5 - So then Victor X Mohammed ....
In 1995 I was contracted by Channel 4 to do some player interviews for The Big Breakfast and tried interviewing British RB Victor Ebubedike. He had decided to change his name for that season and unless you began each question "Victor X Mohammed, what do you .....", he would not answer you. After a couple of inane questions where he just ignored me, I turned to the cameraman and told him "**** this, let's go and interview a real player" much to the delight of the other players who thought Ebubedike was an asshole. Coach Bobby Hammond promised me any interview I wanted for doing that, something that made current Sky presenter Jeff Stelling outraged with envy.

6 - Casey Weldon throws a TD pass
Barcelona were playing London at White Hart Lane and Bucs QB Casey Weldon was leading the Dragon offense. After he hit fellow Buc WR Tyree Davis on a long touchdown pass, he turned to the small Bucs UK contingent in the crowd and saluted us. On returning to the bench, he looked up, saw me and waved. As I stood and waved back, all I heard behind was some Monarch-jacket wearing clown yell out "sit down you Spanish prat".


7 - Nothing more than a third-string back
Aaron Stecker led the Scottish Claymores and the World League in rushing one season but he was never going to ever be anything more than a third string with the Bucs. So when I was presenting a show for Sky one night and both Warrick Dunn and Mike Alstott had been stopped on short gains, in came an e-mail from some Claymore clown telling us that Tony Dungy should bench these two and just play Stecker. I took him to the cleaners on air for that one and ended up getting Aaron's brother, Julius, give me a hard time for that comment and for something similar i wrote on BUCPOWER.COM.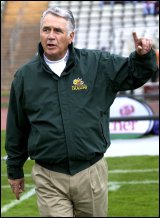 8 - Coach "Cowboy" Jack Bicknell
I always had a soft spot for the Dragons because Buccaneer QBs were always assigned to Barcelona starting with Casey Weldon, and followed by Scott Milanovich and Kelly Holcomb. Coach Jack Bicknell became a good friend as each year he knew I would only be asking Tampa-related questions about their performance and even began a press conference one year with comments about Holcomb just for me, before answering anything else from the regular British gridiron press.

9 - Bad publicity stunts
The World League had its fair share of crap publicity stunts beginning with rugby league star Ellery Hanley being pictured in a Monarchs jersey before the 1991 season had even announced its schedule. He played as many games as I did. William "The Fridge" Perry coming over in 1995 was a $400K waste of time and money, and the whole Dwain Chambers stunt in the final season was an insult to anyone who has played or watched the game.

10 - Confetti showers
Games at White Hart Lane were always popular with the British gridiron press as we used to all sit together and rip the heck out of each other for three hours. One great moment came when the Monarchs scored and confetti came down on us from the upper deck which everyone thought was great including First Down editor Keith Webster, until he realised it was torn up pieces of his latest issue.

Honourable mentions
Any interview with Amsterdam head coach "Mad" Al Luginbill, the sight of Martin Dodds in his Monarchs' ticket role with a "Kylie Minogue-style" headset, Steve Careford talking with Chaka Khan on the sideline without having a clue who she was until she went to sing the national anthem, the sideline camera at White Hart Lane being mounted on a milk float.