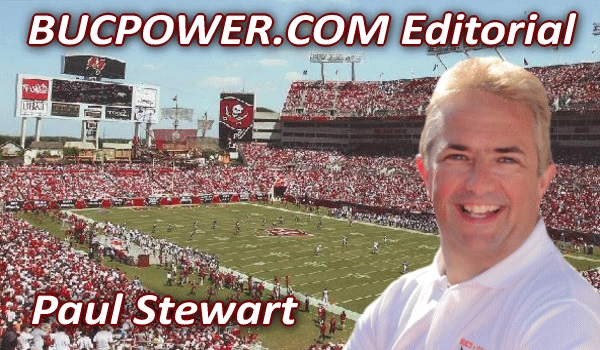 You've got to have someone to boo
No matter who you support, in whatever walk of life, you have to have a bad guy or girl to root against. In baseball of course it is the Evil Empire (Yankees to you and me), in the NFL, the Carolina Panthers, and no-one liked Posh Spice.

So when it comes to supporting the Tampa Bay Buccaneers, right now everyone has it in for Michael Clayton. I guess five under-performing years and a over-paid contract will probably do that to even the most ardent pewter supporter, but looking back over the years, MC-80 has not been alone in being singled out for ritual abuse.

Back in the early days of the franchise, Doug Williams was usually the target of the disgruntled fan. Doug even once received a rotten water melon in the post to One Buc Place with a comment of "try throwing that to your ****** receivers". At least we have moved on from the 1950s in terms of our abuse on the internet nowadays.


And before that, Gary Huff was once carried off the field on a stretcher having not been protected by his 1977 offensive line and remembered hearing the cheers of the crowd when it happened. And you thought Philadelphia crowds were bad.

As the Bucs moved through the losing seasons of the 1980s, quarterbacks were often the target of the insults being the focal points of the franchise. Jack Thompson got it late in 1983, Vinny had it for his final six seasons in Tampa (rookies get a free pass) although most of that was probably the result of Chris Chandler leading the booing from the sideline at No.14.


But other players have been the subject of derision over the years too. Rod "Toast" Jones was one of the worst cornerbacks the Bucs have had and the former 1986 first round pick was always picked on by both fans and opposing quarterbacks alike.

And who can ever resist taking a swing at Kenyatta Walker? Another bust of a first round pick who was maligned all across the NFL by opposing pass rushers on his way to "earning" a Super Bowl ring with the Bucs in January 2003. Trent Dilfer took his fair share of abuse and the anti-Keyshawn jerseys that appeared in November 2003 were good for a laugh to detract from the off-field chaos the mouthy one was causing to Jon Gruden's team.

And now we have Michael Clayton although Sabby Piscitelli, Derrick Ward and Jeremy Trueblood are all earning honorary mentions on message boards as particular favourites for the boo birds. But for every villian there has to be a hero. For good there has to be bad. Then again, all of Posh Spice's team-mates were pretty awful too.