Some unofficial awards for the 2009 season
Normal voting categories just don't give enough scope to some of the deserving people from the past season. Offense, defense, special teams - it's just not enough to restrict awards to those basic categories.

So for the first (and probably the last) time, here are some alternative awards that could be presented at a black tie gala dinner at any Tampa dancing establishment.

LOOKING GOOD IN A CAP ON THE SIDELINE AWARD
Previously won for the past four years by Luke McCown (who even started wearing his cap backwards in 2007 to spice up the award), this one goes to back-up center Jonathan Compas who was on the roster all season and saw action in less than a dozen snaps.

IMMOVABLE OBJECT AWARD
This is a tie between Byron Leftwich and Chris Hovan. The incredible bulk only moved outside the pocket when coming off the field after another three-and-out, and Hovan hasn't crossed the line of scrimmage since October 2006. They'll have a run-off so we'll be back in four months to see who won (if we can tell even by then).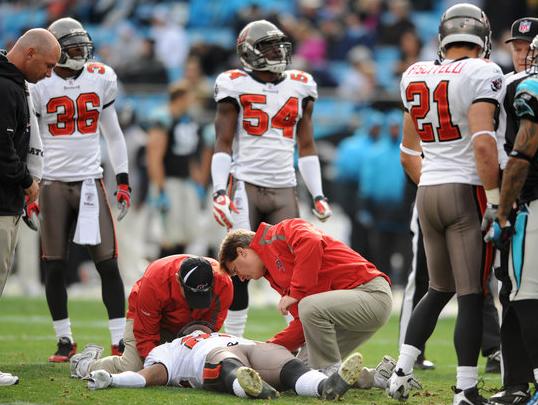 YOU DIRTY FLIPPING CHEAT AWARD
Has to always be won by a Carolina Panther and Dante Wesley is the unanimous choice this year for the most blatant late hit since the Cameroon defender's one on Caniggia in the 1990 World Cup (just do a YouTube search on that classic). Wesley was suspended one game. Obviously the NFL mixed up the words "game" and "lifetime" when issuing the suspension notice.

PREMATURE CELEBRATION AWARD
Too easy to do a gag here in that the sponsor would be a sexual boost product but nothing will ever beat the sight of Saints' owner Tom Benson and his wife celebrating Garrett Hartley's fieldgoal at the end of the game even though it missed. The silly woman carried on jumping around after Tom realised it had gone wide left.

THE MARTIN GRAMATICA "I MISSED AGAIN" AWARD
For the first time ever not won by a kicker. Apparently Las Vegas casinos run a book on how long it will take Sabby Piscitelli to whiff completely on a tackle at the line of scrimmage in each game.

THE TODD STEUSSIE AWARD FOR TURNSTILE OF THE YEAR
Given annually to the offensive lineman who goes most out of his way to help opposing defensive pass rushers kill his quarterback. This year's winner in a landslide is former center Sean Mahan.


THE "WHAT THE HELL WERE YOU THINKING AWARD?
Whoever chose Byron Leftover instead of Luke McCown to start the season. Then again, it did help Luke win the Jaguars' looking good in a cap on the sideline award for 2009.

MISTAKEN IDENTITY AWARD
Whoever on Buc radio called Sammie Stroughter as returning a kick in the Wembley game when it was actually Yamon Figurs. Must have been some foreigner subbing for Gene Deckerhoff I reckon.

STAT OF THE YEAR
That Chris Hovan apparently had 18 quarterback pressures this past season. Did this include post-game when he was shaking hands with the opposition passer?

INANE MESSAGE BOARD POST OF THE YEAR
So many contenders as a losing season brings out the worst in alleged fans. But the guy on the Bucs' board who called for Tampa Bay to start former Dallas practice squad QB Rudy Carpenter over Josh Freeman when he first arrived in November takes the biscuit. Carpenter was only a contender for the McCown sideline cap award in 2009.

CURSE, WHAT CURSE?
All the people, yours truly included, who thought the orange uniforms would be an unncessary distraction. November 8th was a magical day in Tampa and the 11-game losing streak dating back to last season was ended in the creamsicle colours.

FOOT IN MOUTH QUOTE AWARD
Usually known as a Colemanball after the error-prone former British sports reporter. Won easily by Raheem Morris in 2009 for his answer when asked if he would take Clifton Smith's concussions seriously before restoring the Pro Bowl kick returner to the field. "It's a no-brainer" was the coach's unfortunate reply.

Paul Stewart, TBO.com, January 2010