If not Raheem then who?
So I am now in the camp, established by JP Peterson on 1010 Sports about a month ago, that Raheem is not the man to be the head coach of the Buccaneers in 2010. Nice guy yes, great defensive teacher yes, head coach material right now, sorry but no. So if not Raheem, then who should be coaching the Bucs?

There were five big name ex-coaches not working in the NFL right now. I say that in the post-tense because one of them, Mike Holmgren, took over the GM role in Cleveland earlier this week.

So that leaves a quartet of Bill Cowher, MIke Shanahan, Jon Gruden and Brian Billick out there doing TV and media work, but all admittedly keen to get back into the 18-hour days (20 in Gruden's case) of being a head coach in the pro ranks.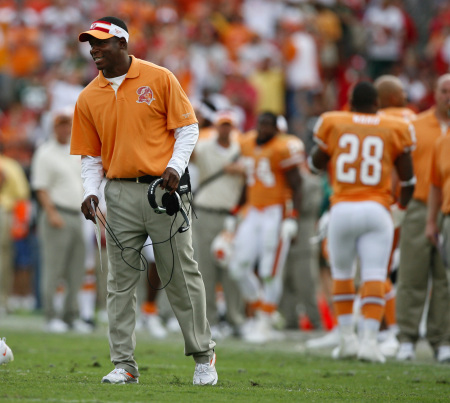 Obviously Jon is not coming back to Tampa Bay and most people have him pencilled in to join Bruce Allen in Washington for the third incarnation of the Gru-Allen team that first surfaced in Oakland before taking hold in Buc land until this time last year.

You have to assume that Danny "Toys out of his pram" Snyder will be after one of the other big names if Jon does not go to the nation's capital, so can or will the Bucs be in contention for one or the others?

The simple way of looking at whether Raheem will be back is to answer this simple question - even if the Bucs finish on a three-game win streak, do they sell 60,000 season tickets with the promise of the same front office/coaching staff in 2010?

The answer of course is no and the Glazer family know this. If home games are blacked out and empty seats are seen all over Raymond James Stadium, this will hurt the owner's finances hard. The Jets' game was the first non sell-out in the 12-year history of RJS and the Bucs and will be repeated for sure against the Falcons.

For the same reason of ticket sales, bringing in a young inexperienced albeit promising coach is not an option. You could even put a state hero like Urban Meyer on the sideline and probably not sell out the stadium. It has to be a big game or else.

The Bucs are no longer on the hook for Bruce Allen's contract and the day Gruden gives up his ESPN gig for coaching, that money will be freed up too. And knowing how the Glazers work, they will not let the expected high price tag of a Cowher or Shanahan affect their decision. Look at the price they paid for Jon in February 2002.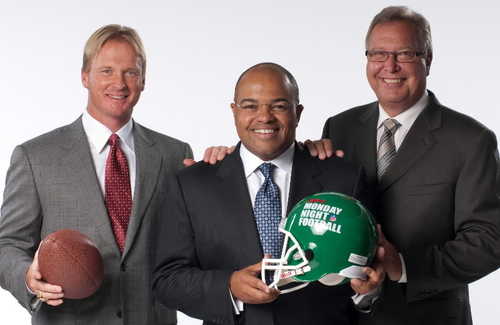 So what is there to convince Bill Cowher to bring his scowl to Bucland or Shanahan his offensive schemes to Pewterfields? Young talent (hmmm), lots of cap room (who hasn't?), winning mentality (outside of 2002, not a lot).

Shanahan was well known for blowing draft picks and won his two Super Bowls on the back (arm) of John Elway but did produce consistent winning records. Cowher is simply seen as a tough hard-nosed ex-Steeler who would bring tough defense and no excuses with his trademark strut down the sideline.

Either of them though would be seen by most Buc fans as a serious improvement, I would personally also put Brian Billick in that category simply just to hear him use the phrase "Slapdick" the whole time (just read any of his books for the reason). I also think he is one hell of a coach but not enough of a name to sell a lot of tickets.

So as far as I can see it, it's Raheem in front of 40,000 fans in 2010 unless Cowher or Shanahan make the move to Tampa. And the future of the likes of Mark Dominik, Doug Williams and the other front office types would depend on that decision as either new coach would insist on their own choice of GM.

The message boards and phone-in shows this week are now full of praise and optimism based on the back of one win over an equally-bad Seattle team. It was the same as driving back to Orlando after the Green Bay win last month.

Two wins do not change the impact of 12 defeats. And the spectre of thousands of Buc fans disguised as empty seats is one that will ultimately decide the fate of this coaching staff.

Paul Stewart, TBO.com, December 2009