The Week 4 Fearless Forecast
My usual attempt to emulate Mike Carlson in both the prediction and humour stakes

A last look back at Week 3
What loss for the Buccaneers? I don't remember any loss to the Giants. It's like my memory has been wiped clean.

Prediction stakes
10-6 last week with upsets called for both Detroit and Jacksonville. And still that Pigskin Preacher makes "Fish and chips" references on TBO.com. Anyone would think he was stereotyping the Brits. 27-21 overall so some nine games back on Lee Bromfield who just like his beloved Manchester City, is at the top of the table.

Detroit Lions at Chicago Bears
The Yazz nickname has gone the way of the erstwhile 1980s singer who had one hit "The only way is up" and then disappeared back to where she came from. The Lions' winning streak will do the same this weekend. Pick: Bears.

Cincinnati Bengals at Cleveland Browns
When was the last time people were picking the Bungles as their Survivor pick team? That is how bad Cleveland is right now and "The Mistake by the Lake" now sums up Mangini rather than the old Cleveland stadium. Pick: Bengals.

Oakland Raydurs at Houston we have a problem Texans
Bay area radio stations are calling for JaMarcus Russell OBE to be replaced by Bruce Gradkowski. That is when you know you are totally crap. Pick: Texans.

Seattle Seahawks at Indianapolis Colts
Anyone see those hideous new Seattle jerseys last weekend? Apart from making the 1991 Orlando Thunder look positively fashionable, they actually looked like one of the Mutant Turtles had puked up on them. And the team wasn't much better either. Pick: Colts.

Tennessee Titans at Jacksonville Jaguars
Now the Titans are facing a must-win game and hence this is why I go with them over the only Florida NFL team to have won a game this season. Pick: Titans.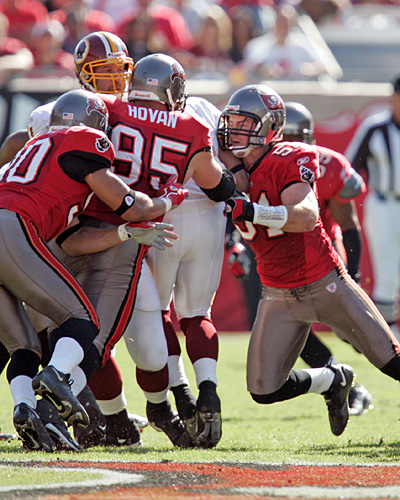 Your very own Tampa Bay Buccaneers at Washington Native Americans
Come on guys, we need a win to at least stop all the message board trolls and local radio shows trashing the franchise. Pick: Buccaneers.

Exit 16W off the Jersey Turnpike Giants at Kansas City Chiefs
Who made this schedule? The Giants get the Bucs on the road one week and then go to Kansas City? Wow, I bet Tom Coughlin is really worried about this weekend. Pick: Giants.

Buffalo Bills at Miami Dolphins
Jason Donovan sung about the new Miami quarterback with his musical number "Henne Dream will do". OK I apologise for that one and I think Dolphin fans will be apologising for having drafted him after a few more weeks too. Pick: Bills.

New York J-E-T-S Jets Jets Jets at New Orleans Saints
Pretenders v Contenders. Time for a reality check for rookie Sanchez and the walking soundbite that is Rex Ryan. Then again, taking bites is something he's never had a problem with by the look of him. Pick: Saints.

Dallas Cowboys at Denver Broncos
Pretenders v Contenders II. Well the Cowboys think they are contenders and the Broncos haven't played anyone decent yet. You really could see Denver pulling this one off but I think they come back to earth with a Mile High bump this weekend. Pick: Cowboys.

Baltimore Ravens at New England Patriots
Pretenders v Contenders III. Although you could argue for either team taking either role. Until New England really fall apart, they are still the big bully in the AFC. The Ravens looked good last week but it was only Cleveland. This week is the real test for them. Pick: Patriots.

St.Louis Rams at San Francisco 49ers
Kyle "I can throw the ball through the goal-posts off my knees" Boller starts for the Rams. He will spend most of this game throwing it off his arse. Any chance we can be re-scheduled to play St.Louis? Pick: Niners.

San Diego SuperChargers at Pittsburgh Steelers
On paper, the two best teams in the AFC. But this will be played on what Pittsburgh calls grass and with Jeff "Gramatica Mark II" Reed somehow still in charge of kicking. If only San Diego didn't have Norv Turner as head coach. Pick: Steelers.

Green Bay Packers at Minnesota Vikings
Brett Favre Bowl. The over/under on how soon Jon Gruden will wet himself with excitement in the commentary booth is eight minutes into the first quarter. Experience tells me just don't root against No.4 on prime time television games like this. Pick: Packers.

Paul Stewart, TBO.com, October 2009