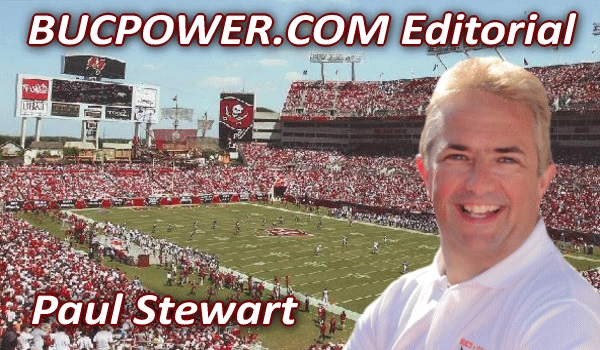 Behind the scenes at Sky Sports
The Bucs were on their way to the playoffs against the Eagles and I was looking forward to watching it on Sky Sports as normal later that week when the phone rang. "Nick can't do the games on the Saturday" explained Karl Baumann. "How do you fancy presenting them with Kevin and Scott?"

Took me all of, say, half a second to agree, and then another 10 minutes convincing Karl that I could remain neutral, objective and calm for seven hours of live television. So most Buc fans saw my debut on Sky Sports for the Bucs' second consecutive playoff exit in Philadelphia and Oakland's win over the Jets, but do you know what really goes on behind the scenes to bring you your weekly fix of live NFL football?

The actual studio at Isleworth that the NFL show uses is like a small warehouse, with four cameras to show the presenters from every angle possible and NFL-designed backdrops. The actual game helmets that go on the front of the desk are retrieved from a storage room that has all 31 teams ready for action, and in addition to the three of us presenting the show, were two cameraman and one floor manager.

Everyone else is in the production studio. Charles Balchin, who has directed and produced American Football in the UK since the late 1980s, was producing this one in Karl's absence, with Clare Boulton directing. A team of lighting, video and sound people were there behind the scenes, as way the obligatory make-up girl who had a six-hour job getting my face ready for action.

Kevin Cadle takes a lot of criticism, most of it unjustified too, from NFL fans in the UK, but it's not for a lack of effort on his part. Pages of notes on the teams, autocue lines to read, links to put together, and all to be done whilst listening to Clare's instructions in his ear. It's not easy believe me. All Scott Couper and I had to do, was just watch the game on one of the two big screens in the studio and talk about the game. Sounds easy – try doing it when you realise it's live and how many people you know are watching it!

American Football by its very nature is a stop-start game and the production staff have to be ready at a second's notice to run commercials, a video link or come back to the studio for comments. Every time a trailer for a future game, link for interactive coverage, or highlight clip appears, it's been pre-recorded and put on hold ready for use during the show.

Talking of highlights, do you think the clips of the teams in action during the likes of "Halling's Hunches" appear by magic? Not a chance. Someone like Colin Ennis in the production staff logs each game that comes in to the studio for key plays that will form part of the highlight programme each week, or will be used for a quick clip at any point in the future.

So back to my appearance. A Bucs' tie was obligatory for our appearance, as was my prediction that Tampa Bay was going to win. Well, what else would you have expected? That first live link was pretty nerve-wracking, but once you get used to the format of each link, it gets easier. Kevin Cadle pointed to who he wants to answer, Scott or myself, something you don't really see from the front camera angle. Then while the camera was on one of us, he would give us a 5-second sign to indicate when we were about to go back to the live action and wrap up what we were saying.

The biggest problem I found though, was being taken by surprise for what he would ask you when we went live. During the Raiders-Jets game, the Jets pulled the score back to 31-24 on a fourth down play inside the two minute warning. Scott and I were talking off-camera about whether the Jets would try and an onside kick and he had a great story about returning such a kick in the World Bowl for the Claymores. We go live, and dearest darling Kev hits me instead with "what was the key play on that last drive"…eerrrr… "going for it on fourth down?"

Mike Carlson gave me some good advice in that you just turn questions like that to whatever you were going to say anyway. Trouble was, he told me that on the Monday afterwards!

E-mails come into the production studio during the game and every so often, Charles Balchin brings one or two out for you to try and introduce during a link. You often don't get a chance to do this due to the nature of the game, and a great one I had from fellow Extra Point writer Stephen Rigby was left sitting on my desk for a couple of hours. At one point, we answered an e-mail about players wearing eye-black and I commented on how useful I found it when I played in the outfield on occasions in my baseball career. Another e-mail promptly arrived from a team-mate on the Guildford Mavericks – "How come you could never hit the ball then if it's so good?" – yeah thanks, friend!

I had pre-decided to change ties for the second game and Kerrie selected a purple design to replace the Bucs' one. To show that you can't please all the people all the time, I got stick from fans who thought I should have stayed with the Tampa one, stick from those who didn't like the purple one, and praise from others who liked the idea of changing. Nick Halling promptly repeated the trick the following weekend – "imitation is a form of flattery" he explained afterwards!

What you don't see on the show of course, is what's behind the desk we sat at. Banana skins, orange peels, drink bottles, thrown-away e-mails and notes – a real mess. Kevin Cadle has done late-night live games before and advised that water and fruit was the way to stay awake and alert through until 4.40am which is when we finally went off air. He was right too.

Scott Couper is a great guy and he spent the Oakland game just drooling over Jerry Rice's performance. It has to also be noted how perturbed he was that the production staff insisted on installing an autocue for him, just for a 12-word link. He got some stick from me when he got it spot on though, stick that came back when I kept mentioning how practically every player in the NFL was an ex-fantasy leaguer of mine that I'd got rid of.

Watching the tape back of my performance was interesting, as I hadn't realised the graphic that was being brought up on the screen advertising BUCPOWER.COM. That fiver I threw into the production studio worked well I guess. I did also notice my hyper-active eyebrows – I'll need to do something about them before next time. And apparently there will be a next time too. I was given some good advice in that the only peoples' opinions who matter are the production staff and your wife's. The team in the booth were happy. Kerrie and Tanith decided that they had seen enough of me round the house talking about football anyway and went back to the Playhouse Disney Channel which is more suited to 14-month-old toddlers!