The case for each quarterback to be the starter
This game of Luke or Byron, Byron or Luke will soon be over. And then of course the next game of "loser should replace winner" can begin. Is this really what Raheem Morris wanted for his first season as an NFL head coach?

I still remember the last full-blown quarterback controversy in Tampa, the one between Vinny Testaverde and Chris Chandler in 1991 (the one between Trent Dilfer and Casey Weldon only existed in the latter's mind). That became totally divisive in the locker room as Richard Williamson allowed the likes of Broderick Thomas and Jesse Solomon to rule the roost and take sides.

Chandler never took to his demotion and spent two months bad-mouthing Vinny to anyone and everyone and even started whipping the crowd up on the sideline to get him put into the game. He was cut in November 1991 and began his tour round the NFL collecting more clubs on the way than Tiger Woods.

So will it be 12 or 4? Luke or Byron? Time to make a case for either of them and in the process, throw the other two passers on the roster into the equation too.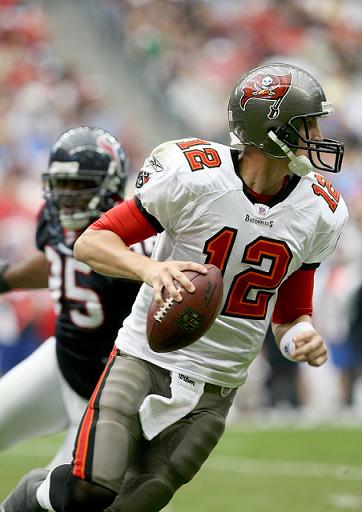 Luke McCown
He has been with the Bucs for four years now and played exceptionally well to win a 2007 road game in New Orleans to effectively clinch the division title that season. His other three starts have all been in games when Jon Gruden was resting his starters for a wild card loss the following week and hence he only had half the playbook to use.

This job is a stop-gap until rookie 1st round pick Josh Freeman is ready and McCown gives the Bucs the best chance to hold the fort until then and win a few on the way. I would rather see the Bucs at 3-5 mid-season when Freeman takes over than 1-7 and Luke gives the Bucs the best chance to be at that mark. And nearly 90% of BUCPOWER.COM voters agreed too.


Byron Leftwich
Whereas "The Incredible Bulk", "The Pillsbory Dough Boy" or any other nickname you want to invent had less than 3% of the votes. And that was from his mum and friends. This is Leftwich's fourth NFL team and he is not going to change his spots overnight. We have seen what he can do in Jacksonville, Detroit and Pittsburgh and it's not good enough.


Josh Freeman
So how about throwing the kid right in at the deep end now? It worked for Matt Ryan and Joe Flacco. Ryan was a four-year starter at Boston College in a pro-style offense and was the most NFL-ready QB to come out of college in years. Flacco was not actually that good last year and had one hell of a defense on his side.

Having Josh start now would be a mistake - he's just not ready yet. Give him a drive here and there during the first month of the season. Let him take snaps in training as the No.2 and then start him after the bye week in November.


Josh Johnson
There is actually a petition on the Bucs' own board for this guy to start. Err.. why? He has never even been active for an NFL game and his credentials right now are one 43-yard touchdown run at the end of the Tennessee pre-season game when he bobbled the snap and the Titans' fourth-string defense were waving to their mums in the crowd.

The depth chart
So I would have McCown starting and Freeman at No.2 ready to play in November. Who should stay and who should go? If Luke got hurt, then a combination of Freeman-Johnson would be tantamount to disaster. So you have to therefore keep Leftwich on the roster as the third QB in the event of an injury emergency.

I did like the idea from one poster on the TBO.com board who said that Freeman should go on the developmental squad. To do that, the Bucs would have to cut him, take his entire signing bonus as a cap hit this season, and then re-sign him to the basic practice squad salary. And any team could snatch him off the roster at any time even if he did want to sign with the Bucs in that event. Some people really just don't know how the NFL rules work I guess.

You've been great - enjoy the Clash

Paul Stewart, TBO.com, 25 August 2009