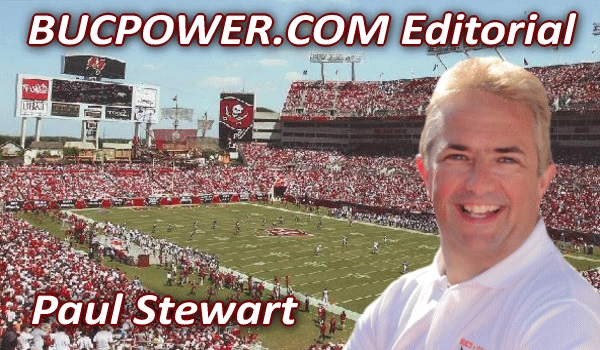 Welcome back Cadillac
There cannot be a true Buccaneer fan out there who is not glad to see the return of Cadillac Williams to the full roster. Irrespective of past or future performance, this is a story of true grit and determination to work yourself back from the worst set-back you can imagine. As we go about our daily routine, his involved hard work and re-hab without any kind of on-field reward or adulation whilst doing so.

And then came the announcement that No.24 was back. The next stage will be for him to get a carry. And if it's at Raymond James Stadium, I hope everyone rises to their feet to salute the incredible efforts that Carnell has gone to, just to be in a position to carry the ball.

Turning to his impact on the team, the immediate one was the release of Michael Bennett. There must be a reason that three NFL teams have now given up on him. One team may make a mistake on player evaluation but three? Bennett never embraced playing special teams and was not any kind of a kick returner. I wish him well in San Diego but I think his one 1,000-yard rushing season in the NFL may be his last.


This leaves the Bucs with Earnest Graham, Warrick Dunn and Clifton Smith as tail-backs, and BJ Askew and Jameel Cook as full-backs. The Bucs have typically had five backs active so far this season so would expect to see something similar for the time being. Cadillac, now you go to be a gameday inactive.

But Graham, Dunn and Askew were all beat up going into the bye-week and only so much recovery can happen during a fortnight. Earnest can of course switch to full-back if needs be (and James Wilder did it both ways during his career so there is a Buccaneer precedent), so Jon Gruden has the flexibility to switch his backfield around.

An ideal world would see the Graham/Dunn combination behind Askew that we saw early in the season to great success, and then Cadillac getting a chance late in December to take the next stage of his re-hab.

And for those out there who were calling him a bust after his magical start to his career - what short memories you have. His numbers dropped from 1,178 to 798 yards in 2006 but remember the offense he was playing with? The Bucs had the Polish Pop-Gun, Bruce Gradkowski throwing the ball, and defenses were stacking eight, nine, even all 11 men in the box because of the lack of a passing threat.

Cadillac was running the ball well in 2007 when he was hurt in Carolina and anything in terms of positive yardage that the Bucs get out of him in 2008 will be a bonus. This is just the next step on his way back to starting for the 2009 Buccaneers and we should all wish him well along this next step of the way.