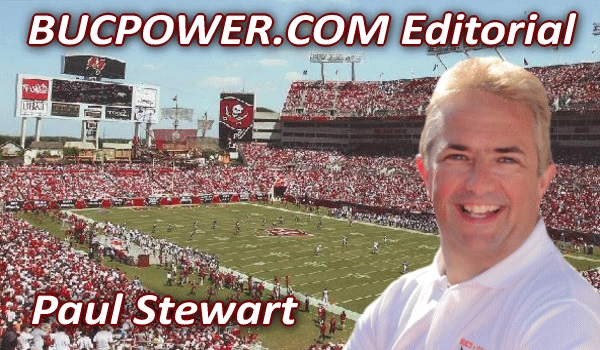 The sports trip of a lifetime in a weekend
And it started off as a quick trip across the Atlantic to see the Bucs play Seattle. And it wound up with NHL hockey, the USF Bulls, high school football, a playoff baseball game and the chance to lift the Vince Lombardi Trophy. Time for a recap of what happened during the week in Tampa that Phil and I encountered.

I knew my weekly radio stints on JP Peterson's show were pretty popular but I didn't expect to end up being recognised almost everywhere I went. From Tampa airport to Clearwater beach bars, people knew about the "Across the pond" slot that I do every Monday on 1010 Sports and they all knew about BUCPOWER too.

Thursday
I had arranged to spend some time at One Buc Place working through their statistical archives to clear up missing historical disrepancies. And whilst doing this, I ended up sharing a film room with Cris Collinsworth of Fox Sports and watching game film with him of the Bucs' win over Carolina. Cris worked a Super Bowl on British TV with Mick Luckhurst and had good memories of the experience.

The Tampa Bay Lightning are a shadow of the team that won the Stanley Cup a few years back and the atmosphere in the Forum was very different to previous trips. Phil was already well into double figures in his beer count and managed to fall asleep during the second period even though we were sitting right behind the Lightning bench.

Driving home from the hockey, the Rays were leading 7-0 in Game Five of their ALCS series with the Red Sox and were three innings away from victory. And seeing as we had a chance at tickets for a Game Six, it didn't look good. Thankfully, the Sox pulled off the second biggest comeback in playoff baseball history and we were set for a game at the Trop on the Saturday night.

Friday
After the obligatory trip to Buc Heaven, we had lunch with former Buccaneer players Steve Wilson and Steve Young at Selmons. The former is the man who has done so much to promote BUCPOWER to his former team-mates and other players around the NFL, although it seemed he wanted to meet us more than the other way round. Either way, the stories and food were excellent.

Downtown Tampa was the next venue as we joined JP Peterson and Dave "Big Papi" Ortiz on their outside broadcast of the Happy Hour Show on 1010 Sports. I will do a feature on this in due course but rest assured, this is a real professional sports show run by real journalists instead of the crap that Dumb & Dumber put out on 620. Incidentally, Ron Diaz found out I was in Tampa and was threatening on air to "come down to the stadium and kick my British ass". Naturally he never showed up.

For our high school football, we went to Clearwater High who man-handled Pinellas Park 29-0 although the highlight or perhaps lowlight were the Park band, by far the worst in existence. They were so bad, that Phil even started singing Rick Astley numbers to make up for it.

College gameday
Saturday was a 12.00 start at Ray Jay with the USF Bulls taking on lowly (ie: crap) Syracuse. I had never been in the upper deck seats before (guess I've been spoiled) so it was different to watch a game from up there. Phil and Nick Houllis were working big-time on their beer counts. We then met up with Rick Moore at Selmons, with the manager of the latter, John Ponzo, continuing to ply us with free starters. Rick had a ton of Buc playing shirts for us to bring back as competition prizes.

And then it was down to the Trop. Last time I saw the Rays, there were no more than 4,000 people there and myself, Kerrie and Tanith sat wherever we wanted. Now we were in the right field bleachers as 41,000 people made it the loudest sporting event I have ever been to. There would be no celebration that night as the Sox won 4-2 but this was a sporting event to savour.

Buccaneer gameday
Sunday was of course Bucs' day and we had pre-game sideline passes thanks to the Glazers. We chatted with Bryan and Joel, along with Doug Williams, Parnell Dickinson, Gene Deckerhoff, Al Michaels, Jim Gruden, Joe Diaco and many other officials. And I wound up being still on the field as the national anthems played with Joe Diaco, the Bucs' team doctor, giving me stick for my singing.

The game of course was pretty one-sided which is never a problem in my books when it is the Bucs doing the dominating, but the biggest cheers were for score updates from Game Seven of the ALCS from the Trop. Phil, Nick, myself and David Cambridge wound up in one of the club seat bar areas watching the final inning on a big screen with around 1,000 other baseball converts.

Holding the Super Bowl
Monday was back to One Buc Place to realise a dream as Joel Glazer had arranged for me to get my hands on the Vince Lombardi Trophy. Words cannot truly express what it meant to do that, but I was doing it on behalf of everyone in the Bucs UK when I held that surprisingly heavy silver trophy.

I also spent some time with Doug Williams as I had some game DVDs for him and he quickly switched from watching the Bucs v Seahawks game from the previous night, to the 1982 home win over Chicago which was his last game in Tampa.

I was also able to sneak into Jon Gruden's regular press conference and caught up with Roy Cummings and Ira Kaufman from The Tampa Tribune. If you watch that confernence closely, you hear my camcorder click on about three minutes into it which makes Jon look over my way and grin.

And finally
To do this many big sporting events in one weekend was pretty lucky as it just simply all fell into place. But I do need to thank many people for their efforts in making the whole trip so special, so here goes:- Phil Jones, Bryan Glazer, Joel Glazer, Jacque McKelvin, Scott Smith, Jeff Kamis, Jay Campbell, Rick Moore, Nick Houllis, Steve Wilson, Steve Young, Chris from Selmons, David Cambridge ... and of course, Kerrie for letting me go in the first place!