Antonio Bryant is the 33rd name on the list
Of 100-yard receivers for the Buccaneers that is. His big day in Chicago last weekend that took him over the three figure mark, moved him into the echelon of Tampa Bay receivers who have had similar big days for the franchise since its inception in 1976.

Morris Owens was the first one to do it, even though it did not come until the 19th game the Bucs ever played. His 166 yards in a 30-23 loss in Seattle in October 1977 was the first proper receiving day any Buc wideout had recorded. And it was Owens who had the first four in franchise history too as he was the early deep threat for John McKay's team.


Unsurprisingly enough, the big names in Buccaneer receiving are at the top of the charts in terms of 100-yard games. Mark Carrier leads the list with 15 of them, one more than early 1980s speedster Kevin House. Current Buc Joey Galloway is tied with Keyshawn Johnson on 11, although the latter has the only such play-off performance, a 106-yard day in the 2000 Wild Card loss to Philadelphia.

And it is not just receivers who make up the 32 other names on the list. Five tight ends are there led of course by the magnificent Jimmie Giles who will be elected into Alcorn State's Hall of Fame this weekend. Jimmie had seven of them, more than the other tight ends, Jackie Harris, Ron Hall, Calvin Magee and Steve Holloway, had combined.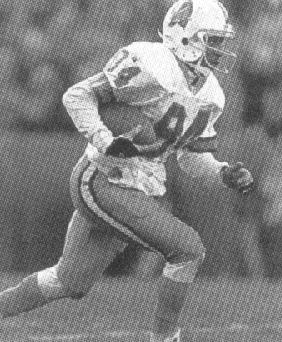 The Bucs have had some pretty decent receiving backs over the years and none more so than James Wilder. He had three 100-yard games to go with his many such rushing days during his nine superb years in Buccaneer colours. Warrick Dunn also has a trio including a memorable one in 1997 against Miami that scored me a ton of fantasy points.

There are some fairly obscure names on the list too in terms of one-performance wonders. Bill Schroeder, Charles Wilson and even Alvin Harper all grace the list. Wilson's performance was an amazing day against the Los Angeles Rams in 1994 when he had four catches for a staggering 166 yards.

So whether Antonio Bryant goes on to have more such days, or is destined to become a one-hit wonder like the winner of all too many reality TV shows, at least he is on the list.

Paul Stewart, September 2008