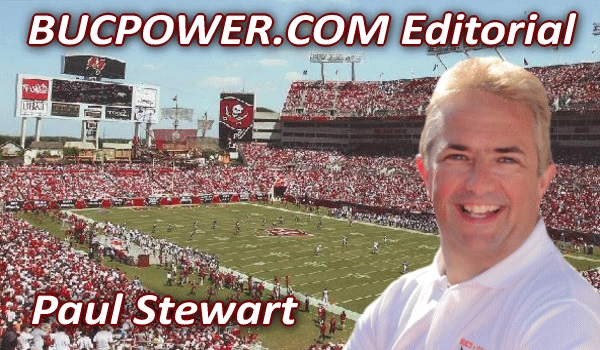 The passing out, sorry on, of a legend
Back in the early 1990s, Buccaneer fans on the other side of the Atlantic discovered a magazine called "The Sporting News" that contained stories and features on their favourite American sports and in particular, snippets on their beloved Tampa Bay Buccaneers. And the by-line each week was entitled "Nick Pugliese".

That was the first time that the Bucs UK would come across the name of a man who was already legendary with the brunettes at the Mons Venus and it would not be the last.

Back in the days when Pugo covered the Buccaneers, they were terrible. Awful. Lousy. In fact, Nick was on his third Roget's Thesaurus for ways to describe how the Bucs had lost another game. And then he moved off the Buc beat and they started winning. Anyone would think the two were related.

In 1997, the Bucs UK arrived in Tampa for their first club trip, and looking for a good time.. sorry story, Pugo offered to chauffeur the likes of myself and Phil Jones around after a memorable Sunday night win over the Miami Dolphins.

Having had Nick introduce us to all the good reporters on the Tribune, and then to Martin Fennelly, Pat Yasinskas and Bill Ward, he was taking us back to our hotel when we passed the offices of the Slant Pete Lies. "Quick stop the car" someone from the Bucs UK (allegedly Phil Jones) shouted. And the four of us decamped from Pugo's vehicle (definitely making him an accessory your honour), and hosed down the walls of the Slimes, an action which apparently to this day makes us legendary around the Trib sports offices.

Legendary - good word that because all stories aside, that is what Dominic Nicholas Pugliese is. The Bucs UK honoured him by electing him to their Hall of Fame in 2001. We have been happy to entertain him on this side of the Atlantic, and have become friends with so many people at the Tribune through him.

And on a personal level, I have been able to take the word of BUCPOWER.COM to a massive new audience thanks to the opportunities Nick has given me through the TBO.com group, in the paper, on-line, and on Channel 8. And that is something I am very grateful for.

Pugo, you realised quicker than most that sports writing now is a global phenomenon. When anyone of your writers files a story now, it is not just being read by people across the Bay area. It is being read on-line by people around the world. Everyone in the Bucs UK knows you, Joey, Katherine, Roy, Ira, Anwar and even Martin.

On a work level, thank you for everything you have done for me and for the Bucs UK. On a personal level, nothing will change. Some friendships trangress editor-reporter level and across the 4,000 miles of the Atlantic.