More on the Top 100 Buccaneer video clips
Saturday morning finally saw the end of the three month plus countdown that featured 100 different Buccaneer video clips through the 32-year history of the franchise. It all seems so long ago when I first had the idea of doing it and then began the massive process of compiling and editing all the clips. But wasn't it worthwhile?

Of all the different countdowns we have done on BUCPOWER, this one has been the most rewarding and well-received around the world. Because it was so far in advance of anything else that Buccaneer fans had been able to see anywhere.

Whether you were a long-time die-hard fan, or a recent convert to the Pewter Pirates, there were clips in there that you had either forgotten or knew nothing about. From big hits to classic bloopers, from memorable touchdowns to franchise defining moments. I hope I managed to cover them all for each of you.

But a little word on the selections in the Top 10. The actual order was put together by myself, Scott Smith of the Bucs, Nick Pugliese and Joey Johnston of The Tampa Tribune, Denis Crawford, Nick Houllis and Lee Bromfield amongst others. And we were all pretty close on the actual order of those 10 plays.

Interestingly enough, when we ran the Top 10 order as a prediction competition for Bucs UK members, we did get a slightly different order, one I have shown below in brackets.


10 - Danny Reece - the first touchdown in Buc history - the score was 42-3 Baltimore at the time but it was the first score in franchise history all the same. Hence it makes the top 10 for that reason but nothing else (Bucs UK ranking 6).

9 - Neil O'Donoghue's fieldgoal blooper - a classic moment from the early days of the Bucs. Everyone has seen it and hence is more infamous than famous (10).

8 - Joe Jurevicius' 71-yard run and catch in the playoff win in Philadelphia. Trailing 7-3 it turned the game. Had it won the game, it would have been a lot higher but I do feel this play has been magnified in its importance by Gene Deckerhoff's commentary (although Joey Johnston vehemently disagrees with me on this one!). Bucs UK ranking 4.

7 - Mike Washington's interception TD in the first win in franchise history. Although we could have picked any of the three pick sixes from this game, every ex-Buc I have talked to who played in this game says this was the moment when they knew they would finally win. How can I argue with the likes of Richard Wood, Lee Roy Selmon or Dave Reavis? (9).

6 - Matt Bryant's 62-yard fieldgoal. Another Gene moment but I was watching this one live on Sopcast and commentating down the phone to JD and I went beserk when Bryant made the kick. (7).

5 - Shaun King's sandlot play on Monday Night Football - I did not have this quite so high but it was a key play from a great rivalry game. Probably the best regular season game in franchise history now. (8).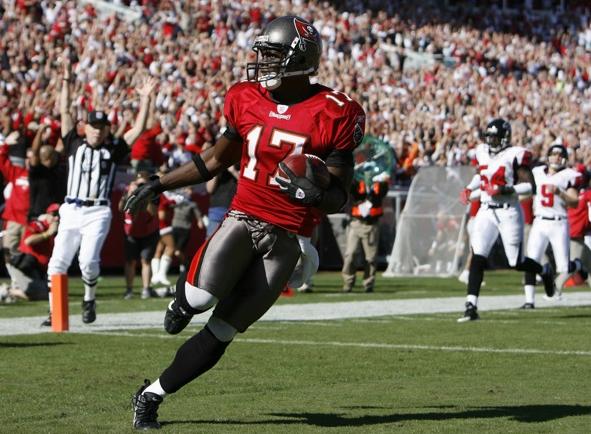 4 - Mike Alstott's one-yard run in 1997. The start of the 5-0 run that began the turnaround of the franchise on the field. And this play was shown repeatedly across America as NFL fans began to take the Bucs seriously again. (5).

3 - Micheal Spurlock's kick return touchdown - I can never get tired of listening to Matt Vasgerian's commentary which for once, totally overshadows Gene Deckerhoff. "The great curse has been lifted". Interestingly enough, the Bucs UK members voted this No.1 probably because it was so recent an event.

2 - Derrick Brooks' TD in the Super Bowl. The Bucs still led 34-21 at the time and there was no way the Raiders were coming back hence it doesn't make the top spot in this countdown. But it was still the moment when we all knew it was finally over. (3)

1 - Ronde Barber takes the Bucs to the Super Bowl. The defining crowning moment for all Buccaneer fans. The Eagles had all the momentum and we were all chewing our fingernails with just over four minutes left in the game. And then Ronde went 92 yards with his pick of McNabb. Game over. (2).

I hope you have enjoyed this countdown. I guess I have now set the bar pretty high for anything else I do on this site!

Paul Stewart, 11 May 2008