Bucs at Wembley? I don't think so
Alastair Kirkwood - NFL UK Managing Director was on Sky Sports coverage, the show I used to present back in the day. The two teams have definitely been confirmed and they do know who they are. Roger Goodell will announce on the Friday before the Super Bowl and there will be a press conference after that with the two teams and the UK representatives.

The location will be either Wembley, Murrayfield in Scotland (used for NFL Europe) or the Millenium Stadium in Cardiff. This will also be announced at that time. The home team will be either the Bucs, Saints, Chiefs or Seahawks. Kirkwood then let on that it will be an inter-conference game. This narrows it down to only eight possible match-ups.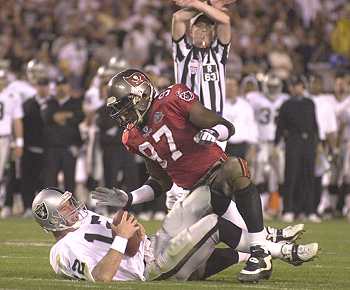 Bucs v Raiders, Bucs v Chargers.
Saints v Raiders, Saints v Chargers.
Chiefs v Bucs, Chiefs v Saints.
Seahawks v Patriots, Seahawks v Jets.

The Sky guys tried to push him on the subject and even put up a graphic at one point with those eight games listed. Which led him to leave the set shortly afterwards! Whereas all the hundreds of Buccaneer fans in the UK would love to see the team play in the UK, realistically it is not going to happen for the following reasons:-

1. There are still a few idiot protestors complaing about the Glazer family ownership of Manchester United. David Gill, the CEO of United, had his house vandalised only last week in the continuing protest. Why would the NFL take the chance on any kind of negative publicity?

2. The Bucs have sold out every home game since 1998. Why would they give up a home date at this stage when the Chiefs and Saints are not in that position?

The NFL will want "a big name" team involved in the game in some form. Here in the UK, a "big name" team is Washington, Dallas, Miami, Tampa Bay and Oakland, based on the fan support over the past 25 years. So if I had to hazard a guess right now, I would go for the Saints playing the Raiders.

Paul Stewart, January 2008