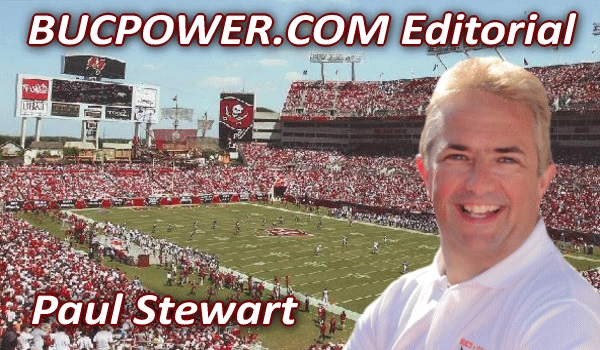 Time for my award nominations
Even I get to vote in our annual awards ....

OFFENSIVE PLAYER OF THE YEAR
One player has made the difference from last year to this and that is Jeff Garcia. Yes Joey Galloway went over 1,000 yards and Earnest Graham had some nice rushing numbers, but without No.7 in there, the Bucs don't make the playoffs. I still think Cadillac would have gone over 1,000 too if not for that horrible injury he sustained in Carolina.

DEFENSIVE PLAYER OF THE YEAR
So many candidates including Greg White, Kevin Carter and Ronde Barber. But one player stood out for his leadership and performance and that is Barrett Ruud. He called the defensive signals, got NFL-wide recognition, and has become a team leader amongst a great unit.

SPECIAL TEAMS PLAYER OF THE YEAR
Like everyone else, I had this down as a toss-up between Josh Bidwell and Maurice Stovall until that historic moment against the Falcons. Run Micheal, run. Micheal Spurlock made history that day and has this award sewn up.


ROOKIE OF THE YEAR
Gaines Adams has come on strongly at the end of the year and Greg White does not qualify. So narrowly beating out Arron Sears is safety Tanard Jackson who started every game and played some outstanding games during 2007.

BOB TIMONEY MEMORIAL AWARD FOR THE BUCCANEER OF THE YEAR
One person this year has excelled himself in helping myself and the Bucs UK. For his outstanding efforts on the video front that so many people over here have been able to appreciate, we gave Nick Houllis a game ticket and Bucs UK shirt for the season finale against Carolina, and he is my nomination in this category in 2007.

ALLAN LEES MEMORIAL AWARD FOR THE WRITER OF THE YEAR
Lee Bromfield and Denis Crawford have written some great pieces this year and will get a lot of nominations from Bucs UK members. But knowing the work he has put into his job this year both in print and multimedia, Roy Cummings of The Tampa Tribune should win this award hands down in 2007.

DICKHEAD OF THE YEAR
Michael Vick and Bobby Petrino's classless acts garnered most of the publicity around the NFL, whilst the behaviour of the likes of Ron Diaz on WDAE620 and some of the trolls on the NFL UK Forum also should gain whatever recognition they deem enough. But for a second straight year, my nomination goes to Nick Halling for reasons beyond the ones I put into my editorial in November.

NFL PLAYER OF THE YEAR
I always consider this and the type of MVP awards, to be the player who if you took him away from that team, would have the greatest impact on their performance. Hence for many years, Brett Favre always got my vote. In 2007, it is quite simply Tom Brady. The Packers still make the playoffs without No.4 at the helm. The Patriots' offense falls apart without Brady.

MY FAVOURITE BUCCANEER PLAYER
I really had to think about this one as since the likes of Trent Dilfer, Warrick Dunn and John Lynch moved on, I don't really have a favourite any more. So I will turn the vote over to my daughter Tanith who likes Barrett Ruud, as she tries to tackle me in the same style when I get in from work each evening!