My Week 9 predictions
8-5 last week thanks to the Jaguars taking down the Bucs and all three of my upset picks going the way of the form book. Oh well, we all make mistakes as R2-D2 said climbing off the rubbish bin.

Arizona Cardinals at Tampa Bay Buccaneers
Two straight picks for the Bucs, two straight losses for my record. Like I'm going to go against the Bucs though. Pick: Tampa Bay.

Carolina Panthers at Tennessee Titans
Jake followed by David followed by Vinny back to David back to Vinny. OK, when the music stops, last QB standing starts this week. Pick; Tennessee.

Cincinnati Bungles at Buffalo Bills
Two years ago Marvin Lewis was the hottest coaching prospect. Now he's most likely to get fired. But not this week. Ocho Cinco has a big one. Pick: Cincinnati.

Denver Ex-Bucs at Detroit Lions
John Lynch hopes his neck injury still allows him to practice. Simeon Rice's ego is so bruised he can't even do that. Pick: Detroit.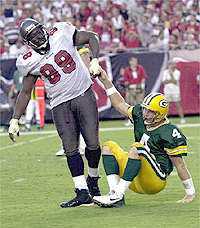 Green Bay Packers at Kansas City Chiefs
Brett Favre had another miracle Monday Night game - we should just be thankful that his personal publicist, John Madden, wasn't calling the game. Not this Sunday though No.4. Pick: Kansas City.

Jacksonville Jaguars at New Orleans Aints
My six-year old daughter Tanith was most excited to see the Eagles beat the Vikings last week as she predicted that one. So I gave her this match-up this week and she is taking the Jaguars to pull out a second surprise road victory over an NFC South opponent. Pick: Jacksonville.

San Diego Super Chargers at Minnesota Vikings
Wonder how many fantasy owners have signed the wrong Adrian Peterson though this year and wound up with the guy from Chicago instead? Pick: San Diego.

San Francisco 49ers at Atlanta Falcons
Apparently Trent Dilfer has been so bad at quarterback, the Niners are trying to get Joe Montana out of retirement. Hey Niner fans - at least Alex Smith is back this week. Pick: Atlanta.

Washington Deadskins at New York J-E-T-S Jets Jets Jets
Now the Kellen Clemens era begins. That's all we need - another Clemens playing for a Big Apple team. Pick: Washington.

Seattle Seahawks at Cleveland Browns
OK, so just exactly who is this Derek Anderson guy? Steve Careford in our fantasy league started him over Peyton Manning last week and it was the right move. Pick: Seattle.

Houston Texans at Oakland Raydurs
Both teams free-falling faster than a skydiver at a homecoming game. Someone has to win this week don't they? Pick: Oakland.

New England VideoCheats at Indianapolis Colts
If Belichick wins this week, do you think he would rather go 16-0 than win the Super Bowl? After all, he's won three of them but only Don Shula has gone undefeated. The upset pick of the year: Indianapolis.

Dallas Cowboys at Philadelphia Iggles
Tony Romo is supposed to be dating Britney Spears. Winner of the most useless irrelevant gridiron story since Jerry Jones' facelift. Pick: Dallas.

Baltimore Ravens at Pittsburgh Steelers
Both Ray Lewis and Brian Billick are still living off their Super Bowl win - come on guys, that was years ago. Even the Bucs have stopped doing that now. Pick: Pittsburgh.

Paul Stewart, November 2007