The day regular season football came to London
Well we were there. 21 years after the Cowboys and Bears played an exhibition game in London, the Dolphins and Giants played a regular season game at the new Wembley Stadium. And I thought it only right I should add my two-penneth to the many comments that have been written on the event.

I was lucky enough to have media access thanks to The Tampa Tribune so was able to go down on the field before the game, go anywhere in the stadium during it, and then get some good locker room quotes afterwards.

Pre-game
Down on the field were a combination of regular American TV and radio crews doing their thing, and a couple of Sky Sports News clowns who didn't know one team from the other. Tony Siragusa was walking round bitching about the conditions to anyone in earshot, and Daryl "Moose" Johnston was trying to impress everyone with his flash suit.

Then up bounds Mike Carlson, absolutely full of himself after a couple of people apparently kept calling out "that you and Channel Five are much better than Sky". That's all I need - the Red Sox have won the World Series and Mr C thinking he's top of the ratings!

During the game
Everyone, and I mean everyone, in the press box was checking out all the other game scores for fantasy league purposes. The biggest cheer of the day came from a guy from Stars and Stripes, the American forces' paper, when Eli Manning ran 10 yards for a score as he had just put him in as a starter.

And hearing grief from a Scottish guy from the Associated Press when Lawrence Tynes scored was only retaliated when he missed a field-goal later in the game. It then took us 10 minutes to explain the England-Scotland rivalry thing to the rest of the American media around us.

The facilities for the press are second to none. Network cables, enough power leads and individual TV screens are a hell of a change from the old stadium. All of the staff were incredibly helpful - if only I could have avoided walking about three miles round and up and down the stadium during the day.


The Five Live and Jon Cusack story
The row behind me in the press area was being used by Five Live for their in-game commentary on the game. Arlo White was taking a major career change from Test Match Special to call the game and did a really admirable job in only his third NFL game on the microphone. He certainly appreciated the feedback at half-time.

Actor Jon Cusack was doing a guest spot during the third quarter although was spending as much time following the Chicago-Detroit game on my lap-top as he is a devoted Bears' fan. After he had finished on the radio, I went over to get a few quotes on the game from him. He proceeded to think I was after an autograph and tried to grab my notebook to sign it. The American guy on the commentary with Arlo was laughing so hard he could hardly speak. Perhaps I should have told Cusack that I thought he was crap in "Eight Men Out".

As Jocelyn Brown came out to sing the national anthem, David Croft of Five Live was desperately asking for the name of her biggest hit. "Somebody else's guy" came the answer from an 80s music buff like myself and David promptly says the same thing on air. It was of course the right answer, but I spent the rest of the game telling him I had made it up.

Good points
Seeing a lot of old friends and meeting a lot of new ones. Former FFL owners Rob Shaw, Rob Shaw Jr and Gareth James. Long-time Niners fan David Findlay, former Gridiron UK editor Ross Biddiscombe were just some of the familiar faces I kept bumping into.

Talking with Ian Allen of Sky Sports and finding out that he too, along with Neil Reynolds, Rob Hart, Scott Couper and myself, have fallen victim to Kev Cadle's habit of changing subjects just as you go live on air after a commercial. And he had thought it was just him.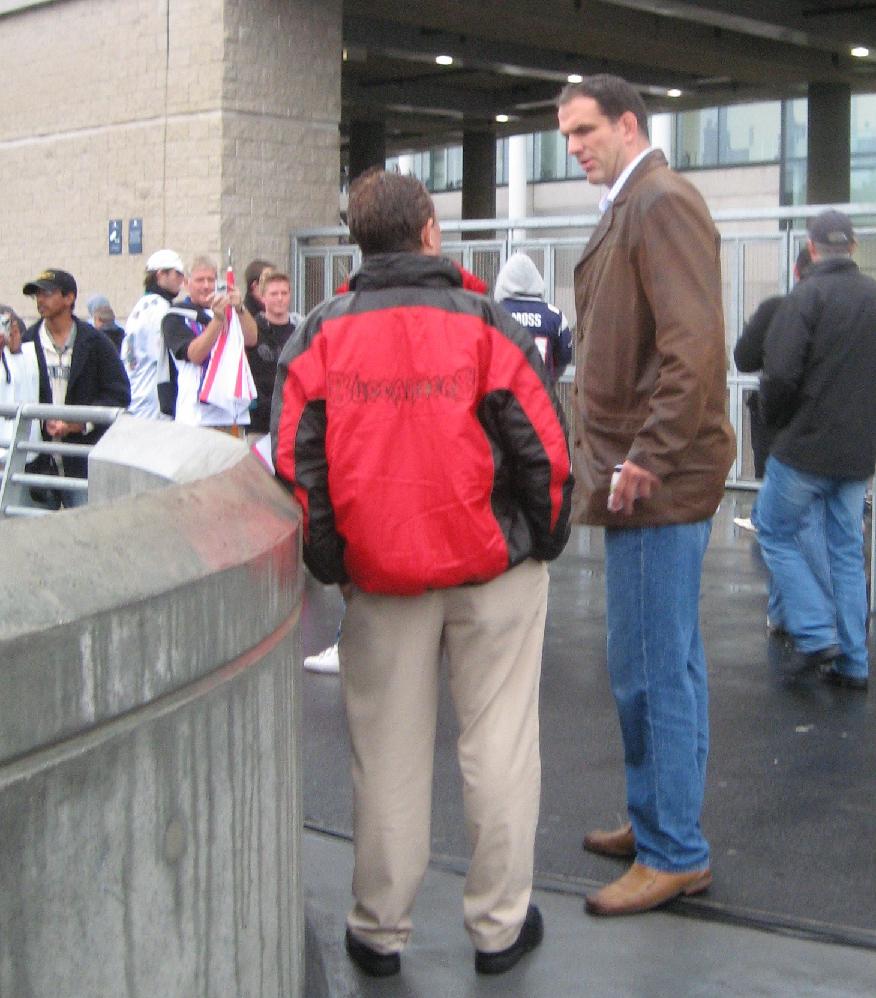 Talking with Martin Johnson and finding out that he has almost, and I stress almost, forgiven me for winding him up live on Sky during a 2002 playoff game between the Bucs and 49ers.

Getting stuck in a lift for 10 minutes with former Miami Dolphin TE Joe Rose and hearing stories about him playing with Dan Marino and for Don Shula.

Bad points
The number of muppets and NFL dweebs who were there who actually thought they knew a lot about the game. Which pretty much included anyone wearing a Monarchs or Claymores jersey.

The person who went up to Ben Martin-Dye who was wearing a Bucs' 97 jersey and asked if "that was Jerry Rice's shirt".

The wet weather which put the total kybosh on a big Bucs UK get-together. Naturally when the game had finished, it stopped raining.

And who wasn't there ...
No sign of Andy Colvin, "former columnist of First Down" in the press box. Perhaps the local off license had an offer on cans of Special Brew and he found a couple of local tramps to bore with stories about a mate of his who plays for the Raiders. Then again, didn't see Keith Webster either which was a shame.

In the locker room
And a chance to catch up with Dolphins' kicker Jay Feely who I had spoken to during the practice session on the Friday. Naturally he was disappointed at having lost, and for missing a fieldgoal and having a bad onside kick attempt, but apart from that .... Feely is a really class act who took time to speak to several Dolphin fans during his time in London and refused to make excuses like many other players.

And then there was Lawrence Tynes, who decided to sport a Celtic football shirt during his post-game interview. "My Dad is a season ticket holder at Parkhead and came down to London today but couldn't get a ticket" said the Greenock-born Giants' kicker. "That's a ****ing shame" came a voice from behind me, causing all the British media to fall about laughing.

And the final words ...
Come from Ross Biddiscombe, the man who caused me to start this whole Bucs UK thing back in 1984. "Perhaps I'm too long in the tooth to get that excited today" he said whilst also pointing out that he is now playing off a nine handicap. "This just doesn't give me the same sense of history as 1986. It is history today, but it's all been done before."

The NFL will be back again next year and perhaps then, the American media might just realise that a lot of us here know a lot more about the game, than a lot of the people back in the States.

Paul Stewart, October 2007