How are the Buc draft picks doing so far?
Letís do a little mid-term analysis on the Buc draft picks from April 2007. OK so itís very early to make real judgements, but the initial reactions are pretty damn good so far.

1 - Gaines Adams
OK so certain hysterical local sports radio hosts (clue - he played offensive line for the Bucs) have been ragging on Adams since Day One. His first sack was a gimme but we would have like to have seen a little more pass rush out of him so far through six games. Jury is still well and truly out on Gaines so far.

2 - Arron Sears
Has started since Day One and has been as good a rookie guard as Davin Joseph was last season. So far, tied for the best Buc pick of the year.

2 - Sabby Piscitelli
Was contributing on special teams and had played OK at safety in the pre-season until he broke his foot and was placed on IR. See you next year Sabby.

3 - Quincy Black
Has played every game on special teams which with the strength of the Buc linebacking starters, is all anyone could have expected so far.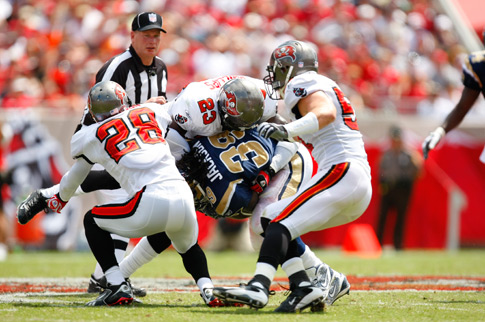 4 - Tanard Jackson
A starter since Day One at free safety and has laid some highlight hits so far this season. Has done OK in coverage too. Tanard, consider yourself joint No.1 best pick with Arron Sears.

5 - Greg Peterson
Has been part of the defensive line rotation and saw exensive playing time in the home wins over the Saints and Rams. Not bad for a 5th round pick.

6 - Adam Hayward
Has also been playing special teams in the same way as Quincy Black.

7 - Chris Denman
Did not make the team out of training camp and did not make the practice squad either.

7 - Marcus Hamilton
Has been on and off the practice squad since the start of September.

7 - Kenneth Darby
Made it off the practice squad for the Colts game and suited up for the game but did not play. Was back on the practice squad within a week however.

Paul Stewart, October 2007