Jon Gruden - the mad offensive professor
I was watching a 1983 Bucs' game recently in which the only defensive change would be a nickel back (Johnny Ray Smith) for a linebacker (Ed Judie) in passing downs and no more than two offensive changes (usually receivers bringing in a play from the sideline). And I thought how much times have changed.

The days of simply lining up and running a play with the same offensive formation and personnel have gone. The Minnesota Vikings played the first half of their Super Bowl IV loss to Kansas City and did not even send a player in motion.

But as for the 2007 Buccaneers led by Hogwarts' Professor of Offensive Potions, Jon Gruden, heck they don't even run a play where they don't make some kind of adjustment.

A good example of this came in the Week 3 win over the St.Louis Rams. Early in the fourth quarter, after the Rams had just cut the lead to 10-3, the Bucs went on an 80-yard six-play scoring drive (note to Bruce Gradkowski, that's scoring drive). Checking out the personnel changes and formation adjustments before each of those six plays is revealing.

1st and 10 from the Buc 20 - 17 yard pass to Ike Hilliard
The Bucs go with two tight ends, two backs and one receiver (the "22" formation for backs and TEs), Anthony Becht and Alex Smith are the tight ends, lined up tight left and right. BJ Askew is the full back in front of Earnest Graham subbing for the injured Cadillac Williams. Hilliard is split wide.

1st and 10 from the Buc 37 - 16 yard pass to Michael Pittman
Full-scale changes of personnel with Becht, Hilliard and Askew coming out, Jerramy Stevens, Michael Pittman and Joey Galloway coming in. Again it is a 22 personnel grouping with a shift before the snap sending Stevens split to the left and Graham lining up at fullback in front of Pittman.

1st and 10 from the Ram 47 - 4 yard run by Earnest Graham
Now the Bucs go to an "11" grouping with one back (Graham), one tight end (Smith) and three receivers (Hilliard, Galloway and Michael Clayton). Smith comes in motion with all the receivers in pretty close to the interior line at the snap, with Graham going off right tackle for four yards.

2nd and 6 from the Ram 43 - 15 yard pass to Michael Pittman
Back to the "22" grouping with Stevens split out left again and Askew lining up in front of Pittman in the backfield. Smith is tight on the right side and Galloway is split wide right. He ends up getting hurt on the play coming across the middle with Garcia dumping the ball off to Pittman when No.84 goes down on the crossing route.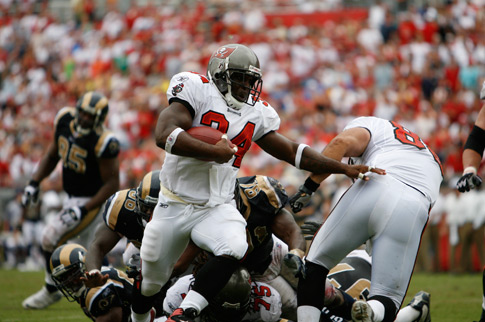 1st and 10 from the Ram 28 - 20 yard run by Earnest Graham
Askew and Pittman out, and with Galloway going off injured, Maurice Stovall replaces him in an "11" grouping. Smith is tight right and Clayton is just off his right hand shoulder with the other two receivers close left side. Graham breaks tackles off the right side with Clayton throwing an impressive block to spring him into the secondary.

1st and Goal from the Ram 8 - touchdown run by Earnest Graham
Back to the "22" as the cannons sound for the Bucs getting inside the red zone. Askew lines up in front of Graham in the I-formation with Becht tight left and Smith on a wing right outside RT Jeremy Trueblood. Graham sweeps right again and goes in for his first NFL touchdown.

Aftermath
Six plays and on every single one, at least three player substitutions on Coach Gruden's part. So how does any defensive co-ordinator scheme before or plan during a game against this?

Thankfully for Tampa Bay fans, the ingredients being mixed in Jon Gruden's magical potion are Buccaneer ones, and no matter how foul smelling the test tube becomes, it is the opposing defense who winds up taking the medicine.

Paul Stewart, October 2007