The end of John McKay's coaching days in Tampa
By now the details surrounding the acrimonious departure of Doug Williams are well known. Seeking a pay raise after leading the Bucs to the playoffs on three different occasions, Williams was stunned to learn how little Hugh Culverhouse seemed to appreciate his effort.

It would be inaccurate however to think that Williams was singled out. The failure to re-sign Williams was just the most well-known of a series of personnel decisions by the dramatically penurious Buccaneers.

McKay's preference naturally was to keep Williams at quarterback, but once Williams refused the contract offer the head coach had no choice but to go with a back-up plan. A few years earlier McKay had coached in The Challenge Bowl, a collegiate all-star game between the Pac 10 all-stars and the Big 8 conference.

McKay's quarterback in that game was a heralded flamethrower from Washington State named Jack Thompson. Nicknamed "The Throwin' Samoan," Thompson had been selected by the Bengals in the first round of the 1979 draft.


According to former personnel man Ken Herock, it was McKay's idea to bring in Thompson when the Williams deal went south. "Doug doesn't accept the deal and Coach McKay said, 'Well, I had this 'Throwin' Samoan' and we know that Cincinnati is trying to trade him. If Doug doesn't want to sign we should get the 'Throwin' Samoan,'" Herock said.

"Well that was probably the biggest disagreement we had when I was there. The guy (Thompson) can't play. I've seen him and I don't like him. But John thought he could coach him and make him a successful player."

Rick Odioso, former publicity man for the Bucs, says McKay wanted Williams over Thompson, or ideally both. "McKay signed off on it (the Thompson trade) because he was worried he didn't have a quarterback. I think McKay was willing to go to camp with Williams and Thompson but (the team) wasn't going to pay both."

Shortly after Thompson was signed, Williams opted to take a payday with the United States Football League and any chance McKay had for another trip to the playoffs was permanently scuttled.

The Bucs stumbled through a 2-14 record in 1983. Worse than the record was the public beating McKay suffered at the hands of the fans and media who blamed the coach for not fighting hard enough to keep Williams. What many didn't understand was that McKay was hurting just as much as they were.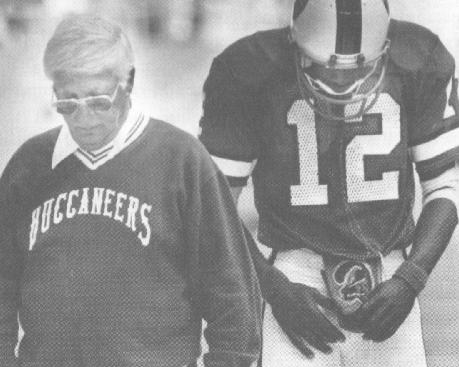 In a 1983 interview with John Underwood, McKay was quoted as saying, "Williams' leaving has put us out of sync." McKay had nurtured Williams through his growing pains but now was left back at square one. "We'll start over. I'm not going to quit," McKay said in the interview not sounding very convincing.

To McKay's credit a competitive team took to the field in 1984. Lost in the sands of time is the fact the Bucs offense was a top-squad that year behind James Wilder and Steve DeBerg. "He (McKay) knew what it took to build a football team," said Richard Wood. "He had been around enough talent to know what it takes. That's coach."

Any joy McKay took in the offense was tempered by thoughts of what might have been. McKay had built a dominant defense and a young, solid offense with an up and coming quarterback only to see them ripped out from under him. Four straight years of cost-cutting and strife was more than enough.

While the Bucs had come quite far in 1984, McKay could see that it would take a few more years before he would have the talent he required to contend regularly for the playoffs. That wouldn't be guaranteed if he could not get the budget needed.

"Coach McKay just felt, 'Hey, that's it for me,'" said Wood. "What else can you do to the man? You dismantle his team. I'm sure it hurt a man like John McKay."

While McKay resigned the job as head coach, he retained a front office position and vowed to do his best to help the next head coach. According to McKay's son, and former Buccaneer general manager, Rich McKay, accepting the front office position was a mistake.

"They (McKay and Culverhouse) had a great friendship and I think when my Dad retired that probably got strained for a couple of years just because my Dad was uncomfortable because how was he supposed to fit in with the team?"

McKay's role was not one that allowed him much say in personnel under Culverhouse. Hamstrung for years by a constricting personnel budget, McKay was in the awkward position of watching his successor Leeman Bennett struggle against the tide of franchise cheapness.

Within a few years McKay left the franchise and spent his final decade and half of life happily playing golf with his wife and many friends, including Hugh Culverhouse. For the man that had supervised the building of a franchise, John McKay's departure was sadly anticlimactic, bordering on surreal.

Denis Crawford, November 2009