An interview with Gerald Carter - the best-ever 87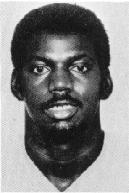 The greatest Buccaneer to wear #87 is a man of few words. Some things never change.

Gerald Carter played more than 100 games for the Tampa Bay Buccaneers in the 1980's. A ninth round choice out of Texas A&M, Carter was a long shot to make the Bucs roster in 1980, and was actually a camp cut. Picked up by the New York Jets, Carter played a couple of games in Gotham before being released again. Carter found himself back in Tampa Bay when the Bucs picked him back up.

From the heady playoff days of the early 1980's, through the moribund Leeman Bennett era to the first Ray Perkins training camp, Gerald Carter saw the best and worst of the decade. Two work stoppages, the exit of Doug Williams, the retirement of John McKay, the quarterback battle between Steve DeBerg and Steve Young and even the infamous "Snow Bowl."

Gerald Carter was the Buccaneers offensive unit's constant. In eight seasons Carter amassed close to 3,500 yards and scored 17 touchdowns. Through it all Carter had a playing career that could be summed up in three words: Quiet. Dependable. Productive.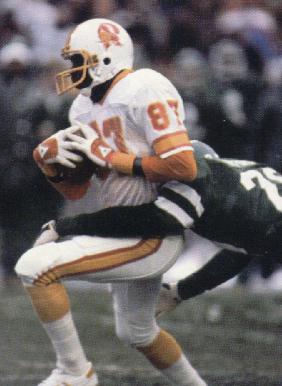 He wouldn't want to be remembered any other way. Recently Bucpower caught up with Gerald Carter in his hometown of Bryan, Texas.

One of the first things you notice about Gerald Carter is his laugh. When informed that he was named the Greatest Buccaneer to wear #87, the 52-year old Carter was tickled and honored. "I'm going to have to look that up," Carter said. "When we're done you need to give me that website."

Not one to dwell on statistics, Carter was also surprised to learn he had played more than 100 games for Tampa Bay. "I hadn't even known that," he said. As a late round draft pick, Carter came to Tampa Bay with a lot to prove. As a wide receiver from a college program not known for airing out the ball, he didn't have a prototypical background. "We basically had a running team at Texas A&M," Carter recalled.

His first exposure to professional football took him by surprise. "Training camp. Oh Lord, it was an experience," Carter said of summer 1980 under Coach McKay and the defending NFC Central Division champion Buccaneers. "Going far away from home for the first time; I was born and raised in Bryan, and Texas A&M is five miles away, so it wasn't a big adjustment from high school to college. But from college to the pros, it was a big difference. The speed of everybody, in the pros everybody had good speed."

Carter didn't make the Buccaneers immediately. He was released during camp and picked up by the New York Jets off the waiver wire. If Tampa was a big city to a Bryan, Texas native, New York City was an entirely different planet. "Now that was culture shock," he said. Carter played in a handful of games for the Jets before being waived again. Before the end of the 1980 season, the Buccaneers re-signed Carter and a quiet, productive career was underway.


Not possessed of blazing speed, Carter was a precise route-runner and a nice complement to the speedy Kevin House and Pro Bowl tight end Jimmie Giles. In the early part of the 1980's, the trio presented a nice array of targets for Doug Williams. Explaining his role in the passing game, Carter is humble. "I was alright. I won't say I was a speedster but I was fast enough. My route running, I was considered a good route runner and knew how to get open."

With such a talented group, it would seem the Bucs didn't have enough passes to go around in their playbook. Carter said that he, Giles and House would pester Williams in the huddle, telling him they were open. "Well, you know a wide receiver is always open. Our motto was, 'I'm always open.' That was true even if there were two or three on you. I'm still open! There are never enough footballs if you are a true wide receiver because you always want the ball."

One of the reasons for the lack of passes was the run-oriented style employed by John McKay. Coming from a running program in college, it would seem the former Aggie would be an ideal blocking receiver for McKay's system. "I can't say blocking is what kept me there," Carter said, laughing again. "I wasn't that good a blocker, but I would get in the way and that's the most important thing."

As a wide receiver whose Buccaneer career spanned the majority of the 80's, Carter was fortunate enough to catch passes from four memorable quarterbacks. "I tell people all the time I caught passes from Doug Williams, Vinny Testaverde, Steve DeBerg and Steve Young. I caught some passes from some big name people. I don't know who threw the best ball, but I know who threw the hardest ball. That was Doug, he could throw hard!"

Carter believes his best performance occurred in a 1984 game against the San Francisco 49ers at Candlestick Park. Facing the eventual Super Bowl champions, going man-to-man against arguably the best secondary in the NFL at the time, Carter caught nine passes for 166 yards and touchdown in a 24-17 loss. "It felt good," Carter said of his day although he would have appreciated winning the game more.

The next year Carter and the Buccaneers played in the infamous Snow Bowl against the Green Bay Packers. As a wide receiver, Carter's ability to do his job was all but nullified by the elements as more than a foot of snow fell on the playing surface. "That was an experience right there," Carter said. "It was a blizzard and we couldn't see in front of us. We had on the white uniforms so it made it that much worse. We had a problem finding each other (he and quarterback Steve Young)."


While not using the weather as an excuse, Carter did admit that he couldn't help but be distracted by the desire to say warm. "We were trying to score, but if we didn't score we were running to the heaters. That was unbelievable. I still remember that real well. It was some kind of game. We didn't think it was going to continue to snow like that, it just continually got worse."

The quarterback in that game was Steve Young. Young would go on to a Hall of Fame career with the San Francisco 49ers but in 1985 and 1986 he was a young man competing with cagey veteran Steve DeBerg for a full-time job. Carter enjoyed playing with Young but was surprised to see how far he went in his career after Tampa. "I did not (see it coming)," Carter admits.

"I don't know what happened, but he made some big strides from Tampa to the 49ers. I thought we had a pretty good relationship and we talked. This was when he first came from the USFL and he was getting used to the offense. That played a big part in his struggle, getting used to the offense."

Carter's last year with the Buccaneers was the first year of Ray Perkins' tenure as head coach. As one of the few players to work under all three coaches from the 1980's Carter has a unique perspective on each man to patrol the Tampa Bay sideline.

"They were different. Coach McKay was just funny. He would say some funny things on the sideline. Coach Bennett, I don't know how you would describe him. Coach Perkins was no-nonsense. He was strict, strict, strict. He wouldn't let you get away with anything."

In 1988 Gerald Carter injured his hamstring and missed most of training camp. During one of the last cut-downs of the summer he was let go after eight years in the NFL. "That was it," he recalls simply. "It never did get back right."

Today Carter still calls Bryan, Texas home. Once he left the NFL, he took a job with the Boys and Girls Club, a career he continues to this day. Working with the youth of his hometown, Carter is to those kids what he was to the Buccaneers for so many years: Quiet. Dependable. Productive.