Odd scores
There were a couple of odd scores this past weekend that gave me very much a "Been There, Done That" kind of feeling.

The Pittsburgh Steelers defeated the San Diego Chargers 11-10 in what can only be described as one of the oddest games in NFL history. No game had ever finished with a final score of 11-10. And if the score wasn't bizarre enough, this game should not have ended with such an unusual final score. The NFL admitted a mistake in negating a fumble return for a touchdown by the Steelers that should have resulted in a 18-10 Pittsburgh victory.

The 11 points scored by the Steelers was the result of three field goals and a safety. That reminded me of a score of a Buccaneer game of the distant past in which they found themselves on the wrong side of 11 points (Go Figure!). In the 1983 season opener the Bucs lost to the Lions 11-0.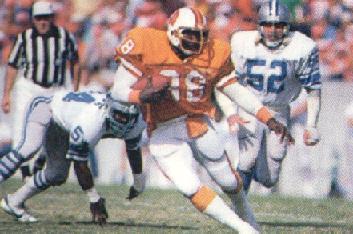 In that game the Lions built their tally with three Eddie Murray field goals and a safety in which Buccaneer Jerry Golsteyn was tackled in the end zone by Lions defensive lineman Doug English. Ironically it was English that scored the Lions safety and not fellow lineman William Gay. Gay sacked Tampa Bay quarterbacks 5.5 times in that game. I don't think Eric Curry ever had that many in a season!!!!!

The other odd score from the weekend was a 13-13 tie between the Cincinnati Bengals and Philadelphia Eagles. It was the first game to end in a tie since 2002. Of course the Buccaneers have one tie in their history, a 14-14 sister kisser with the Green Bay Packers in 1980.

Eerily, the Bengal-Eagle game ended in much the same fashion as the Buc-Packer game. The Bengals missed a game winning field goal at the end overtime just as the Packers missed a game winning field goal at the end of overtime close to thirty years ago.


In closing let me just ask, am I the only one who thinks up this stuff while watching football? If so, Mrs. Crawford is probably going to be able to justify locking me up somewhere. Enjoy the game with the Lions. It is my sincere hope that the Lions don't go winless. I agree with many of the original Bucs in not wishing that on my worst enemy, but I do want to see Lions get to 0-11.

Do the Bucs have anything to fear from the 0-10 Lions? Once again, let history be your guide. In 2001 the Buccaneers played the 0-12 Lions and only a furious last-minute touchdown secured a 15-13 Tampa Bay victory. Earlier this year the Bucs struggled to beat a Kansas City team that had a backfield full of members of the Witness Protection Program and lost to a Dallas team that couldn't buy a first-down with all of Jerry Jones' millions. If history teaches us anything it is that any team can beat any other team on any given Sunday ESPECIALLY if one of those teams is our beloved Bucs.

Denis Crawford, November 2008