The Buccaneer quarterbacks who had "It"
The news that Chris Simms accepted a one-year deal worth 2.1 million dollars is good news for Tampa Bay fans. It will be tremendous news if Simms and the Buccaneers are able to come to terms on a much longer pact. I must admit that until this season I was never completely sold on Simms. He under-whelmed me while at Texas, splitting time with the wonderfully named Major Applewhite. Simms also looked skittish during his brief time under center in 2004.

But last year Simms showed me that he might just have "It." "It" is an intangible that cannot be measured or predicted. "It" is an aura a gifted quarterback brings onto the field that raises the level of play of teammates and fills them with confidence. Simms showed flashes of "It" during come from behind victories and his gritty determination against the Redskins in the playoffs. Simms is by no means the second coming of Johnny Unitas, especially if he doesn't solve the problem of having passes tipped at the line of scrimmage. But I think Simms just might be only the third quarterback in Buccaneer history that has "It."

Those Who Had "It" and One Honorable Mention
The first to have "It" was Doug Williams. Williams led the Buccaneers to three playoff appearances in four years (1979, 1981 and 1982). Williams brought a rifle arm, strong body and toughness to a Buccaneer team that had no success until he arrived on the scene. The man was so tough that he played the 1978 season finale against the New Orleans Saints with his broken jaw wired shut. Shrugging off the pain, Williams showed "It" by tossing a touchdown pass in a hard-fought 17-10 loss.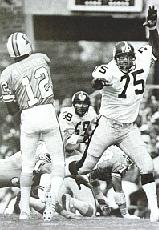 That one game alone secured his status as team leader until Hugh Culverhouse foolishly let him go after the 1982 season. The Buccaneers spent a long time looking before they found another quarterback that had "It."

The second quarterback to have "It" was Brad Johnson. Limited physically, Johnson out-worked and out-toughed his opponents and became beloved by his teammates and coaches. John Gruden referred to Johnson as "The Bull" during Tampa Bay's Super Bowl run in 2002. Just how important was Johnson to the 2002 Bucs? Remember how pathetic the offense was when run by Shaun King and Rob Johnson after Brad got hurt? Remember how time seemed to stand still and no one breathed when Johnson got hurt against San Francisco in the divisional round of the playoffs? Remember how the crowd went delirious when he re-took the field in that same game? The man just had "It."

You could make the argument that Craig Erickson had "It," but he never really got a chance to build on his solid 1993-1994 seasons as the Buccaneer believed that Trent Dilfer was the quarterback of the future.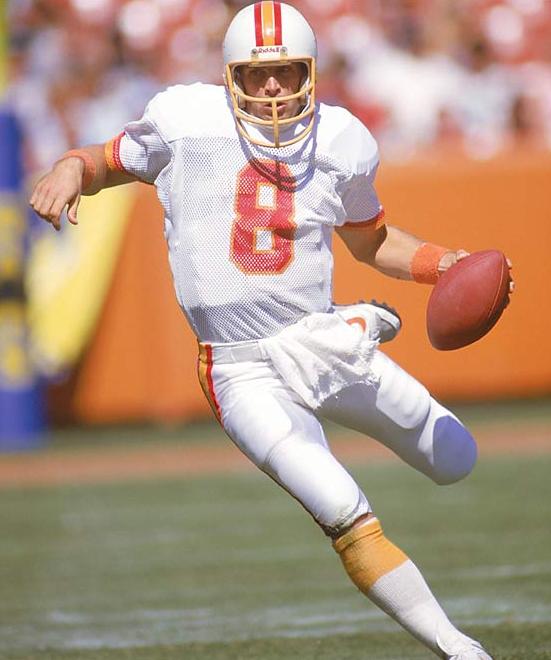 Those That Lacked "It" and Why
Steve Young went on to prove that he had "It" in San Francisco, but he never really had a chance under Leeman Bennett in Tampa. While Bennett was coach, Young saw talented receivers Jimmie Giles and Kevin House inexplicably released. I am sure that Gerald Carter, Jerry Bell and Phil Freeman are wonderful people but they didn't keep defensive coordinators awake at night. At running back James Wilder put up great numbers against defenses that knew he was Tampa Bay's only weapon but couldn't provide Young with enough cover to grow. The same could be said for Steve DeBerg, who split playing time with Young. DeBerg showed signs of "It" later in his career with Kansas City but also struggled under Leeman Bennett.

Vinny Testaverde came into town with a Heisman Trophy and two talented receivers. Bruce Hill had over 1000-yards receiving in 1988 and future Pro Bowler Mark Carrier came close but Vinny still managed to toss 35 interceptions. Factor in that Lars Tate and William Howard were average at best in the backfield and the Bucs were often victimized by Vinny not having "It" when crunchtime came around. Then there was the wonderful news that Vinny was colorblind and couldn't differentiate between his own receivers and the defensive backs! That was something, but it certainly was not "It."

The same could be said of Trent Dilfer. Dilfer went on to win a Super Bowl with Baltimore, but I don't know that he ever showed he had "It." I for one don't buy the argument that the Ravens won in spite of Dilfer. I think he played superbly for them down the stretch and made more big throws than people give him credit for, but I never saw "It." I certainly didn't see "It" during Dilfer's time in Tampa. A perfect example was a loss to Detroit in 1998 where Dilfer led a maniacal last-minute drive only to toss an interception near the goal line, unforgivable given that the Bucs only needed three points to tie. That 28-25 loss proved the difference between a Wild-Card berth and an 8-8 record. Then again, proving you have "It" by throwing to Jacquez Green and Reidel Anthony is a pretty tall order.


And please don't make me re-live the nightmares of Jeff Carlson, Bob Hewko, Jack Thompson or Chris Chandler!

Putting "It" All Together
The other aspect of the Simms signing that excites me is that this might be the dawn of an offensive awakening in Tampa Bay. Not since Doug Williams had the benefit of a healthy Ricky Bell/young James Wilder and receivers Kevin House, Jimmie Giles and Gordon Jones have the Buccaneers had a young quarterback coming into his prime years surrounded by a stellar supporting cast. Scoff if you will but that offense of John McKay, while not setting the NFL on fire, was a solid and fundamentally sound group.

With Carnell "Cadillac" Williams at tailback, Michael Clayton at wide-out and Alex Smith at tight end, the Bucs have young and talented players at the skill positions. I also like the future of Simms because for the first time since John McKay tutored Doug Williams the Buccaneers have a young quarterback/head coach combination that could lead to big things. When you think of John McKay you don't think of throwing the ball but that is a misconception. While I formation power sweeps were McKay's staple, he also loved the long ball and in Doug Williams he had a man that could burn a run-obsessed defense with a 50 yard strike to Jimmie Giles over the middle of the field at any given moment.

If Simms develops under Gruden as I hope, Buccaneer fans should fasten their seat belts. This may not be a Super Bowl team or "The Greatest Show on Turf" but I expect that if given a fair chance Simms and company may be the most explosive offense in franchise history. Especially if Simms has "It."