The NFL pre-season has begun
Let madness reign supreme!
If anyone still places much stock in the outcome of pre-season, allow me to burst your bubble with a little historic perspective. This summer marks the twenty-fifth anniversary of the most misleading pre-season in Buccaneer history.

In the off-season of 1983 the Buccaneers lost Doug Williams through the sheer obtuseness of Hugh Culverhouse. Rather than give the only quarterback to lead the Buccaneers to the playoffs a paycheck equal to that of his peers, Culverhouse instead insulted Williams and let him bolt to the USFL.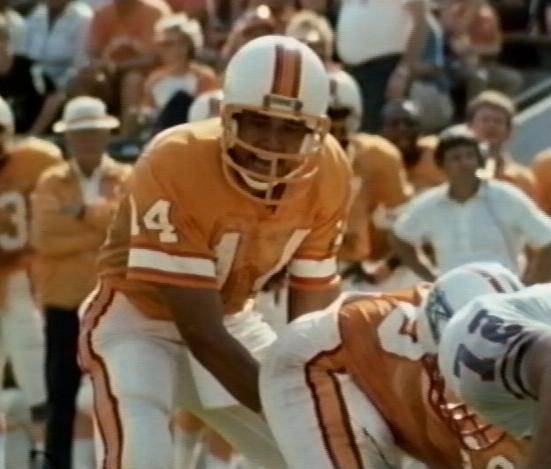 This left head coach John McKay in a bind and the team started training camp with a competition between former Cincinnati Bengal Jack "The Throwin' Samoan" Thompson and Jerry "Mr. Pre-Season" Golsteyn. Having another team's disappointing number one draft choice (Thompson) and a career journeyman (Golsteyn) as your quarterback options should have been more than enough to prepare Buc fans for the tumultuous season that ensued. A funny thing happened however. August came and the Bucs looked every bit the playoff contender they had been for the past four years.

The pre-season started off with a 20-17 victory over the New Orleans Saints in Tampa, with Jerry Golsteyn leading the Bucs to a last minute win. That victory was followed by a 23-17 win over the Oilers in Houston. While the Buccaneers offense didn't appear to be a world-beater, it also didn't look like the calamity many people had feared. An unexpectedly efficient Golsteyn was becoming popular in Tampa Bay.

The following week, the Bucs upended the Falcons 17-6 in the third pre-season game which has always been viewed as the harbinger of the season due to the fact the regulars play for the majority of the game. When the Bucs routed the New England Patriots 41-21 at Tampa Stadium in the pre-season finale it looked as though the Buccaneers had found a quarterback in Jerry Golsteyn.


Maybe, just maybe, thought Buccaneer fans, Tampa Bay had found a diamond in the rough the way the Colts had found Johnny Unitas on the cast-off heap. Not exactly. Instead of Johnny U, the Bucs were left with Jerry Phew.

Golsteyn didn't duplicate his August success under live fire in September. Uninspired losses to Detroit, Chicago and Minnesota opened the season and the Bucs floundered under both Golsteyn and later Thompson. Even Jeff Komlo made an appearance in a horrific loss to the Bears in a monsoon. By the time Dave Warnke botched more kicks than a drunken Can-Can in the season finale, the Bucs had finished with a record of 2-14, a far fall from the giddy dreams of the unbeaten pre-season.

Let the story of the 1983 Buccaneers be a lesson to all those who place any kind of emphasis on the pre-season. If you don't like the negative vibe of this lesson, also consider that in 1997 the Buccaneers went 1-3 in the pre-season and looked awful doing it. That team went 10-6 and made the playoffs. The 2002 Buccaneers lost a pre-season game by 30 points at home but won the Super Bowl!

To play around with some Green Day lyrics, "Wake me up when September begins!"