Buccaneers in commericals
There is a lot of disappointment after Super Bowl XLII. Of course New England Patriot fans and players are despondent over being so close to perfection. Those of us under 40 years of age that wanted to see football history made are down because we still haven't seen an undefeated NFL team. And of course the 1972 Miami Dolphins are upset because through their actions and comments they will be remembered as petty, selfish old men rather than the classy champions they might have been.

But the real disappointment to some was the television ads. THEY STUNK! Honestly, for 2.7 million dollars Madison Avenue couldn't do better than giant pigeons, uni-brows and baby vomit?!?

Fortunately, none of the Tampa Bay Buccaneers were part of these horrendously bad ad campaigns. In fact, very few Buccaneers have ever been part of national ad campaigns. The late 70s were when the Bucs truly came of age both on the field and off. Looking back through some old game tapes I discovered what I think is the first national ad to feature a Buccaneer, even if indirectly.


In 1979 the Tampa Bay Buccaneers defeated the New York Giants 31-3 in a game at the old Tampa Stadium. In that game, Buccaneer linebacker Cecil Johnson sacked Giants quarterback Phil Simms from behind and jarred the ball loose. Fellow Tampa Bay linebacker David Lewis scooped up the loose ball and raced 40 yards for a touchdown.

A few weeks later that play was featured in an ad for GTE. GTE was short for General Telephone and Electronics and was a major part of the American phone system before deregulation. It is now known as Verizon.

The ad showed a man in a recliner watching a game. A voice-over narration explained that the game the man was watching was the first broadcast to be carried across the country on fiber-optic cable. The football scene the man in the ad is watching is none other than David Lewis running for a touchdown with the fumble caused by Cecil Johnson.

While the GTE spot may have been the first national ad to feature a Buccaneer, it wasn't the last. The following are national ad campaigns and Public Service Announcements (PSA's) featuring Buccaneers that I can recall. While my memory of Buccaneer trivia is a point of consternation for my wife (I know Ricky Bell's 1979 season rushing total, but not Amy's favorite color), it is not precise so I'm sure I have left a lot out.

Public Service Announcements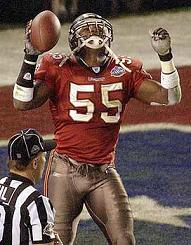 1. Derrick Brooks PSA for United Way: One of the all-time greatest PSA's (still visible on YouTube). Brooks leads a school bus full of children in his favorite song "Who's Our Favorite Player? Mr. Derrick Brooks." When a child forgets how many times Brooks has been named All-Pro, #55 forces them to sing it again. Classic.

2. Steve Wilson PSA for United Way: The original center of the Buccaneers appeared in a spot for United Way highlighting his involvement in working with hearing impaired children. It is a very touching spot, done in the 1970's when the United Way was more interested in the human element than quick humor. Interesting bit of trivia. The 1987 movie "Project X" starring Matthew Broderick and Helen Hunt features this spot as part of the plot.

3. Dennis Hopper warns that Hardy Nickerson does bad things man: Nike had a great ad campaign where Dennis Hopper portrayed a kooky ex-referee constantly telling the viewers that he's seen various football players do "Bad things, man" on the football field. Bruce Smith of the Buffalo Bills had the most air time, but one of the ads did feature Dennis Hopper holding up a photo of the "Hardware Man" and recount (by tape recorder) what a fierce player Nickerson was.

4. Dick Enberg on top of an Inverted Pyramid of Players: Sports Announcer Dick Enberg stood atop an inverted pyramid of "football players" in another spot for GTE. Enberg listed all the NFL teams that used GTE for their telecommunications, including the Buccaneers. The pyramid was held up by one GTE employee. Of course, the players were all actors, but an actor in an old Bucco Bruce uniform was near the top of the pyramid under Enberg.

5. Terry Tate Office Linebacker: OK, so Terry Tate is a fictional linebacker and there was no insinuation that he played for the Buccaneers. But this Reebok ad aired only one time and it was during Super Bowl XXXVII which the Buccaneers won. It is also on YouTube and well worth a look.

While there haven't been many national spots with Buccaneers, my memory does recall numerous Tampa Bay area television and radio spots. My research on the 1979 team allowed me to watch a few broadcasts from that season and a number of Buccaneers were featured in ads.

Actual Adverts
1. Mark Cotney, Jerry Eckwood and David Lewis all teamed up with former radio play-by-play Mark Champion in television ads for Datsun Motors. Talk about going back in time! Datsun doesn't even exist anymore.

2. Lee Roy Selmon and Jeris White taped spots for the Ronald McDonald House telethon that WTVT carried around the first Bucs-Vikings game. Injured punter Dave Green helped to co-host the telethon with former WTVT sports anchor Andy Hardy during half-time of that game.

3. Tampa Stadium was featured in many ads because of its proximity to so many Tampa Bay auto dealerships. Many ads featured an aerial shot of a sold-out Stadium as the nearest landmark to look for when car shopping.

While none of these local ads were of very high quality, I'll trust David Lewis in a 1979 Datsun King Cab over Justin Timberlake's magnetism any day of the week.