The John McKay Show
I am going to take a wild guess in this column and assume that most of you like to watch sports on television. We watch not only the Buccaneers, but myriad other contests from American baseball to Premier League soccer and the just recently completed Winter Olympics.

In an earlier column I mentioned how many of us who grew up in the Tampa Bay area had to rely on radio to follow our team most of the time due to the NFL's blackout policy. How then were we to see our favorite players, the big plays and controversial calls? The answer was the head coach's television show.

With the advent of satellite, ESPN and Rupert Murdoch's media empire, the necessity of the coach's show has grown slim. But at one time we in the Tampa Bay area viewed Monday nights at 7:30 on WTOG 44 as Must See TV because that is when the John McKay Show aired during the fall.

Many coaches in Buccaneer history, as well as others in the National Football League have had their own show. But the John McKay Show was unique because the original Buccaneer coach was not afraid to exploit the fact that football isn't rocket science. With his famous wit McKay also made the lesson fun in the process.

Since television station WTOG 44 long ago got out of the live television program business, no archival footage of the show remains. Tampa Bay radio and television personality Jack Harris hosted the John McKay Show for years and was gracious enough to provide anecdotes about McKay and the production of the show. The John McKay Show was taped early on the Monday morning after a Buccaneer game. According to Harris, McKay was never comfortable with the recording time, but they still had a lot of fun in the dressing room before the show.

"I had spent ten years in Morgantown, West Virginia and Coach McKay was born nearby in Shinnston. So we had a West Virginia connection and we became good friends," Harris said. "I would read the paper and he would read the funnies. I remember his favorite comic strip was Crock, about the French Foreign Legion. We would talk about politics, the funnies, Gasparilla. We talked about everything but football."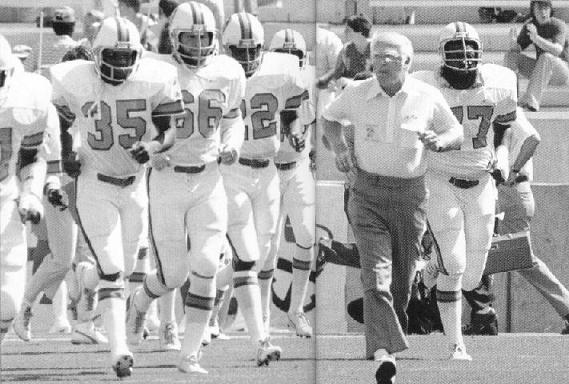 Unlike coach's shows today, the beauty of the John McKay Show is that it was unscripted and McKay didn't micromanage it or make demands about the content. Instead the coach was brutally honest on camera and that made his show different from those of his more media-wary contemporaries. "The producers, McKay and I would sit down before the show and talk about what we would talk about." Harris explained. "Sometimes McKay would bitch about the plays we had selected for the highlights, but he didn't choose them. Then we would just wing it from there."

McKay was known for delivering great one-liners but he also had a legendary temper when it came to the press. In order to keep McKay from being too frank, the producers came up with a wonderful idea that Harris thought was ingenious. "We taped the show in front of a local high school football team," Harris recalled. "Each week we'd have a different football team. It was a brilliant idea because it kept coach McKay on his best behavior. He could get real tough on the press and unload on them if they asked the wrong question when he was in a bad mood. These kids would ask questions that would have normally sent him through the roof, but he would answer in a polite way that just defied what you would expect from him."

Courtesy towards eager young minds aside, the John McKay Show still produced some of the head coach's most famous quotes. "We would go through highlights of the game and discuss them," Harris said. "McKay would comment on each of the plays in his standard patter and he was sometimes merciless on some of his players."

According to Harris, the most memorable John McKay Show quotes were:
- The ball doesn't weight that much, so it doesn't matter how many times a running back carries it.
- We pay this guy a lot of money to miss those tackles.
- Here comes the "Look-Out Block." The guard misses his block and yells towards Doug Williams "Look-Out!!"

Interestingly, Harris believes that the most famous quote ever associated with John McKay may never have happened. It has long been believed that when asked on the John McKay Show what he thought of the execution of his offense, the coach sarcastically replied, "I'm all for it."


"I don't think that ever really happened," Harris claims. "That was part of his lore. This thing just got so large, but I don't think it was true. If it happened it never happened in Tampa. But it got repeated so often, that many thought it was true."

The greatest challenge for Jack Harris was hosting the show after losses, and from 1976 to 1978 the Buccaneers lost in record numbers. "A lot of our highlights included lowlights. Despite the losses I was able to get along with McKay very well."

After the highlights from the previous game, Harris would repeat questions from Sunday's press conference before turning the questioning over to the high school kids. After a commercial break the final few minutes of the show would be dedicated to previewing the upcoming game and opponent. Harris fondly recalls his time with Coach McKay but admits it may have been his most nerve-wracking assignment. "McKay intimidated me on the television show but not intentionally," Harris laughed. "It was the only time I have ever been nervous working in television or radio. It was because of him for some reason." Before each show Coach McKay would come down the hallway from the dressing room to the studio and announce, 'Okay Jackie, I'm going to make you look good now!' And he always did."

John McKay also made the Buccaneers look good in the late seventies and early eighties. Thanks to his show fans without the resources necessary to go to Tampa Stadium were able to feel a connection to McKay and the team and that made everyone feel good.