My post-mortem on the 2007 season
Now that I have had a couple of days to digest the playoff loss to the Giants, the time has come to say good-bye to the 2007 season and look forward to 2008 and beyond. Here then are a couple of random thoughts and my award nominations:

The Wild Card
This was the fifth year that the Buccaneers entered the post-season in the Wild Card round. The Bucs record stands now at 1-4. Tampa Bay won their Wild Card debut in 1997 over the Detroit Lions, but since then they have lost twice to Philadelphia, once to Washington and recently to the New York Giants. Now I'd rather be "one and done" in the playoffs then not make it at all, but four times is a trend that is going to make me skittish every time the Bucs make this level of the post-season until they finally break this streak.

2007/2008 vs. 1982/1983
As the final seconds ticked off the Raymond James Stadium scoreboard clock I thought back to 1982. The 1982 Bucs lost in the first round to the Dallas Cowboys by two touchdowns and faced some daunting decisions. They had an aging defense, only one bona fide deep threat and needed to make some smart decisions. Of course we know that they let the defense get older, never found a deep threat compliment for Kevin House and inexplicably let Doug Williams leave. They also didn't make the playoffs for another 15 years.

The 2007 Bucs lost by two touchdowns in the first round, have an aging defense and need a bona fide deep threat because as much as we like Joey Galloway how long can he be counted on? The Bucs also have a great deal of salary cap space and face the daunting challenge of spending it wisely. The pressure will be on Allen and Gruden to shop wisely so that 2008 won't be a repeat of 1983.

Awards
I am a computer illiterate so I had difficulty filling out the on-line form. So following the lead of other writers I will utilize my remaining column space as a bully pulpit from which to expound on my votes.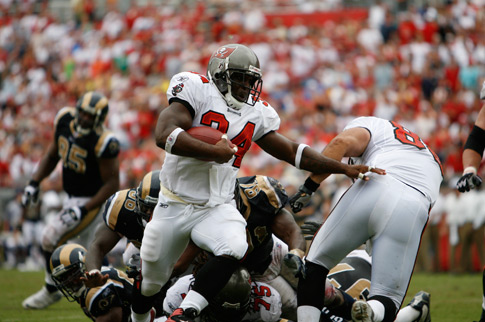 Offensive Player of the Year: Earnest Graham
"Mr. August" really stepped up when Cadillac Williams went down for the year. Is he a game-breaker? No. Is he the tailback of the future? I don't know. As the third string tailback did he almost rush for one thousand yards and keep opposing defenses from playing Whack-A-Mole with our 77 year old QB? Absolutely. And for that Graham is my offensive player of the year.

Defensive Player of the Year: Barrett Ruud
Ruud is my kind of football player. Nothing fancy, just steady consistent play from whistle to whistle. Ruud just seemed to blend in with the rest of the defense, but the stat sheet at the end of the game is what gave you the true picture. He may have had the quietest superb season in Buccaneer history. None of the fans or players around the league seemed to notice hence the Pro Bowl snub. I noticed though and for that #51 is my defensive player of the year.

Special Team Player of the Year: Micheal Spurlock.
First kickoff return for a touchdown in team history trumps another solid season from Matt Bryant.


Rookie of the Year: Arron Sears
I won't pretend to pay much attention to the line of scrimmage. My eyes follow the football like most fans, but I did notice that our QB didn't end up on the ground very often. Sears' athletic ability helped raise the level of play on an already improving offensive line. I hope that is a trend that continues.

Bob Timoney Memorial Award for Buccaneer of the Year: Richard "Batman" Wood
I am hardly ever at a loss for words when it comes to the Tampa Bay Buccaneers and Bucpower. Just ask my poor wife Amy!

When I read that Richard Lowe nominated me for this award it really made my day and I couldn't think of any comeback. I appreciate how all of you at Bucpower have welcomed me, so thank you Richard!

However, I must say that an unsung hero of "McKay's Men" was Batman Wood. Batman was more than patient and forthcoming in my interviews with him (he was my first phone interview and laughed off my nervousness letting me know it was going to be okay), was very accommodating at the book launch despite suffering severe back pain and he stayed late to talk to every fan that stopped by Buccaneer Heaven. To top it off, Batman finally got the surgery he needed on his back, a reminder of the price he paid as an original Buc. Plus he made the College Football Hall of Fame for his stellar play at USC under John McKay. For all of that he is my Buccaneer of the Year.

Allan Lees Memorial for Writer of the Year: Lee Bromfield
Lee, I've never met you or even spoken with you on the phone but let me assure you that I get you. You say all the things I'd like to say in the ways I'd like to say them but just can't. Keep waving the flags of discontent about what is wrong with the NFL and keep letting us know what you love about the Bucs and the sport as well.

Dickhead of the Year: Michael Vick
WOOF!

NFL Player of the Year: Tom Brady
50 touchdown passes, a perfect record and not one, but two super-hot girlfriends in the past couple of years. Who wouldn't want to be Tom Brady? In all seriousness, this man is a cold-blooded killer and it is thrilling to watch him dice up a defense. A close second is Peyton Manning, but Brady had a season for the ages.

Favorite Buccaneer Player: Greg White
I have a soft-spot for players that scrap and claw to make a roster. It's probably because I had zero athletic ability in high school. My role on the Pinellas Park High Patriots was to be a glorified tackling dummy during practice, but I was on the team!!! Greg White has done more than make the team, he has become a solid player and I look forward to him scrapping and clawing for years to come. I don't think he'll ever be guaranteed a roster spot heading into training camp, but I'll always pull for him.

Now on to off-season writing projects and counting down the days until pitchers and catchers report for the Cleveland Indians final Spring Training in Winter Haven!