The Denis Crawford Column
Some random historical thoughts that occurred to me while watching the Bucs play the Saints this past weekend…….

During the broadcast FOX made mention of the fact that the Bucs first half yardage total against the Saints was the third highest since 1991. This stood out to me for two reasons.

Number one, was it really that big a deal? Shouldn't this have been brought up only if the Bucs had surpassed the 1991 total?

Number two, the 1991 Bucs had an offensive explosion?

I remember those Richard Williamson led Bucs and offensive implosions were more the norm. I must assume that the yardage outburst occurred against the Detroit Lions when the Bucs pulled a 30-21 upset over a team that advanced to the 1991 NFC Championship Game.

It was an eerie coincidence that Luke McCown had such a smashing starting debut for the Buccaneers on the same field, against the same team and almost on the same day as Vinny Testaverde did twenty years ago. McCown's ease with the offense and control of the game reminded me of how Vinny went wild against the Saints in a high scoring loss. The end result for McCown was better, a high scoring win. Hopefully McCown's future will also be brighter than Vinny's with the Bucs.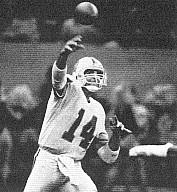 Speaking of Vinny: Did anybody notice that two former Buccaneer starting quarterbacks (and number one draft choices!) dueled in Charlotte on Sunday. Vinny was a little less erratic than Trent Dilfer as the Panthers (i.e. Twits) defeated the 49ers.

Unless the Buccaneers suffer a collapse of monumental proportions, this will be the third season that Tampa Bay has gone from "Worst to First." This is the second time that Gruden has performed the feat; he also took the Bucs from the cellar of the NFC South in 2004 to the top in 2005.

John McKay accomplished the feat in 1979 (I think I read about that in a book recently!!!!). It could be argued that the 1981 Bucs also went from worst to first. The Bucs finished tied with the Packers for the worst record in the NFC Central in 1980 but through a tie-breaker finished fourth instead of last.

I know that offensive football has advanced a great deal since the days of John McKay's famous Student Body Left, Student Body Right but I don't recall the old coach needing to call a timeout before punting the football. It blew me away that in a close game the Bucs needed to use a timeout to get a punt off during the game because the team couldn't seem to decide what it wanted to do.

Gruden is famous for waking up at 3:17 am and putting in 18-hour workdays so shouldn't he have all sorts of contingency plans in his head so that he is prepared for almost any situation? McKay was famous for taking off for a little golf during the week, but they knew when they wanted to punt (which was often in a lot of the early games). I like Gruden, but what is he doing during those 18-hours?

I have never been so happy to be wrong about a season-prediction. Can these Bucs compete with the Cowboys for NFC supremacy? Probably not, but let's have a lot of fun anyway shall we! Maybe these Bucs will do what the McKay Bucs couldn't, beat the Cowboys at Texas Stadium in the playoffs. Go Bucs.

Denis Crawford, 5 December 2007