Collapse
I am now officially among the living again. I have spent the last couple of weeks in mourning over the collapse of the Cleveland Indians against the Boston Red Sox in the American League Championship Series.

Blowing a 3 games to 1 lead was difficult to watch but with a little bit of help from my long-suffering wife Amy I have been coaxed into at least eating solid foods again!! I can also use plastic cutlery without the neighbors fearing for my safety.

But just when I thought I could face the world again, the calendar turned to November and I saw that we are coming up on the 20th anniversary of the greatest collapse in Buccaneer history, the collapse that came to color the way I have watched every Buccaneer game since then. Do you remember Black Sunday, November 8, 1987?

The Buccaneers were on the verge of being a feel-good story for the NFL. After several losing season in a row, Tampa Bay had a record of 4-3. Of course that record included two victories by the B-Bucs, the group of replacement players that toiled during the NFL strike but a winning record was a winning record!

Fans throughout Tampa Bay were getting excited, believing that maybe this Ray Perkins guy was the coach to bring the Buccaneers out of the wilderness. Granted Perkins was a bit prickly, but hey Buccaneers fans would have been excited about Saddam Hussein as coach if he could have gotten the team to the playoffs. Two weeks after standing toe-to-toe with the powerful Chicago Bears in a tough 27-26 loss Tampa Bay kicked off against the St. Louis Cardinals at Busch Stadium.

Through three quarters of play the Buccaneers looked like a legitimate playoff team. The defense dominated and Steve DeBerg was picking the Cardinals apart. When the fourth quarter began, the Bucs were ahead 28-3 and I was excitedly wondering when playoff tickets for the 1987 season would go on sale.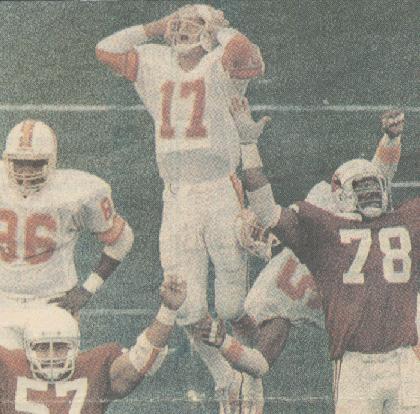 Shortly into the fourth quarter the Cardinals scored a touchdown cutting the lead to 28-10. "No big deal," I thought. "It's just a garbage time touchdown, I think I'll grab another soda and ponder the inevitable Bucs-49ers playoff. I don't think Montana can handle the pass rush of Mike Stensrud and Ron Holmes!" I always had conversations with myself during Buccaneer games as no one in my family could stand being around me during those three hours. I guess they felt a mixture of bemused pity or something.

Moments later the Bucs fumbled the ball and the Cardinals returned it for a touchdown and just like that it was 28-17 and the two dozen or so fans still left at Busch got excited. As for me, I thought, "OK, that was bad but surely the Buccaneers will now clamp down, the same way they held off the Packers last week. I can't wait to see DeBerg slice up the New York Giants in the playoffs. Lawrence Taylor may be a great player, but he's never had to cover a tight end like Calvin Magee ha, ha." Silly, delusional me!

The Buccaneer offense suddenly couldn't get out of their own way, punting almost as quickly as they would get the ball back. Meanwhile the Cardinals offense was moving up and down the field by using some new-fangled scheme that apparently the Bucs had never seen before, PASSING THE BALL!

Good grief, did Tampa Bay expect the Cardinals to just run up the middle? By the way, if you never got to experience the legend that was Rod "Toast" Jones at cornerback this is a pivotal game. This was his coming out party. It seemed St. Louis quarterback Neil Lomax always dropped back and immediately looked for wherever number 22 in orange was.

With eight minutes to play the Cardinals scored again to make it 28-24 and I was in full-fledged denial. "There is no way this team is going to lose! Bring on the Vikings in January!" No sooner had those thoughts entered my head than did the Cardinals score again to take a 31-28 lead. By this time I was lying on the living room floor, practically under the coffee table. I was down but not out, and neither were the Bucs.

Steve DeBerg moved the team into long field goal range during the final frantic seconds of the game. "Now we're getting somewhere," I thought. "They are fighting back from adversity. To quote Vince Lombardi, 'Great teams aren't always great. They're great when they have to be'. This is the type of game that will catapult the Bucs to the very top of the NFC Central."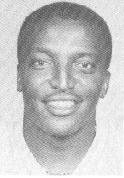 That's what I was thinking as Donald Igwebuike's 53-yard field goal clanged off the upright. From what I understand, the writers up in the press box could actually hear Steve DeBerg's mournful cry of agony reverberate around the nearly empty stadium. I couldn't because I was screaming louder than DeBerg. I missed the second game of the double-header because I had to convince the Largo police department that no one had been assaulted in my house.

My entire fantasy world came crashing down like that scene in the movie "A Beautiful Mind" when Russell Crowe's character realizes he has just imagined the CIA agent and childhood friend. That was me. I had ignored all the signals. That 1 point loss to the Bears? The Bucs had blown a 20-0 lead. The big win at Green Bay?

The Bucs had blown a 20-0 lead for the second straight week but hung on to win 23-17. The reality was that at heart the Buccaneers were still a team that had won only 12 games in the last five seasons. That's not counting the B-Bucs, who I came to miss dearly in 1987 because they had at least finished with a winning record (2-1). The truth of the matter is that the Bucs were still the worst team in the NFL. "Bad teams aren't always bad. They're just bad when they have to be."

The Bucs would go on to lose their last seven games, finishing just SIX games short of a Wild-Card berth. I'll never forget that day and because of it I never feel any lead is safe. Even a Super Bowl championship can't wipe the memory of Black Sunday out of my head. Next week the Bucs could jump out to a 35-0 lead and the entire Atlanta Falcons team may have to run off field to testify in the Michael Vick trial, but in the back of my head I'll worry that the Bucs will find a way to blow it.

That's unfair to the current Bucs, some of whom were in elementary school when the collapse in St. Louis happened. But if you witnessed that game live as I did, you'll never forget it. With all the greatness that this franchise has enjoyed, that one day may always be my defining moment as a Buc fan. Given all this I should have been prepared for the Tribe, but I thought baseball would be different. Oh well. Go Bucs and Go Tribe.

Denis Crawford, November 2007