RIP Bill Walsh
The recent passing of Bill Walsh led me to reminisce this past week.

As a child of the 1980's there was no other coach who defined that decade the way Bill Walsh did. Even though I couldn't stand the 49ers, I respected Walsh a great deal for being an intellectual and avuncular presence on the sideline. That presence made you forget what cold-blooded killers the 49ers were. Forget all that talk of how the 49ers were "soft" or "finesse."

They were the toughest SOB's in the league, but instead of punching you in the mouth they made you run home to momma and ask if you were still a good person. Having your head messed with was much more frightening than getting whooped. While it was disheartening to watch Joe Montana dissect the Bucs time and time again, it was equally inspiring for the sheer originality of the offense that acted as the scalpel.

In fact it was a dissection of the Buccaneer defense in 1979 that became the noted start of the West Coast offense's domination of the National Football League. Much like Tampa Bay's 1996 overtime victory over Oakland has been viewed by many as the day the fortunes of the Buccaneers changed, the 49ers 23-7 victory over Tampa Bay is seen as the event that validated this new-fangled offense as a legitimate NFL weapon.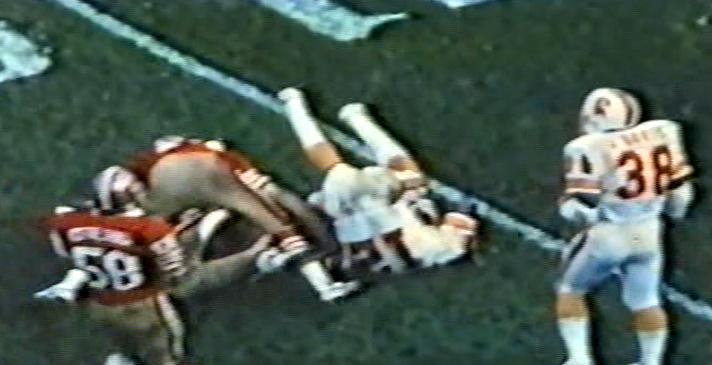 December 9, 1979 saw the number one ranked defense in the NFL humbled by the 1-13 49ers. Although the five interceptions thrown by Doug Williams didn't help, the Tampa Bay defense seemed out of position all day long. Utilizing short, precision timing patterns, Dwight Clark and Mike Shumann (not exactly speed demons) raced around the Buc secondary. Little-known Steve DeBerg completed 73% of his passes and when he was injured, inexperienced rookie Joe Montana came in and completed 75%.

After the game was over, John McKay made his famous quote of how the Bucs couldn't win at home or on the road and wanted to petition for a neutral site. However, moments before the quote the fans in Candlestick Park tore down the goal posts and Walsh was carried off the field. For the first time in a decade the 49ers had played as a complete team against a playoff contender.

The next week the Bucs clinched their first playoff berth and the 49ers finished a 2-14 season. A decade later the Bucs had three 2-14 records and the 49ers three Super Bowl championships. Bill Walsh was arguably one of the premier innovators in the history of football and the best coach in the last quarter-century. As Tampa Bay fans we can always say we were witnesses when the team of the 80's was started because we were its first victims. Rest in peace Coach Walsh.