The Buccaneers and the Senior Bowl
All-Star exhibitions are a horrible way to end the football season. I view them as the football equivalent of feeding tubes. The season is over for all intents and purposes, it's not coming back and yet we keep it alive by extraordinary measures resulting in a propped up shell of a being that does not resemble the thing we love at all. Instead of letting the game go out on top, we end up with a game that can no longer eat solid foods. Disturbing image I know, but did you ever watch the now defunct Blue-Gray game on Christmas Day? Talk about the gridiron equivalent of Aunt Bea!

The only things worse than the NFL Pro Bowl are the half dozen or so college all-star games. I know that these games are marketed as job interviews and that some of them are staged for very worthwhile charitable causes, such as the East-West Shrine Game in Houston. However, I see the players trying not to get injured, the coaches thinking about their tee-times and the fans confused by the tradition of the players trading helmet decals. Is that offensive lineman from Nebraska, Florida, Stanford or the Northeast Oklahoma Teaching of Non-Evolutionary Science College? I can't tell because he has more decals on his helmet than Phileas Fogg's steamer trunk.

This year Jon Gruden and the Tampa Bay Buccaneer coaching staff will be involved in one of the oldest all-star games: The Senior Bowl in Mobile, Alabama. One thing that sets the Senior Bowl apart from other all-star games is that the two squads are coached by NFL staffs.

Gruden is just the latest in a long line of Buccaneer coaches to have the honor of leading the South squad. Nothing says, "Congratulations on NOT making the playoffs!" quite like spending a dreary January afternoon in Mobile.


The first Buccaneer coach to head the South squad was Leeman Bennett in 1986. The South lost to the North 31-17 in a game that featured two key fourth and short stop's by John Offerdahl of Western Michigan University. Offerdahl would go on to have a solid career as a linebacker with the Miami Dolphins.

The most interesting aspect of the defensive stands was the player that Offerdahl stuffed both times. The running back was none other than Bo Jackson of Auburn. The same Bo Jackson who three months later would warn the Buccaneers not to draft him or else. So Buccaneer fans did get to see the greatest college running back of the year on the same sideline as the Tampa Bay coaching staff, but only for one day. Perhaps spending a week and a half in a Leeman Bennett coached offense gave Jackson an eye to what a career in Tampa Bay would have been like and he bolted for the Kansas City Royals of Major League Baseball.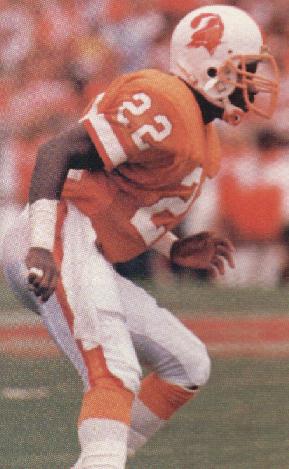 History proves that Jackson was advised by a lot of former Buccaneers not to play in Tampa Bay, but seeing that he would spend a lot of time running into a line of scrimmage filled with bruising defenders that couldn't be blocked probably made the decision easier. Hey, at least Bennett saw the tremendous skill and speed of SMU defensive back Rod Jones up close. If not, Tampa Bay may not have spent their second first round draft choice that year on the man we grew to love as "Toast." YEEEESH!

It would be thirteen years before a Tampa Bay coaching staff again led the South squad. In 1999, Tony Dungy led the South to a 31-21 victory over the North. In another interesting quirk of history, Dungy was not just the only Tampa Bay coach to win a Senior Bowl but the coach he defeated was Jon Gruden, then of the Oakland Raiders. Coaching the South that year gave Dungy an up close look at three young men who would play key parts in taking the Buccaneers to the NFC Championship Game in their rookie year: Louisiana State defensive lineman Anthony "Booger" McFarland, Tulane quarterback Shaun King and Kansas State kicker Martin Gramatica.

This will be Gruden's third go-around as a coach in the Senior Bowl. In addition to the match-up versus Dungy in 1999, Gruden also coached in the 2005 game, a 23-13 loss to the North. In that game Gruden was able to get a sneak peek at Carnell "Cadillac" Williams of Auburn at tailback. Unlike Bo Jackson, Williams didn't spend a week and a half with the Tampa Bay coaching staff and demand that the Buccaneers not draft him. Thank goodness for that because Williams was an integral part of the 2005 South Division championship.

Gruden is not the only Buccaneer coach to lead a Senior Bowl squad more than once. Leeman Bennett also coached the South squad in 1978. Bennett was coach of the Atlanta Falcons at that time and at quarterback he had a hot-shot out of Grambling who was amazing NFL scouts with the strength of his arm. Doug Williams was not able to lead the South to a win, falling 17-14, but he did enjoy a great passing day completing 21 of 34 passes for 254 yards. Williams did more than show scouts that he could compete against big time competition, he impressed John McKay enough that the coach felt comfortable trading away the number one pick to Houston for Jimmie Giles and moving down to select Williams with the 17th pick. To quote Tony Kornheiser, "How'd that work out?" The Oilers may have gotten Earl Campbell, but the Buccaneers added not only a multiple Pro Bowl talent at tight end but arguably the greatest field general in team history.


Williams may have had a great day in 1978, but he was not the game's Most Valuable Player. That honor went to James Lofton, who went on to become a major thorn in the side of Tampa Bay's secondary for years to come. There have been four future Buccaneers that won the MVP award. The most well-known MVP of the Senior Bowl to become a Buccaneer was Derrick Brooks in 1995. Brooks recorded an amazing 13 solo tackles in a 14-7 victory for the South. Apparently someone forgot to tell Mr. Brooks that these are exhibition games. But anyone who saw Brooks dominate the Pro Bowl this time last year with an MVP performance knows that "Mr. Derrick Brooks" does not treat any game as a vacation.

In addition to Brooks, Bill Kollar of Montana State was the MVP in 1974, Don Smith of Mississippi State was MVP in 1987 and Alvin Harper of Tennessee garnered the award in 1991. Kollar was a great member of the top rated 1979 defense, Smith never really caught on with Tampa Bay but did score in a Super Bowl with Buffalo before being sentenced to prison and Alvin Harper was, well you know, horrible but not a felon.

By the way, when looking through the Senior Bowl official website one final score leapt out at me. In 1980 the South lost to the North 57-3 in the greatest blow-out in series history. I thought to myself, "Wow. How embarrassing it must have been to lose a game by 54 points. The coach of that team must have really been unable to motivate his team. Generally, performances like that mean the team just did not respond to a coach and must have not had any fun at all. I wonder who that coach was?"

I clicked on the game summary. Guess who was the coach of the South that year? The answer is Ray Perkins then of the New York Giants and future coach of the Buccaneers. I smiled for a moment and thought, "It figures." I wonder if he had the young men practicing three times a day that week.