The MAC - home of Bruce Gradkowski
Bruce Gradkowski is becoming a cult hero to many who call the Buccaneers their favorite team. Gradkowski's performance in the pre-season has made him the best candidate for the position behind Chris Simms.

The fact that Gradkowski should supplant Tim Rattay for the role is surprising considering he was an unheralded sixth round draft choice. In fact Gradkowski's previous Buccaneer claim to fame had been the fact that John Gruden had exhausted a supply of vulgar expletives that would have made a stevedore blush in tutoring the young man.

But it should not come as a surprise that Gradkowski seems to have the skills to play quarterback in the National Football League. Gradkowski's pre-season statistical line, 45 completions in 61 attempts (73.8%), 511 yards and five touchdowns shows that at least from a physical standpoint he has the tools for professional football. But more important than that, Gradkowski was reared in an area of the United States that lately has churned out NFL quarterbacks at a rapid pace.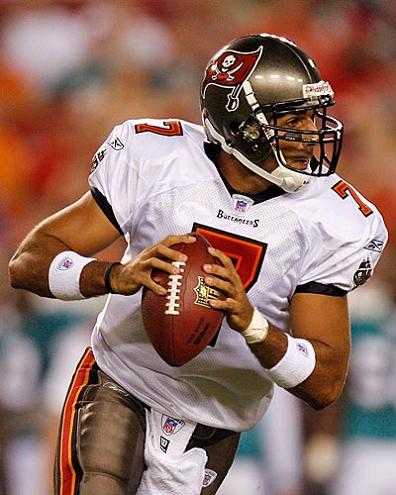 The MAC. MAC is short for Mid-American Conference, sometimes derisively known as the "Little Big Ten" since it occupies the same geographic area as its better-known big brother. In the last ten years the MAC has placed five different young men in play-making positions throughout the NFL. It seems that if you have a pulse, the MAC can make a professional football quarterback out of you.

Ben Roethlisberger set records at Miami. No, not the "U," the Coral Gables, Florida institution known for football championships and police blotters, but Miami of Ohio. In fact, Miami of Ohio has been around for such a long time that a popular t-shirt in the Buckeye state reads, "Miami of Ohio was a University Before Florida was a State!" But I digress. Roethlisberger's meteoric rise to NFL super stardom was weaned on the fields of the MAC. No word on whether or not motorcycle safety was a class offering there.

Charlie Frye of Akron and Joshua Cribbs of Kent State play now for the Cleveland Browns. Frye is the latest in a disturbingly long line of "saviors" for the Browns while Cribbs has switched positions and become a very dangerous kick returner.

Byron Leftwich of the Jacksonville Jaguars and Chad Pennington of the New York Jets both played for Marshall. Marshall, a small school in West Virginia, recently moved to Conference USA, but Leftwich and Pennington were both MAC quarterbacks at the time.

In addition to Gradkowski, a second MAC quarterback was drafted this past off-season when the Pittsburgh Steelers selected Omar Jacobs of Bowling Green. Jacobs was just released by the Steelers, but I would not be surprised to see him put on the Steelers practice squad. Bill Cowher lost a key weapon in the off-season when Antwaan Randle-El departed by free agency. I can easily imagine Jacobs learning how to be a multi-threat weapon, running Cowher's beloved wide-receiver reverse pass play.

Gradkowski led Toledo to many wins and threw for a lot of yards. At one time his achievements would have been questioned because of the perceived lack of competition. As the MAC has proved recently however, they play top-notch football. Time will tell if Gradkowski becomes a productive NFL passer but one thing is for sure, he won't fail for lack of big-time college experience. That is an excuse that can't be laid on the MAC anymore.

Denis Crawford, September 2006