My first Buccaneer game
It is amazing what you find when you do a little cleaning around the house. As I was helping my wife remodel our den, I discovered a very old magazine. The magazine is a 20-year old edition of Game Day, the official program of the National Football League. What makes this particular magazine so special is that it signified the exact moment I began my fascination with the Tampa Bay Buccaneers.

August 23, 1986 was a typical Tampa Bay summer Saturday. It was hot, humid and pretty much carefree. What made this day different for me was that I was attending my first professional football game. The Washington Redskins were in town to play the Buccaneers in an exhibition game at Tampa Stadium and my father surprised me with a pair of tickets.

I say surprised because neither my father nor I were really Tampa Bay fans. I had a passing interest in them, but I considered myself more of a Cowboy fan. I grew up idolizing Roger Staubach and then Danny White. My father enjoyed the Cowboys, but was a pretty serious Miami Dolphin fan as well. My football allegiance was about to undergo a major overhaul over the course of this evening.

To maximize the experience, my dad brought me to the game well before kick-off and we walked all around Tampa Stadium. I know the "Big Sombrero" was a rather plain field, but as a kid who had never seen another stadium, it was an absolute palace. We walked over to the player's parking lot and my father allowed me to head off by myself to collect autographs from the players as they arrived.

I'm not much for autographs, I would much rather have a conversation with a celebrity than a signature, but as an early teen I was thrilled when Dave Logan and Donald Igweibuike signed my program. Gerald Carter, Ricky Easmon, Keith Browner and Jerry Bell also signed for me. With the exception of Logan, none of these players really starred in the NFL, but for me it was the equivalent of having Joe Montana or Dan Marino sign.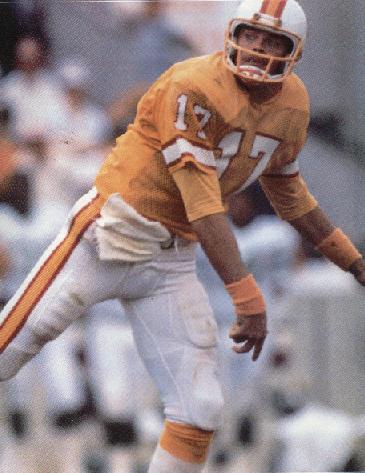 Inside the stadium we watched pre-game drills. Down on the field Steve DeBerg and Steve Young warmed up their arms. It seems funny now considering how woeful this team was, but there was a full-fledged quarterback controversy raging. Some people thought the veteran DeBerg would provide the Bucs with needed experience and leadership while others thought the mobile Young was the man of the future.

The man who had defined the quarterback position for Tampa Bay was also in the stadium, but on the opposite sideline. This game marked Doug Williams' NFL return to Tampa Bay. Williams had played against the old Tampa Bay Bandits of the USFL, but this would be the first time he lined up opposite the Bucs.

When he took the field wearing a crimson and white #17 jersey, the crowd at Tampa Stadium broke evenly between applause and catcalls. I sheepishly admit now that I engaged in the catcalls, but that had more to do with the fact that the Redskins were the archrivals of the Cowboys, my soon-to-be-ex-favorite team.

To me that Saturday night was filled with electricity. From our seats I could see more than just the field, I could take in an entire panoramic view of Tampa Stadium and the downtown Tampa skyline beyond. This was so much different than watching a game on television. I was a part of the event, participating in cheers, engaging in banter with surrounding fans and generally having the time of my young life. It did not matter to me that the Bucs lost the game because I gained something that night.

One of the traditions at Buccaneer games is that periodically during the contest the public address announcer will exhort one side of the stadium to yell out "Tampa" and the other side to yell out a corresponding "Bay." As the cheer picks up steam like a locomotive the effect is to have a deafening chant of "Tampa Bay" over and over. This not only excites the fans but it is hoped that the chant will be a distraction to the opposing team's offense and give the Buccaneers a measure of home-field advantage.

As I dutifully yelled out "Tampa" for my side of the stadium it occurred to me that the Buccaneers were representing my home. I know that will sound ridiculously obvious to most, but as a youngster who had spent most of his life rooting for an out of town team it was quite a realization. All this time my passion and interest had been for a team in a city that I had never set foot in. For all I knew Texas Stadium was as fictional as the storylines of the soap opera "Dallas." Heck, Danny White could have been J.R. Ewing for all I knew.

But Tampa was my home and by association the Bucs were my hometown team. That Saturday night in Tampa Stadium became my first tangible proof that the NFL was not some made for television product. It was real and it was only a half-hour drive across the Courtney Campbell Causeway.

Tampa Stadium is gone now but Doug Williams is back with the team. The Bucs have won a Super Bowl, but my dad is still indifferent about them although he was happy for me when the Bucs won the Super Bowl because he knows what a kick I get out of them. I have become a writer but I am still in many ways that kid sitting in the stands on a sultry August evening.

Twenty years after this game I am still fascinated by the Bucs. I probably always will be. Win, lose or draw they are my Bucs and I wouldn't want it any other way.

Denis Crawford, August 2006