Vinny: An Appreciation
The news of Doug Flutie's retirement from the NFL led to an interesting debate on ESPN's "Pardon the Interruption." In a Toss-Up segment Tony Kornheiser and Michael Wilbon debated who had the better professional football career, Doug Flutie or Vinny Testaverde. The consensus of the two was that Flutie's career was more successful when one considers his time in the USFL and CFL, where he won Grey Cup championships.

I am not going to question the PTI Guys decision, but it did get me to thinking. If 2005 was truly Vinny's final year in the NFL then I think the time has come to give the 1986 Heisman Trophy winner out of the University of Miami his due.

I am going on record to state that I am biased. I like Vinny. I did argue earlier this year that Vinny was a Buccaneer quarterback that did not have "It," and I stand by that assertion. While he was in Tampa, Vinny did not develop like we hoped and his lack of development did set the franchise back. Whether that lack of development was solely Vinny's fault, the fault of his three head coaches, the lack of quality personnel around him or expectations that were too high will always be debated. However, I always liked Vinny and now that his football career is over I would like to lead the charge in making sure that Vinny's time in the NFL is put in the proper context and is given the due consideration it deserves.


The Buccaneers drafted Vinny Testaverde in 1987 when I was sixteen. Although I was a Florida State Seminole fan and should have been embittered over the fact that Vinny had shredded my future alma mater several times, I was excited by the prospect of him wearing Buccaneer orange. He was the first Buccaneer in a long time I could get excited about and I remember saving allowance money so I could buy a Vinny Testaverde number fourteen Florida Orange jersey. I still have that jersey to this day and am wearing it in the column photo that accompanies my pieces.

A bona-fide college superstar, we all dreamed of Super Bowl appearances led by Vinny. We all sang along with Tampa Bay deejays when they would play "V-V-V-Vinny and the Bucs," an excruciatingly bad Elton John parody meant as a laurel. In Vinny's pre-season debut he almost single-handedly led the Bucs back from a three-touchdown deficit in the fourth quarter against Cincinnati. I can still recall listening to that comeback on the radio and thinking that the Bucs finally had an offense.

When Vinny took charge of the team late in 1987, he and his offensive teammates completely lit up the New Orleans Saints. Vinny's 369-yard passing day was a NFL record for a rookie and the 34 points the team put up made all of us think that Tampa Bay was on the verge of becoming an offensive juggernaut. The fact that the Bucs still managed to lose did not bother us a whit because we had Vinny.

In 1988 Vinny threw 35 interceptions and became a bit of a national joke when CBS analyst Terry Bradshaw announced that Vinny was colorblind and couldn't distinguish his receivers from defensive backs when the Bucs wore orange. But Testaverde also threw for more than 3,000 yards and the Bucs won three of their last five games, including a tough 10-5 victory over an up and coming Buffalo team. After a year of growing pains Tampa Bay fans were high on Vinny.


On October 8, 1989 Vinny reached his peak as a Buccaneer. Throwing for 269 yards and three touchdowns, Vinny led the Bucs to a 42-35 victory over the undefeated Chicago Bears. The town should have been his to run, but instead this game also saw the beginning of the end of Vinny in Tampa. Late in the game Bears defensive tackle Steve McMichael hit Testaverde in the legs. It was a cheap shot by the future professional wrestler, and it sent Vinny limping to the sidelines with a knee strain. Vinny would miss the next game against Detroit, a heartbreaking last-second loss from which the team never recovered.

After that it was all downhill for Vinny. A quiet, unassuming man, Vinny Testaverde had a strong arm and deceptively nimble feet but could not physically take over a game ala Brett Favre and John Elway. Instead Vinny was a game manager who required many pieces performing well to win a game. In the late 1980's John Elway took a team with a mediocre defense and non-existent running game to three Super Bowls in four years. Vinny's Bucs of the same period also possessed a mediocre defense and deficient running game, but Testaverde couldn't coax more than six wins in any one season.

It would become apparent later in his career that Vinny was never a savior, just a solid professional. Unfortunately, Tampa needed a savior and Vinny tried to fill that role and fell far short. Forcing passes and trying to do too much Vinny often cost his team points rather than scoring them. It got so bad that he would be benched in favor of the likes of Chris Chandler and Jeff Carlson. At the same time Vinny was having trouble on the field, his fans turned against him. Instead of being the great hope of the community, Vinny became the public face of all that was wrong with the Bucs. Testaverde handled the criticism with class and dignity and for that I liked him all the more but I knew he had to leave Tampa Bay. In 1993 Vinny did just that, signing as a free agent with the Cleveland Browns.

After leaving Tampa, Vinny was allowed to become what he was capable of being: an unspectacular quarterback that would give you solid play. He led Cleveland to the playoffs and then moved on to his hometown New York Jets. In New York he led the Jets to the 1998 AFC Championship game and had the highly favored Denver Broncos on the ropes before the Jets fell short. Vinny did more than just lead teams to the playoffs; he arguably became one of the NFL's top passers. Bitter Bucs fans can scoff if they want to, but just take a gander at these numbers.

In 1998 Vinny threw for 3,256 yards and 29 touchdowns in leading the Jets to the brink of a Super Bowl. In 2000, the year after coming off a ruptured Achilles tendon, Vinny threw for 3,732 yards, his career high. He also led the Jets to victory over Tampa Bay at Raymond James Stadium. In 2004, at 41 years of age mind you, Vinny threw for more than 3500 yards as quarterback of the Dallas Cowboys.

Who was Vinny's coach in Dallas? None other than two-time Super Bowl champion Bill Parcells. Parcells actually went to Vinny to save the Cowboys season after Dallas lost Quincy Carter to drugs. Imagine that. Arguably the greatest coach in the modern era of the NFL asked Vinny Testaverde to be the fulcrum of America's Team. To top it off, Vinny responded with a great year at an age when most of us are looking for a warm spot to lie down on!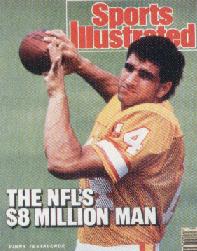 Vinny came out of retirement last year to play for the Jets and had one last moment in the sun. Fittingly it came against Tampa Bay. In the New Jersey Meadowlands Vinny led the Jets to a 14-12 victory over playoff bound Tampa Bay, his third victory in three games against the team that originally drafted him. It would be Vinny's last win as a starter in the NFL, as he announced his retirement after the season-finale.

A look at Vinny's career numbers is a testament to the importance of professionalism, consistency and good old-fashioned stick-to-itiveness. Vinny is the sixth all-time leading passer in NFL history with 45,252 yards and eighth all-time in touchdown passes with 269. Those numbers have Vinny ahead of such luminaries as Dan Fouts, Joe Montana, Johnny Unitas, Phil Simms, Sonny Jurgensen, Len Dawson, Jim Kelly, George Blanda and Steve Young.

By the way the longest of Vinny's 269 touchdowns was an 89-yard pass play that occurred at Tampa Stadium. In Ray Perkins' last game as Buccaneer coach, Vinny rifled a pass over the middle to Willie Drewery. Drewery outraced the Atlanta secondary to the end zone for what proved to be the difference in a 23-17 victory.

I am not arguing that Vinny Testaverde deserves to be in the Hall of Fame, after all he did throw 261 interceptions and it did feel like 200 of those happened as a Buc. But can we put to rest the argument that Vinny was a horrible disappointment?

Vinny may not have had "It," and he may not have been the savior we all so desperately wished for but you still have to respect what he was able to accomplish. Vinny Testaverde was a solid professional quarterback who was asked to do too much when he was in Tampa Bay. Freed from the burden of having to be all things to all people, Vinny blossomed away from Tampa and had a football career that most of us would dream of. For two decades Testaverde was a consistently productive quarterback in the National Football League, and a class act as well.

And I for one am going to miss him.