What's in a name
The recently completed NFL Draft has brought a handful of new players to the Tampa Bay Buccaneer fold. Sadly not one of them is a great name.

I don't mean great in the sense of being another Lee Roy Selmon, Doug Williams, Michael Clayton or Carnell Williams. I mean great on a totally different level. As a lover of words I have always had a thing for names. I am curious about name origins, ethnicities, pronunciations and the stories behind them. The newest names on the Buccaneer roster just don't quite do it for me. There's not a single Farquhar, Ahanotu or Montoute amongst them.

"The Name Game," the 1960's song by Shirley Ellis, has always been a favorite of mine. It is a great party song where you take a person's name and substitute a series of letters in place of the first letter of that individual's first name so one could come up with classic lyrics such as "Roy – Boy – Poy- Boy – Banana – Fanna – Toy – Foy – Fee – Fi – Fo – Goy –ROOOYYY!!!"

And somehow people insist the current music scene has degenerated. Don't blame me for that one; I've always been a fan of Santana (Dotson). Anyway, a perusal of the all-time Buccaneer roster shows a treasure trove, a Booty (John) if you will, of interesting names and patterns.

For instance, the Bucs have had two sets of duplicate names. One pair of Steve Youngs and one pair of Anthony Davis have graced the all-time roster. Steve Young the quarterback went on to a Hall of Fame career in San Francisco while Steve Young the offensive lineman played on the original Bucs. Anthony Davis the running back starred for John McKay at USC while Anthony Davis the offensive lineman is a solid part of the Bucs current front wall.

Linebackers Dana Nafziger and Pete Najarian played ten years apart, but their last names are pretty darn similar. Not as close as Trent Dilfer and Ken Dilger, but given the complexity of their names and the fact that they were both linebackers and special teams demons, it is still pretty extraordinary.

The position of kicker seems to be rife with unique names. The Buccaneers have had the ball booted into play by Obed Ariri, Donald Igweibuike, and Garo Yepremian. The most memorable name ever to kick for the Bucs has to be Dave Warnke, not because the name is all that unusual but due to the surrealism of his 1983 performance against Detroit. It is only fitting that George Yarno replaced Warnke in that game. That means that for years to come the names Warnke and Yarno will be synonymous in Buccaneer infamy. Wouldn't it have been great if Morris Unutoa had been the long snapper in 1983? I can only imagine John Madden trying to say Unutoa, Warnke and Yarno in a thirty second span!! It would have been poetic, maybe even Shakespearean (Stanley that is).

Now I don't want to start a row, argument or Quarles (Shelton) about it, but I think I have three names that should be considered the most memorable in Buccaneer history. They are:

I was able to catch up with all three men for this column and asked them to reminisce about their time in Tampa Bay, what they have been up to since their playing days ended, the origins of their name and of course why they think they should be considered The Most Memorable Name in Buccaneer History.

Hasson Arbubakrr
Hasson Arbubakrr played one year for Tampa Bay in 1983 before being cut in 1984. Hasson moved on to the Minnesota Vikings for a couple of seasons before finding his niche in the Canadian Football League as a member of the Winnipeg Blue Bombers. "I loved football in Canada," Arbubakrr said recently. "There was not as much pressure (as in the NFL) and everything was more relaxed."

Arbubakrr enjoyed his brief stay in Tampa saying, "I had a pretty good rookie year." During the season finale against Detroit Arbubakrr had a front row seat to Dave Warnke's kicking performance. When asked about the game against the Lions, Arbubakrr had a one-word answer, "Crazy." In that game John McKay walked up and down the bench to find players with kicking experience. "He never made it to me," Arbubakrr said with a laugh.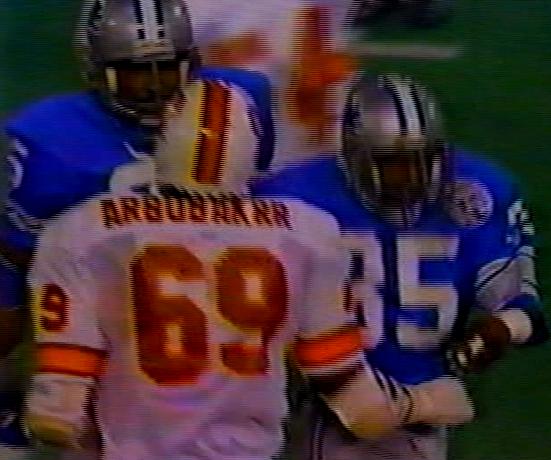 After his playing days ended Arbubakrr moved back to his native New Jersey where today he is a truant officer for the Newark school district. Arbubakrr's size and stature as a former player in the NFL is a plus when dealing with his young charges. "When they find out I was a professional football player, they tend to listen to me more about the importance of education."

As for his name, Hasson Arbubakrr is Islamic in origin. Hasson meaning "beautiful, to make better, improve" and Arbubakrr meaning "fatherhood." A very fitting name for a man dedicated to keeping children interested in education. Arbubakrr also owns his own bodyguard service named Strong Arm. Strong Arm has had some pretty notable hip-hop clients including Wyclef Jean.

When asked why he should be considered the greatest name in Buccaneer history, Arbubakrr laughed and said he wasn't sure he should be. Instead he pointed out that he was just pleased that football allowed him to see so much of North America. "I got to travel all over," Arbubakrr recalled. "Pasadena for junior college, Texas for college, Florida, Minnesota and Canada for pro football."

"I do remember that O.J. Simpson said on Monday Night Football, hey get a load of this name. They have a guy named Arbubakrr," he said. As Arbubakrr admitted with a laugh, "I just have one of those names."

Council Rudolph
Council Rudolph came to the Buccaneers in the 1976 veteran allocation draft. "I came to Tampa from St. Louis," Rudolph recalls. "We had been to the playoffs (in 1975) and had a great team. I got injured and couldn't get my starting job back and developed sort of a chip on my shoulder. I went to management and said I didn't want to come back to the Cardinals. I said waive me or trade me. The expansion draft came up and I found myself going to Tampa."


Rudolph expected rough times in Tampa but came to town on a mission. "I just wanted to show the Cardinals what they were missing out on."

Council Rudolph's first experience with the Tampa heat and humidity was exacerbated by the fact that Coach John McKay followed the then conventional wisdom of not giving many rest breaks during drills. "They worked us hard," laughs Rudolph. "We only got one or two water breaks. It was 90-95 degrees and they (the coaches) said they were going to work us hard but we thought, 'Hey, don't kill us!'"

The hard work of training camp paid off for the Buccaneer defense as they found themselves on the field the vast majority of the time in 1976. "We played at least 80% of the game, but I enjoyed it," said Rudolph. "I enjoyed the city of Tampa and the people just loved the Buccaneers."

Council Rudolph was traded to the Miami Dolphins in the 1978 off-season but a pre-season injury led to his retirement before the season began. Upon the termination of his NFL career Rudolph decided to keep his family in Tampa. "I made Tampa my home and raised my family here," Rudolph said. "Tampa has been very good to me. I decided to put down my roots here because I saw a lot of potential for Tampa. Besides I was a part of history being on the first team. I thank the Lord that he allowed me to see the Super Bowl (XXXVII) win because I could say I was a part of the Bucs."

Council Rudolph is also proud to have passed on the tradition of the name. "Council Rudolph is a family name," he said. "I am junior and my son is the third. My grandparents got that name from an educator in the state of Alabama and that is how we picked up the name."

Today account holders in Tampa rather than opposing quarterbacks know the name Council Rudolph. Mr. Rudolph owns and runs The Check Casher. "We have two locations in Tampa and provide a variety of financial services. I've been doing this for the past twenty years."

When asked why he should be considered the greatest name in Buccaneer history, Council Rudolph at first declined to state a reason. After a thoughtful pause, he did come up with one reason without boast. "I was the original," Council Rudolph said. "I was the original left end. I was here first and those guys had to come after me."

Rockne Freitas
Rockne Freitas played one season for the Tampa Bay Buccaneers coming to the franchise in 1978 after more than a decade with the Detroit Lions. Council Rudolph matched up against Freitas a few times in his NFL career and remembered him well. "He was an offensive tackle for Detroit and he was a big, strong guy."


A neck injury Freitas suffered in a car accident following the 1978 season led him to retire upon not passing a physical with the Buffalo Bills. Although he played only one season in Tampa Bay, Freitas enjoyed his time as a Buccaneer and became good friends with his fellow offensive linemen. "I liked Tampa and Florida a lot," Freitas said. "Coach Johnny McKay I liked a lot. It was a wonderful experience and I still keep in contact with Randy Johnson and Steve Wilson."

Some entrenched veterans may have been upset with being traded to a team that was known for a 26 game losing streak, but Freitas was not one of them. He saw Tampa Bay as a team on the rise in 1978. "I was in Detroit and was injured in 1977 when we played Tampa, but watching them on tape and in person they were a very physical team. It was only going to be a matter of time before they did well."

Born on the island of Oahu, Rockne Freitas was named after legendary Notre Dame coach Knute Rockne. "My father was a football player in Hawaii and he met Knute Rockne and was recruited by Rockne," recalled Freitas. The name Freitas is Portuguese. Rockne Freitas earned a master's degree while in the NFL and after retirement he devoted himself full-time to pursuing a doctorate. Dr. Freitas earned his PhD from the University of Hawaii at Manoa and has spent a quarter century in the academic field. Today Dr. Freitas is the Chancellor of Hawaii Community College. "My field is education, specifically curriculum and instruction."

Dr. Freitas good-naturedly rejects the notion of being considered one of the most memorable names in Buccaneer history. "I don't think I should be," he answered when asked about the possible title. "I think I would like to be remembered for my contributions to the team and to the community. If I was named Joe Smith it wouldn't make a difference to me."

Due to the fact that all three men were good sports about the thesis of the article I refuse to pick a winner. Having had the chance to talk to these men I can no longer view them as names on a roster. I can now see them as pleasant individuals who good-naturedly took time out of busy lives to reminisce about their days in Buccaneer Orange. To me, that makes them memorable.

Thanks for reading, good night and Goodspeed (Don).